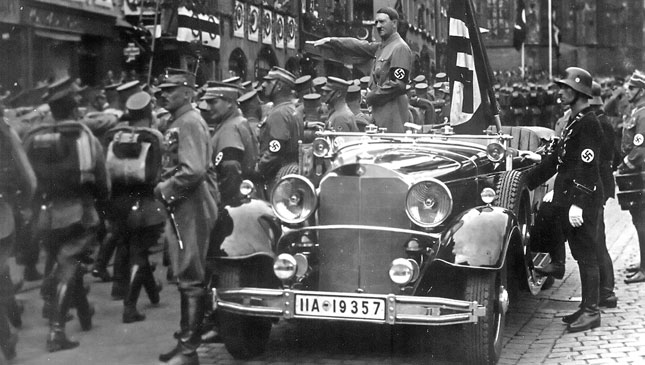 It's coming up to Halloween soon, so it's time for us to celebrate all things scary and ghoulish. In the automotive world, "scary" can mean any number of things—from a car that's scary to drive, to a carmaker with a scary reputation. For this list though, we thought we'd take a look at the cars that have had their interiors graced by some of the scariest people in history.
ADVERTISEMENT - CONTINUE READING BELOW ↓
Sometimes, you just never know what frights hide behind the wheel or in the back seat. Yikes!
* Adolf Hitler's Mercedes-Benz 770. Hitler is best known as the leader of the German Nazi party during World War II. He was also the chief engineer behind the holocaust, a massive act of genocide in which around six million Jews were executed. Chilling stuff. The fuhrer's car of choice was the Mercedes-Benz 770, in which he can be seen riding in many archive photos. The stately Merc ran on a 7,655cc in-line eight-cylinder engine.
* Kim Jong-Il's Mercedes-Benz S600 Pullman Guard. Another dictator with a fondness for the German brand was the late North Korean leader Kim Jong-Il. He reportedly spent millions of dollars importing Mercedes-Benz units to his home country. In 2009, he traded in his favorite Maybach for not one, but two S600 Pullman Guards. The armored limousine was powered by a turbocharged V12 engine.
ADVERTISEMENT - CONTINUE READING BELOW ↓
Recommended Videos
* Ted Bundy's Volkswagen Beetle. Bundy is one of the most notorious serial killers in history. Before his execution in 1989, he confessed to murdering 30 young women and girls, though the real number could be a lot higher. His vehicle of choice was a humble beige Volkswagen Beetle, which he reportedly used to lure his victims with and where he kept his "tools." The rusted old Bug is now on display at a US museum.
* O.J. Simpson's Ford Bronco. In 1994, former NFL star and actor O.J. Simpson was charged with the murder of his ex-wife and her friend. When the police were on their way to arrest him, Simpson fled in a white Ford Bronco SUV. The slow-speed pursuit was broadcast on live television and it even interrupted the telecast of the NBA finals that year. Eventually, the car stopped in front of Simpson's home where he finally surrendered to the police.
ADVERTISEMENT - CONTINUE READING BELOW ↓
* Bonnie and Clyde's 1934 Ford Fordor Deluxe. Bonnie Parker and Clyde Barrow were infamous criminals from the Great Depression, who traveled the US with their gang on a robbing and killing spree. Their car of choice was a 1934 Ford Fordor Deluxe, which ran with a V8 engine mated to a three-speed manual transmission. The car would eventually go down in infamy as well, as it fell victim to the same hail of bullets that killed its owners. Today, the car is a tourist attraction in Las Vegas.