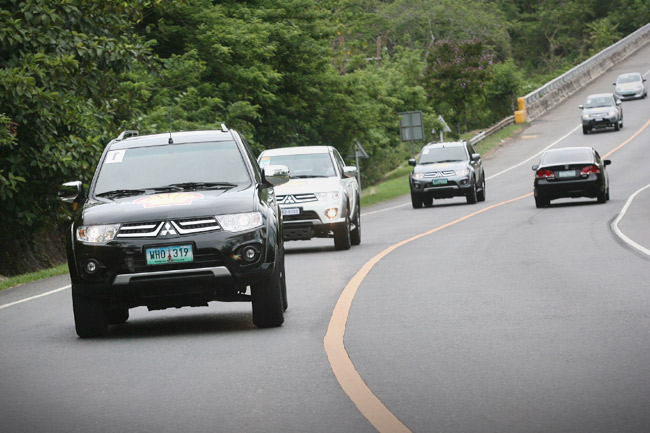 With over 7,000 islands, the Philippines has some of the most beautiful destinations. With that come scenic routes and fantastic driving roads, which make the journey double the fun. As your fellow car lovers, we would tell you to go out, drive and explore.
We're constantly dreaming of a formula for the perfect getaway--good roads, new places to see, and a car that suits the trip. The scenario that tops it all for me is driving a sports car or a roadster along winding, coastal roads with my special someone. That will happen one day.
But not having that dream car yet shouldn't stop you from going for a drive whenever you can. SUVs and pickups are quite far from that ultimate dream drive, but they're still fun to drive nonetheless, especially when you can exploit the performance with the right fuel.
For a recent road trip to Subic, we filled up our Mitsubishi Strada test unit with Shell V-Power Nitro+ Diesel. I had been filling up my first-generation Mitsubishi Pajero with this same fuel since it was launched in the country, and I had been happy with my experience. My Pajero though, is old, boxy and heavy. That's far from being a complaint--it's merely a fact, and I'm accepting the car for what it is. For a 24-year-old vehicle, I couldn't be happier with the performance. While Shell's Fuel Save is more than good enough, filling up with V-Power Nitro+ Diesel is a way of pampering my SUV.
Continue reading below ↓
Recommended Videos
The Strada's variable geometry turbo, however, makes a world of difference. The power corrupts, and you can feel the advantage of the high-grade diesel fuel with the pickup's engine technology. Driving it around the twisty and hilly sections of Subic to complete tasks for the event was easy and stress-free.
The Shell media drive to Subic kicked off the partnership with Ten, a travel show airing on AXN Asia. The show seeks to boost local tourism and let viewers see the Philippines from a different perspective based on a travel theme with 10 selected destinations. The second season highlights 10 exciting road trips powered by Shell V-Power Nitro+. The show has traveled to Bicol, Batangas, Mindoro, Ifugao and Kalinga. We're looking forward to watching the upcoming adventures in Davao, Quezon, Puerto Prinsesa, Bukidnon, Marinduque, Surigao, Negros Oriental and Siquijor.
With the right car-and-fuel combination, any road trip is worth embarking on.