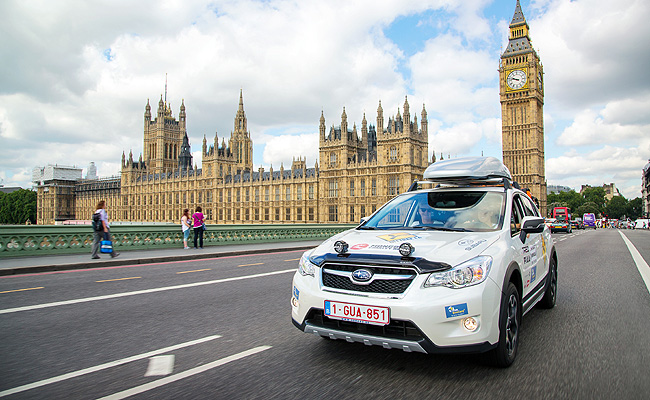 A Subaru XV has joined the Mongolia Charity Rally, a pan-continental 35,000km road trip from London in the United Kingdom to Ulaan Bataar in Mongolia. As if the task isn't daunting enough, the compact crossover also has to make its way back to London, a trip that "will last up to three months."
"Some might think it's just plain crazy to drive almost 22,000 miles to Mongolia and back, across some of the most unforgiving terrain in the world, all for charity," said Corrine Copreni, who joins Jess Watt as the two members of the team that's running the XV in the race. "Well, it might just be--but if it makes you dream, then it's not crazy at all. After going for a test drive at our local Subaru dealership in Toronto, we were 100% sold on the idea that, if there's one car that could make it through this rally, it's the Subaru XV."
According to the Japanese carmaker, the XV to be used remains largely standard down to the original-equipment all-weather tires. The only modifications reportedly done to the XV is the installation of a hood protector and a sump guard, "essential equipment for taking on the harshest terrain long after the tarmac has run out."
Continue reading below ↓
Recommended Videos
For the entire trip, the XV will visit 32 countries, cross five deserts, and span seven different time zones while covering thousands of miles off-road.
"Every new Subaru model undergoes months of testing to ensure it's as capable as possible, in all conditions, before it goes on sale--this may be the XV's toughest test to date," said Subaru UK managing director Paul Tunnicliffe. "A lot can happen in 21,000 miles of on- and off-road driving, but we're confident that the XV is more than up to the challenge. We're really looking forward to following the team's progress over the coming weeks and we wish them the very best of luck on their adventure."
Sounds fun, doesn't it?