Now, we love the new Suzuki Jimny, but it looks like Japan really luuuuurves the adorable off-roader. For this year's Tokyo Auto Salon, every tuner and their dog seems to be modifying the little SUV to be either bigger, butcher, or a tiny bit faster. Sometimes they're doing all three at once.
This model being relatively affordable in Japan and a doddle to strip down, it's not hard to see why the Jimny's homeland has gone potty for them. Saying that, we never thought a Jimny monster truck was possible. Or a two-seat, load-lugging pickup. Then again, Japan never ceases to amaze.
So, scroll down and get drunk on Jimnys, then tell us what you'd do to modify one if you had the opportunity.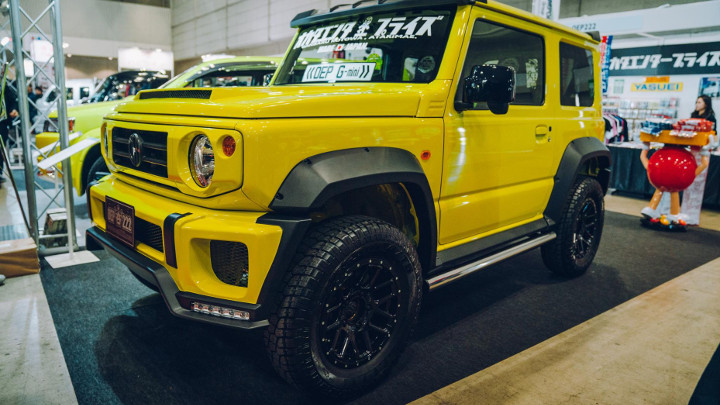 We're not sure who built this, but it may as well be Mansory. It's got the infamous tuner's hallmarks all over it. Big wheels? Check. Flared arches? Check. Hood scoop? Check. Thing is, we really like it. It's like a very angry pug.
ADVERTISEMENT - CONTINUE READING BELOW ↓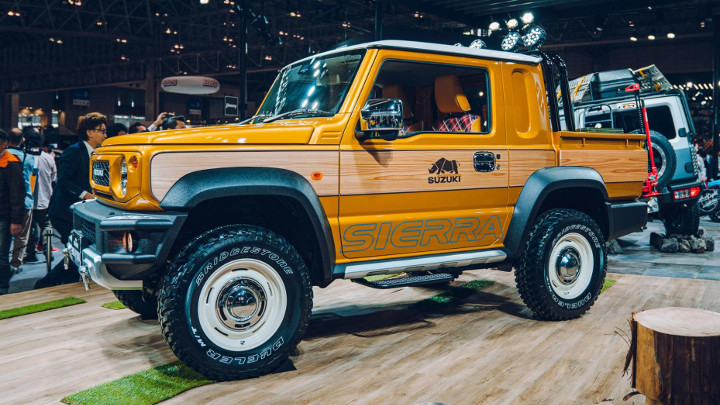 Say konnichiwa to the Sierra Pickup. Okay, you can stop bowing now. As you can see, this cutesy concept maintains the same boxy silhouette as the standard Jimny, but it has had its backseat ripped out and an angle grinder applied to the roofline to make room for a practical load-lugging bed.
More than that, they've swapped out the front grille and stamped an old-school Suzuki logo on it, then given it chunkier wheels and tires, flared arches, some hooks to drag it face-first out of a bog, and some LED spotlights at the back of the cab. Put simply, it's awesome. But then this awesomeness is doubled down on thanks to an aesthetic attribute we haven't seen since the PT Cruiser: faux wood paneling.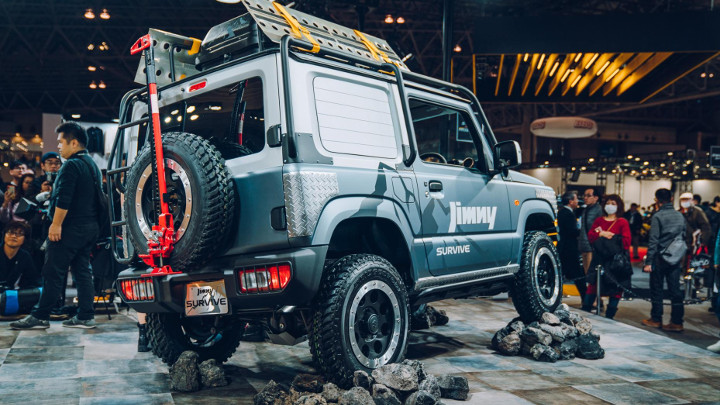 Pickups not your thing? No worries. There's also the Survive SUV Concept, a jacked-up, Bear Grylls-y variant. Maintaining all of its roof (but now with roller-shutter rear windows), it's been built for the wilderness and has more clearance, all-terrain tires, skid plates, and an exoskeleton roll cage that doubles as a set of roof racks to fill with off-road clobber.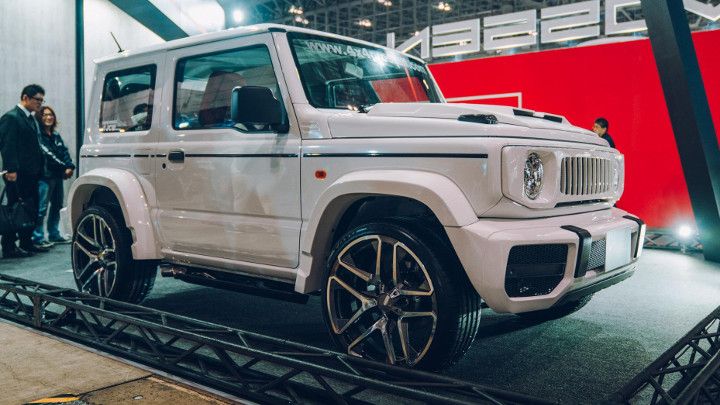 Ever since we first saw the fourth-generation Jimny, we've always seen it as a cut-price G-Wagen. It shares the same iconic boxy silhouette that allows it to cut through society like a knife through butter, and, with tiny overhangs and a ladder-frame chassis, it's ridiculously good off-road. And even though the Jimny is a lot cheaper than the imperious Mercs, as you can see here, with the help of some big blingy wheels you can make it look properly AMG-ish.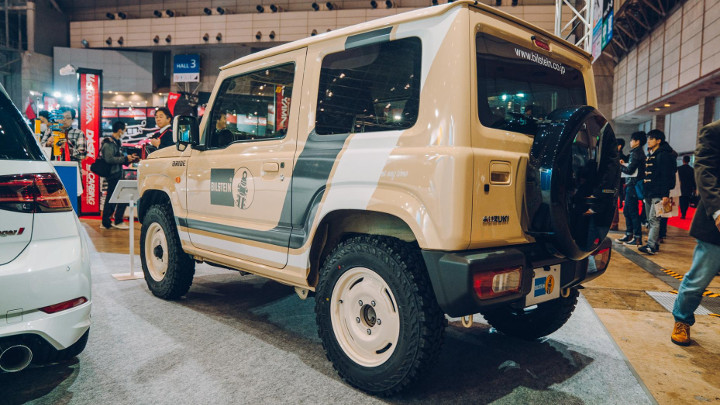 ADVERTISEMENT - CONTINUE READING BELOW ↓
Own a miniature safari park? Well, here's the Jimny for you: sand paint, steel wheels, and Bilstein suspension. Sometimes, less really is more.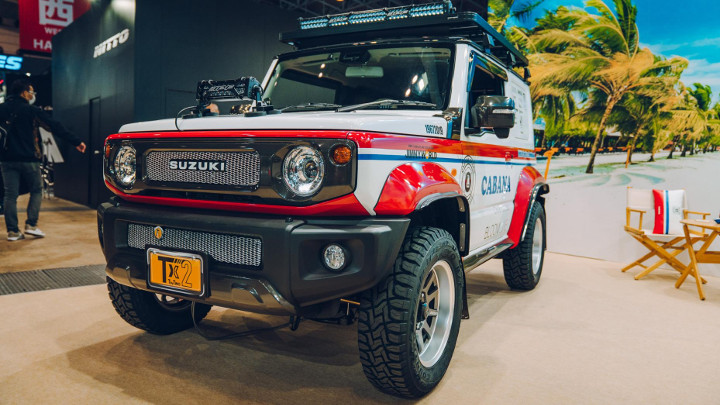 What we love with love about the Jimny is how you can dress them up like Barbies. Well, not in acidic pink paint, but how they can be situational. So, say hello to Beach Holiday Barbie—er, Jimny. Beach Holiday Jimny. Featuring mud flaps, light bars, and a giant palm tree screen behind, it's the perfect car for pulling up to Club Tropicana.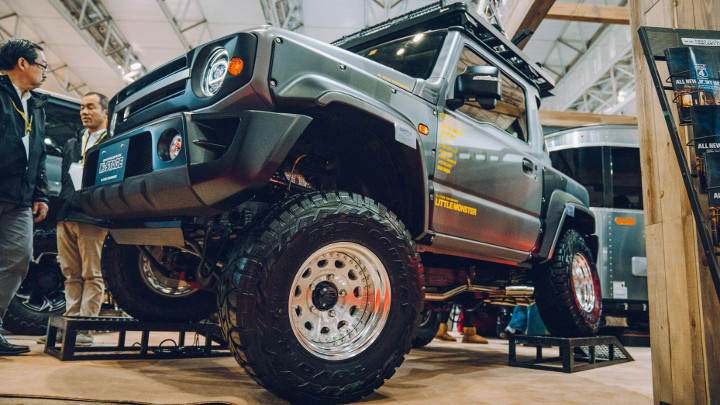 'Axle articulation' are two words guaranteed to make off-road enthusiasts dewy thighed. But don't go thinking that the Jimny and its stubby form can't cock a leg, because it can. Just look! Those ramps must be at least curb-height.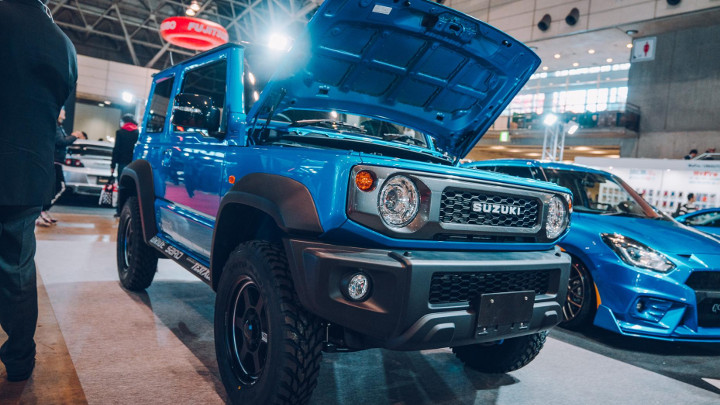 You may think there's not much going on here—just a set of wheels and some stickers. Well, take a look under the hood…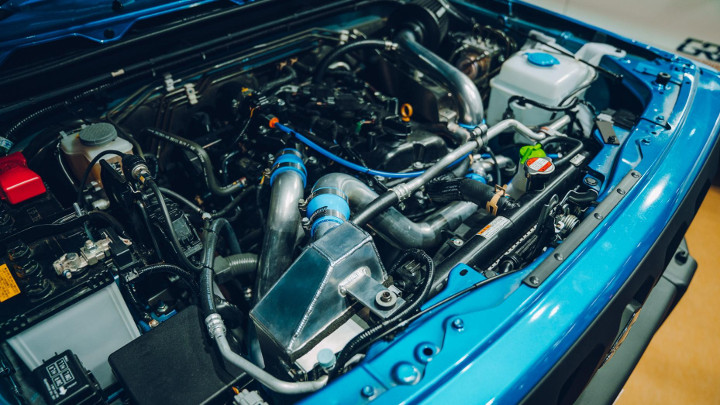 ADVERTISEMENT - CONTINUE READING BELOW ↓
Look! They've added go-faster bits. Lots of shiny piping and bigger air filters to improve the standard four-cylinder gasoline engine and give it more than the normal 100hp and 129Nm. Some crazy cats have even added turbos to the 1.5-liter motor so it can no now get from 0-100kph a bit quicker than paint drying.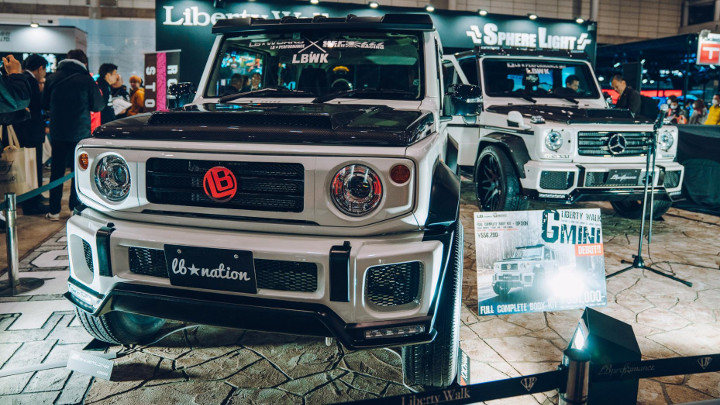 Check out premier purveyors of Japanese crazy—Liberty Walk—and their finished 'Suzuki G mini.' We first brought you the news of rivet gun-happy Liberty Walk setting about the Jimny back in August last year. The rendering suggested a menu of phat wheel arches, a square jawline, and a stadium's worth of high-intensity spotlights. Happily, the finished article is the dead-ringer for Liberty Walk's own tuned Mercedes-AMG G63 we hoped it would be. Click these blue words to see more images of LW's big bad G-Wagen squaring up to its Japanese mini-me.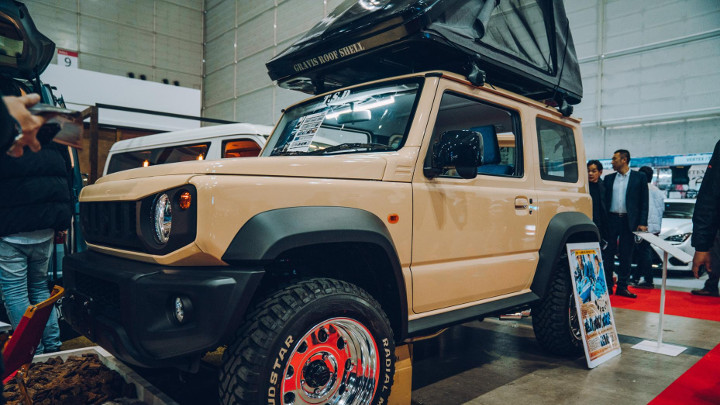 Angry faces have been added to Jeep Wranglers for years. But now there's a new angry face on the off-road trails: the Jimny angry face. This one even has a roof tent on top. But given how titchy the square footage of a Jimny's roof is, it must be for oompa loompas only.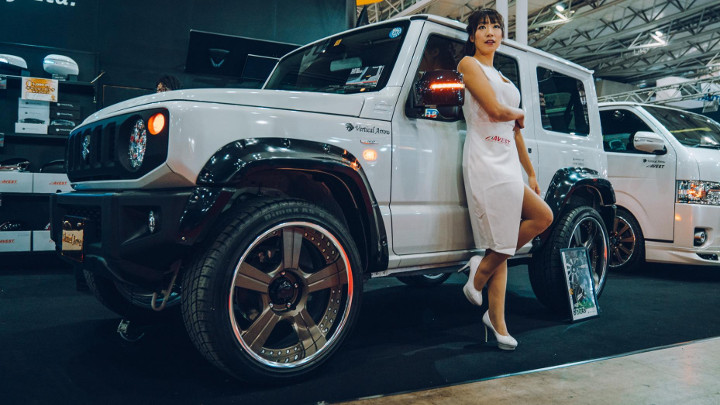 ADVERTISEMENT - CONTINUE READING BELOW ↓
Here's a truly magical modification: the invisible side step. As you can see, it's perfect for resting your Jimmy (or should it be Jimny?) Choo on.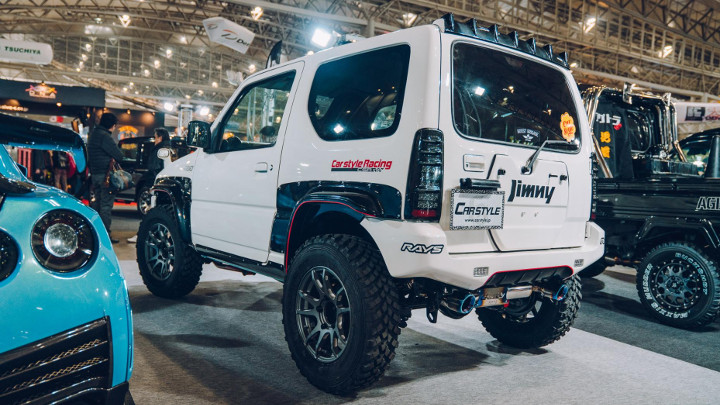 It's not just new Jimnys that have had a makeover for the Tokyo Auto Salon. Some of the older, third-generation cars have also come out to play. Look at that roof diffuser. And the burnt titanium tips. Are we mad for wanting this quite badly?
NOTE: This article first appeared on TopGear.com. Minor edits have been made.