The last time we did an economy run with our Aero-Vios, some readers complained that the results could have been affected by the traffic encountered on the day of the test. That's completely fair, because traffic does affect fuel economy. So when we decided to do it again, we waited for perfect weather and traffic conditions for a more definitive test.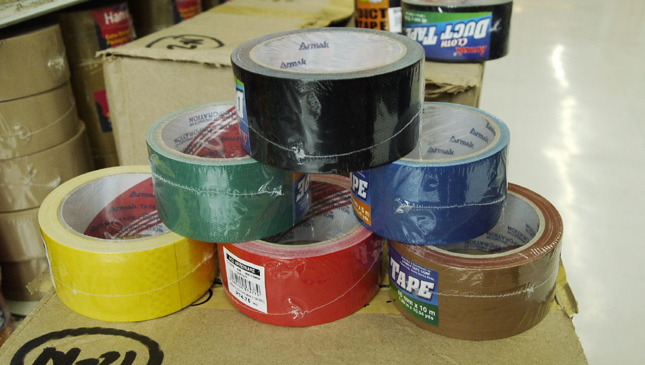 After sitting out a few typhoons and a few weeks of monsoon rains, we finally got a window earlier this month. A call to Toyota and a trip to the hardware store to restock on duct tape, and we were all set. We had the option to use body-colored tape this time, having finally found a supply of colored Armak duct tape. But we stuck to the silver tape to make the changes more obvious.
Continue reading below ↓
Recommended Videos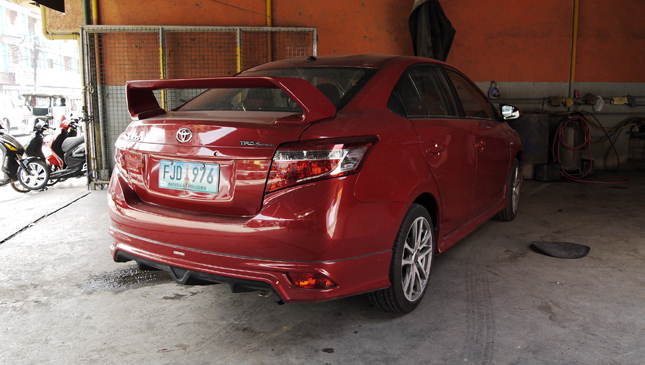 This time around, we used the TRD Sportivo Vios. Which is a Vios fitted with bodykit, a huge wing and big 17-inch wheels wrapped in Yokohama A-Drive R1 rubber. This made modification more challenging, but then, that should make the results more dramatic, right? Of course, first, we had to get the car cleaned.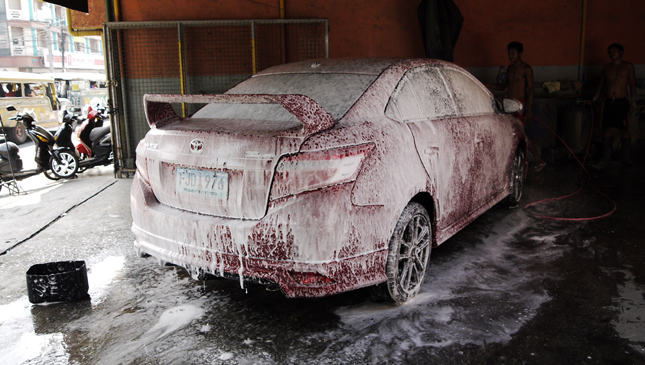 Aerodynamic buffs often refer to the idealized teardrop-shaped template as one that provides the least drag. The template above comes from a 1930s aerodynamics study, and is shared online by noted aerodynamics enthusiast Phil Knox. Some of his work can be seen here.
Like many modern sedans, the Vios is subtly shaped to come as close to that ideal as possible while still maintaining a recognizable three-box profile. And here's how it compares to portions of the template. For a neat interactive tool using this template, you can go here.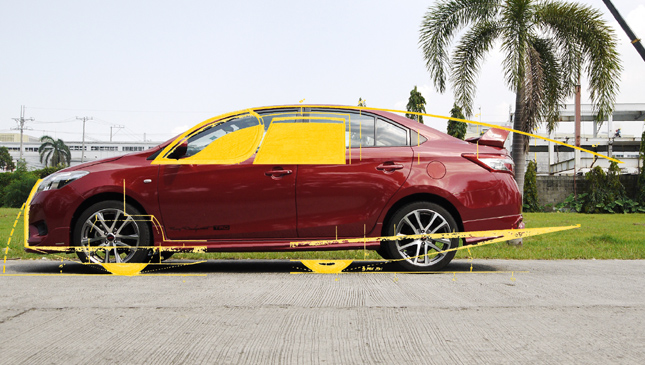 Last time, we discussed adding a rubber air dam. With the low-slung front lip, that would be difficult. Maybe next time! Note how that lip, the rear skirt and the rear wing conform to the ideal aerodynamic template. We doubt that rear wing is designed to provide performance-enhancing downforce. Rather, the small kick up at the end probably serves to clean up the turbulent air in the car's wake.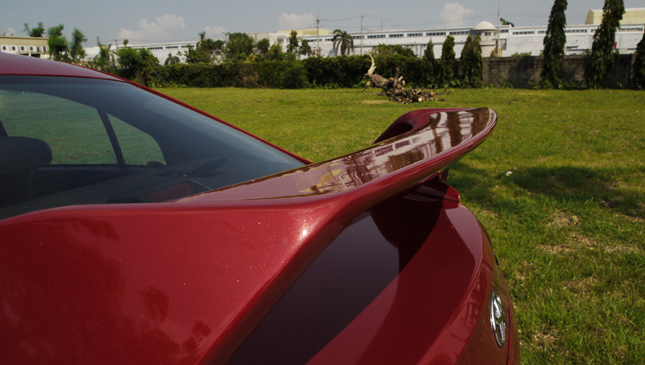 Just like the little kick up in the trunk lip below it, it extends that smooth bubble of air behind the Vios, making it more streamlined without having to resort to an actual tail as seen in the template. Of course, it would be even more aerodynamic with a tail, but I'd need a lot of duct tape and board to make one.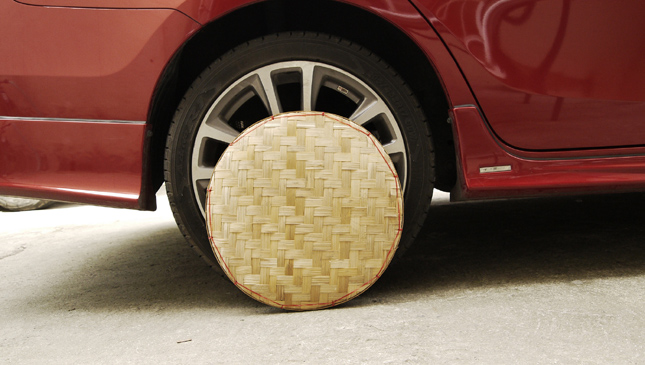 What we did add were some front wheel covers. Using a handy-dandy bilao, I measured out two 16-inch discs of rubber, which I then taped to the wheels with copious amounts of duct tape. Before we covered over the tire valve, we filled all four tires to 45 psi. This made the ride marginally stiffer, but it was worth a theoretical 2% extra efficiency. That's something we might want to test separately, on another date. What we can tell you now is that this pressure actually made the car track straighter on the highway. Worth trying if you like driving fast.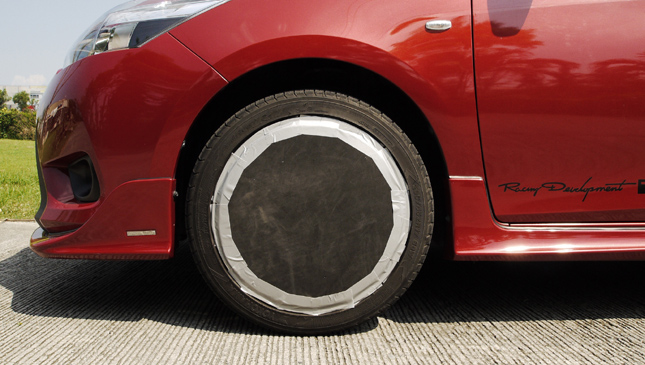 Some adjustments were required to make the rear wheel skirts fit around the wider 17-inch wheels. All that was needed was a small piece of rubber to lift the trailing edge. This 10mm-thick piece gave just enough clearance to put a finger's width between the tire and the skirt.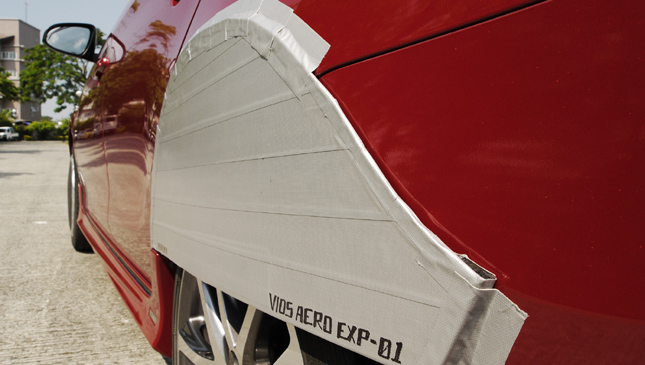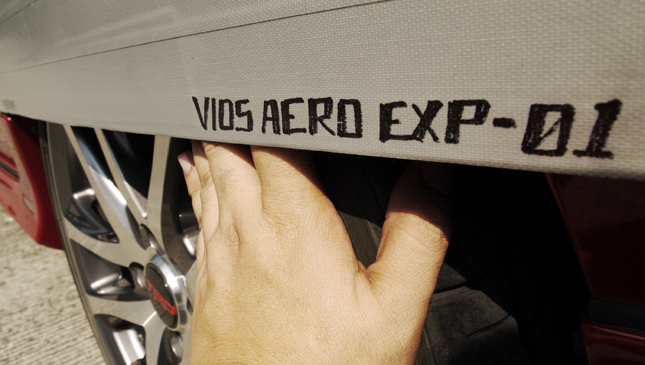 After a test run, no signs of rubbing were evident. Mission successful!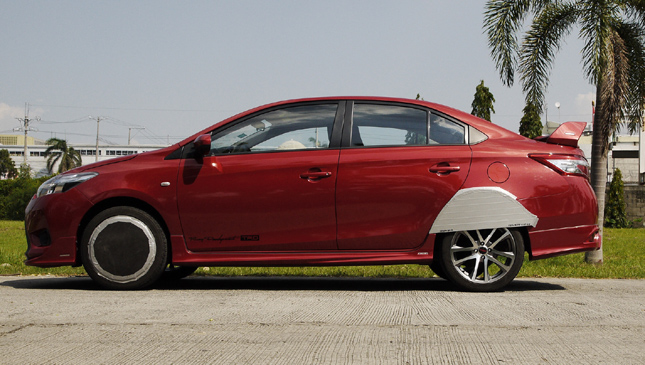 The rest of the bodykit from before went back on the car. For a rundown of these changes, read our first Aero-Vios installment.
So how did the car do? We'll tell you in the next part of this report, where we finally took the Aero-Vios for a drive in clear air on the highway.
Photos by Niky Tamayo