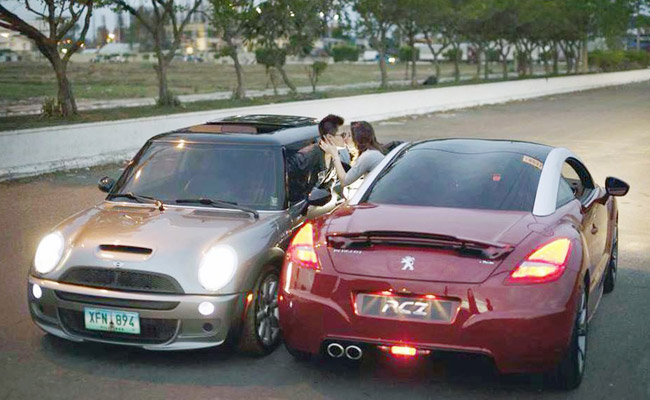 Last January 12, we posted the above photo on our Facebook page. It was sent to us by the guy in the photo; his name is Axl Acibar. He wrote then: "This is me and my GF. I work at Mini Cebu and she at Peugeot Cebu. But she got a really good offer from Peugeot Brunei, and she will be leaving two weeks from now. So we did a couple's photo shoot."
Of course, all that cheesiness was a huge hit among our Facebook followers: The photo has received more than 18,000 likes and has been shared by more than 900 people. Not bad.
To show their appreciation, the pair passed by our office and brought us danggit (dried fish). The girl, Ritchell Selma, is already leaving for Brunei tomorrow, January 26. Hence their arrival in Manila yesterday.
"I was surprised when my friends started telling me," Selma told us. "He (Axl) didn't tell me he was going to send the photo to you. My boss even called my attention for appearing on social media with another car brand."
"We became instant celebrities in Cebu," added Acibar, who revealed that he had been a longtime reader of Top Gear Philippines, having in his collection every single issue except for the maiden one.
Continue reading below ↓
Recommended Videos
The two used to work for Ford Cebu, also as members of the sales team. It was there where they met. And it seemed like it was their common interest in cars that drew them toward each other.
We asked the couple if they already had plans of settling down--their viral photo, after all, looked like a scene from a prenuptial shoot. They both said not yet.
It's just a little sad that they will have to part temporarily for now. Fortunately, with Facebook and all the Internet-powered mobile devices available to them, they can surely find creative ways to deal with each other's absence.