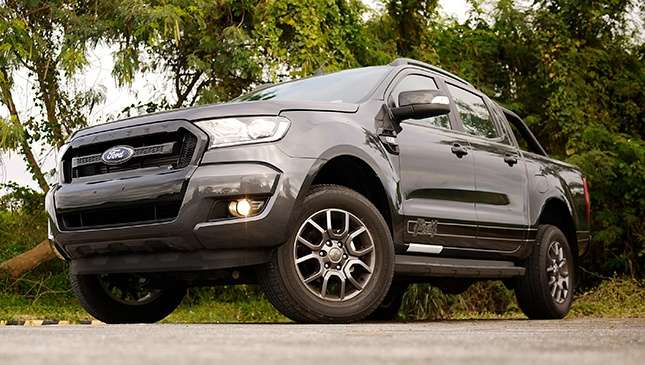 Some might question the need for yet another Ford Ranger variant, when we already have the XLT and the Wildtrak, but the FX4 gives you a lot of the goodies of the latter, at close to the price of the former. Sure, it doesn't have four-wheel drive, but could this be the perfect pickup for pavement pounding?
1) Stealthy style. The blacked-out grille and accents, muted graphics, and gunmetal alloy wheels sexy up the FX4 without screaming. Even the large FX4 vinyls are discreet. All in all, it makes for a subliminally handsome vehicle, without looking over the top.
Continue reading below ↓
Recommended Videos
2) Functional kit. The FX4 features a wide and flat stepboard instead of the tubular steel one on the Wildtrak. While not as off-road friendly, it's easier for passengers to use. The rear steel rollbar, bedliner and tie-down points also make it more cargo-friendly than the Wildtrak.
3) Light of my life. Oh, and that rollbar also features LED lighting for the bed. Coolness.
4) Ford Sync. Despite lacking a touchscreen, the FX4's infotainment center features a full-color digital display and Ford Sync, which allows you to pair up your phone via Bluetooth, letting you dial and answer calls via the console keypad.
5) Excellent Sound. The Ranger's impressive sound insulation and crisp-sounding sound system make listening to songs streamed via Spotify a joy. If you're old-school, radio reception is exceptional.
6) Feather-light touch. An electric power steering rack, shared with the new Everest, replaces the old hydraulic system. It's finger-twirl light at parking speeds, and makes guiding the two-ton behemoth through traffic and parking lots a breeze. Further assisting in parking are the integrated parking sensors.
7) Heavy boots. While it lacks the go-anywhere capability of four-wheel drive, the FX4's 265/60R18 Bridgestone Dueler HT tires, same as on the Wildtrak, means no more curb rash. A Wildtrak-aping suspension height also makes parking up on the curb a breeze.
8) Wash-and-wear sensibility. The FX4 retains the Ranger's excellent 800mm water-fording capability. Beyond that, the durable black leather interior seats are both comfortable and spill-proof.
9) Right-sized. The 2.2 liter Duratorq engine might be the smallest in its class, but it packs a punch. With 158hp and 385Nm of torque, it matches the output of most 3.0s, while still allowing mixed economy in the 'teens.
10) Right-priced. At P1,359,000 for this AT variant, the FX4 stickers for P60,000 less than the 2.2 Wildtrak 4x2 AT. While it does lack some of the toys of the Wildtrak, like the power seats and backing-up monitor, it still gives you a lot of truck for your money.