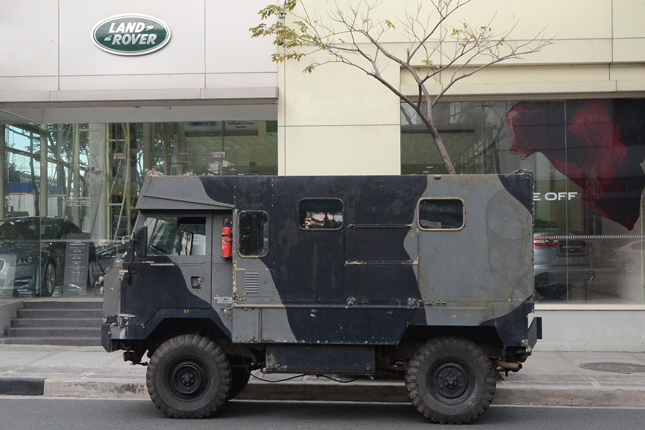 Car collectors are stocking up on old Land Rovers from Series Vehicles to the Defenders--said to be the Queen's favorite--because the Defender is going out of production by the end of 2015. These collectors realize that barn finds and project vehicles are going to become scarce, so they are stocking up on used Land Rovers today as they are set to become "collector's items."
As the distributor of Land Rover vehicles in the Philippines, Marc Soong, the executive director of LRPhils Motors, envisioned the need to collect and display a complete lineup of Land Rover and Range Rover vehicles. A collection could tell the story of innovation and ingenuity of the Land Rover brand through its evolution from the 1948 Series One to the current Range Rover Evoque. In addition, the Land Rovers would have a significant and colorful history to share, to inspire and to entertain an audience of all ages.
From his research on the early models, Marc learned that the Land Rover Forward Control 101 was built for the British Military from 1975 to 1978, and that only 2,669 units of the FC101 had been produced.
The FC101 was primarily manufactured to meet the British Army's requirement for an air-transportable heavy-duty gun tractor, and was designed to tow a field gun (the L118 Light Gun) with a ton of ammunition and other equipment in the rear load space. The official name of the vehicle is derived from its 101-inch wheelbase, and the position of the driver, which is above and slightly ahead of the front wheels.
Continue reading below ↓
Recommended Videos
The FC101 was never sold to the public until it was decommissioned in the late 1990s. It was never previously imported into the Philippines.
The rarity and the contribution of the FC101 to military history made it more desirable for the Pinoy car collector. Plus, an FC101 would be a great addition to the pool of Land Rovers to be used for relief and charity missions of LRPhils Motors and the Land Rover Club of the Philippines.
Through a network of Land Rover enthusiasts, Marc discovered a rare left-hand-drive FC101 Ambulance for sale in the UK. Only 450 units of the FC101 were equipped as ambulances, and around half of these were built as left-hand-drive for British commitments to NATO in Europe.
According to the seller, this 1977-model FC101 entered British military service on January 1, 1983. It then served in Desert Storm in 1991 and was declared a loss. An Irish car collector bought it in 1998, and then sold it to an English car collector a few years back. This month of April, Soong imported the FC101 into the country.
The Land Rover Club of the Philippines now looks forward to going on relief and charity missions with the FC101.
Photos by Robby Consunji