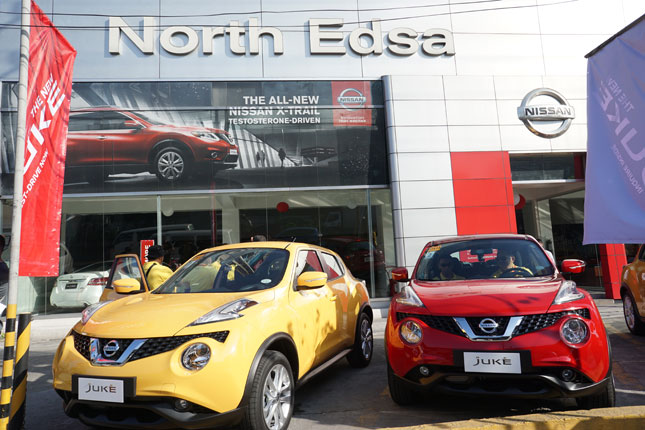 I had seen the Nissan Juke during its launch last year, but it was on a stage and from a distance. Now I'm looking at it up close, in a searing yellow color. I'm starting to like it. With a crew of videographers, I'm about to take this spunky crossover all the way to a surfing resort in La Union, almost 200km from our kickoff point at Nissan North EDSA.
On the calm stretches of NLEX and SCTEX, the Juke reveals itself to be a steady cruiser. The body doesn't squeak or rattle, and barely legal expressway speeds don't tax the 1.6-liter mill too much. But our stability could be due to our fully loaded condition. We're four adults and overnight gear in the cabin, and the 114hp engine wails in protest whenever we attempt a fast overtake.
Our lunch stop does nothing to alleviate our weight. At the delicious Makkan Ilocano restaurant, we load up on delicious bulalo, dinuguan and quail adobo, paired with heapings of soft rice. I already imagine fighting sleepiness because of a full stomach on the last stretch to the resort.
Thankfully, we are past the new TPLEX at this point, and the roads become busier with tricycles and buses. This lets me discover that the Juke is a nimble crossover, with a chassis that is comfortable doing quick maneuvers. When we run over bad surfaces on the national highway, this Nissan also does a good job of absorbing the bumps and ruts. This is a crucial feature when it comes to being driven on Philippine streets.
Continue reading below ↓
Recommended Videos
It's a hot day, and I can feel the sun begin to burn my exposed arms under the windshield. But Nissan's legendary air-conditioning keeps the cabin temperature glacial, and there are even a few requests from the rear passengers for the A/C to be dialed down.
I suspect part of the reason the cabin is so easy to cool is that it's rather small. The Juke's sloping rear hatch may look cute, but it doesn't do much for luggage space. However, I wouldn't call it cramped; cozy might be a more appropriate word. The interior is wide but not very tall. With four people and overnight luggage--not to mention video gear--the space is just right, if not a little snug.
We finally arrive at the Kahuna Beach Resort & Spa by afternoon. It's a classy little place with cabanas, an infinity pool and a beachfront full of La Union's trademark waves. In fact, Nissan Philippines has brought along ace surfer Luke Landrigan for those who want to have a lesson in the morning.
But for me and my team, relaxation has to come later. After unloading our things and freshening up, we pile back into our Juke and look for a scenic spot for photos. Near our hotel, we find a sandy area that leads to the beach. Just in time for the setting sun, we take photos and videos of Nissan's funky crossover.
The Juke really does grow on you. Yes, it still looks a bit unusual, and I still get confused whether the circular lamps on either side of the grille or the arrow-shaped protrusions on top are the main headlights. But its curves and odd angles begin to look pleasant and amusing over time. On the way to this resort, our media convoy drew a lot of stares, and the response felt mostly positive.
I also notice how tall the ground clearance is. This will prove useful when it comes to the uneven roads and the poorly built parking barriers we all despise. Nissan Philippines doesn't position the Juke against any model in the market, but the Ford EcoSport seems like an obvious target.
On the sand, the Juke's dune-buggy vibe becomes more apparent. It just looks at home in a recreational setting, as though it always brings along its swim trunks in case the owner feels like escaping the city.
Maybe it's partly admiration for getting us away from our desks safely and comfortably, but as we bask in the amber glow of the sunset, we look at the Juke with fondness.
In the evening, I get a chance to have a few words with Nissan Philippines president Toti Zara. He says one reason they brought in the Juke is to raise brand awareness--to inject more fun into Nissan locally. I believe it's working, because I am certainly looking forward to driving the Juke again tomorrow.
For now, I enjoy the entertainment Nissan prepared, take a few sips of the single malt in my hand, and relish the soft sand under my feet. It has been a long drive, and I can still feel the weariness of the journey's distance, but the Juke has already made the trip enjoyable and memorable.
Photos by Dinzo Tabamo