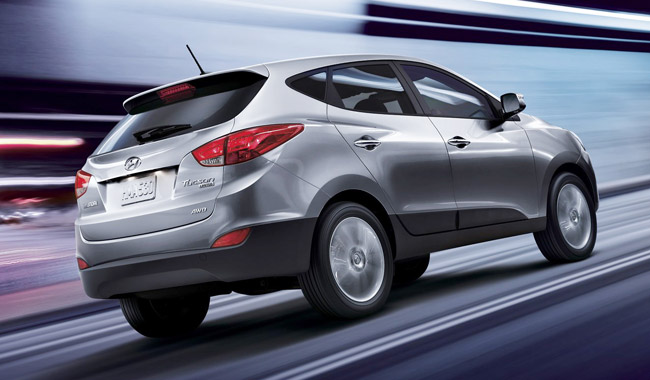 Everything is feeble these days. Blame political correctness. In an age when you get crucified on your own Facebook wall for typing an ineffable three-letter word, I dare you to throw a sneering glance at your cross-dressing neighbor.
Today, we have completely lost sense of true machismo, as though the very word were a crime in itself. We have become too safe and too contrite. Led Zeppelin have been woefully replaced by some pretty boy band pretending to strum their own guitars, and Rodolfo "Boy" Garcia by some lanky actor pretending to know how to throw a punch. This generation seriously needs to worry about the paucity of testosterone, not the depletion of fossil fuels. Boys are now so gooey they tote fancy purses and shun manual labor.
And it shows in our sport-utility vehicles. The SUV used to be the highway's unapologetic symbol of virility. It guzzled gasoline and went anywhere you took it to. Perhaps most important, it looked like a box. Which meant it didn't give a shit about its appearance or worry about its reputation. In other words, it wasn't a diva. It was simply a brawny object cut from the same cloth as Steve McQueen. It did what it was built to do, and it did so quietly and faithfully. Which, if you think about it, was exactly how real men used to behave.
Continue reading below ↓
Recommended Videos
The Willys MB, the 40-series Toyota Land Cruiser, the Ford Bronco, the Mercedes-Benz G-Wagen and the Land Rover Defender have all been succeeded by so-called soft-roaders--"crossover" vehicles that are more at home on pavement than on rocky terrain, and flaunt exterior designs that have more curves than a Barbie doll.
The extremely curvaceous Hyundai Tucson, for instance, is said to possess what the Korean carmaker describes as a "fluidic" body. There are many things that come to mind when I hear that adjective, and not one of them is masculine. Truth be told, I'd rather be caught dead driving a rickety Suzuki Samurai or--when push really comes to shove--an owner-type jeep. I am seriously not a fan of the Toyota RAV4 or the Mazda CX-5.
I'm not sure when exactly the memo on stylish SUVs got passed around in the car industry. I suppose it all started when the tree-huggers began holding SUVs responsible for our thinning ozone layer. Car manufacturers had no choice but to put together smaller, more fuel-efficient engines. Because the engines got smaller, the sheet metal they needed to lug around had to be lighter. And the easiest way to reduce weight, of course, was to go compact. Hence came the Kia Sportages and the Honda CR-Vs.
And because modern SUVs got puny, they had to be made cute-looking. Sharp corners and straight lines only work well with size. Apply them to tiny runabouts and you have the automotive equivalent of Verne Troyer.
I once drove a modern (and buxom) Jeep Grand Cherokee around an incredibly demanding off-road track in Pampanga. The unit had a badass 5.7-liter Hemi V8 engine under its fashionable hood, and yet it couldn't clear a mound that had been covered with slippery mud, something an old XJ-series Cherokee had no problem doing. At one point, the voguish SUV got stuck and had to be winched by its antiquated and very boxy progenitor.
Worse, when I overshot a turn and wound up on a rough but seemingly harmless patch, the front spoiler got unfastened and dangled loosely as I finished the course. It became apparent to me that this state-of-the-art SUV had bits and pieces just for the cosmetic heck of it. The Defender would smack you in the face if you gave it such useless bodykit.
SUVs need to look like Charles Bronson, not Justin Bieber. If you want to turn heads, get a bright-red coupe. If you want to man up, drive a squarish sport-ute. Angel Locsin, in case you haven't heard, digs Hummers.
First published in Esquire Philippines in 2011, this piece has been revised and updated.