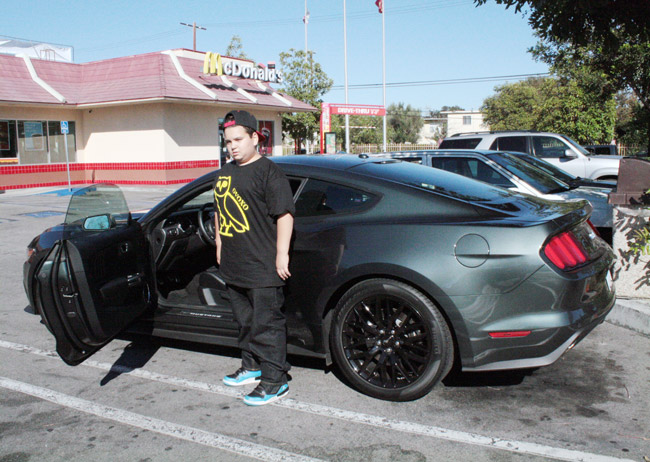 When the sixth-generation Ford Mustang was unveiled in December last year, opinion around the automotive world was pretty much divided right in the middle. Many people praised the car's sportier, more aggressive styling--including our very own Dinzo Tabamo, who attended the launch in Sydney, Australia--but just as many people ridiculed it, saying the iconic automobile had lost its aura of machismo and gone the way of fashionable Japanese (and even Korean) coupes.
Social media was particularly critical of the car's design, and understandably so--the new Mustang looks superficially and flirtatiously curvaceous in two-dimensional images. But seeing it in the metal is something else, I tell you. It looks like a rock star. Which is possibly why Ford Motor Company made me stay in Sunset Marquis Hotel in West Hollywood, California, during my test drive of the car. This hotel is famous for being a favorite lodging place among, er, rock stars.
But I could be biased, you know. The Mustang is somewhat dear to me because my father owns and drives one. I fear that Ford could launch a Mustang that looks like a boring Lincoln model and I'd still swoon over it. So maybe my opinion of the new Mustang's aesthetics shouldn't count.
Continue reading below ↓
Recommended Videos
Now, if I can't trust my own self to hand down a verdict on the Mustang's appearance, whom can I rely on?
The answer came to me yesterday on a parking lot just outside a McDonald's restaurant. Just as I was about to take off after partaking of a quick Quarter Pounder lunch, a stocky boy emerged from the fast-food place and walked toward my dark-gray Mustang. He ogled it lustfully--or in a manner that looked endearing only because he was a prepubescent seventh-grader. If that kind of ogling had come from a full-grown, adult male, I would have seriously feared for my personal safety.
"Is that the 2015 model?" he asked me.
"Yes, it is," I said, amused that I was talking to a kid who seemed to know his cars.
"It's a beautiful car," he uttered with the kind of longing an adolescent boy might feel for his first crush.
"You want to drive it?" I teased him.
"I can't wait to turn 18," he shot back.
And then he started reluctantly walking away.
Crushed that I couldn't offer him anything with a Mustang logo on it, I called him and motioned for him to come back.
"Stand beside the car," I said. "I need to take your photo."
His eyes sparkled and he immediately put down his takeout food by the curb. He then posed next to the Mustang like he had just hit the lottery.
I guess I blew him away when I asked him to sit in the driver's seat.
I drove away happy with the thought that I had made the day of 12-year-old Mark Dennis from Torrance, California. If you think about it, boys like him are exactly why awesome-looking cars exist. His, I think, was an innocent, untainted appraisal of the all-new Mustang's exterior styling. You can't get any purer than that.
Photos by Vernon B. Sarne