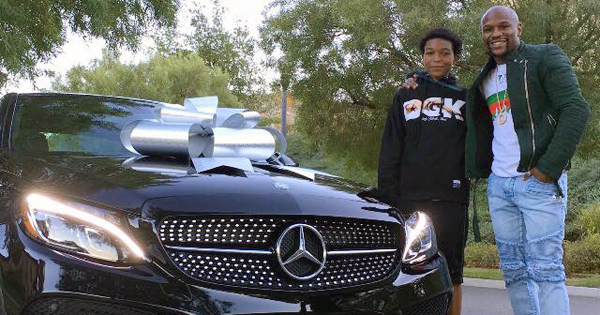 Parents, at least in most cases, always want what's best for their child. Education, living environment, food, toys--it depends on a case-to-case basis, really. In the case of Floyd Mayweather's son Amir, the best is in the form of a Mercedes C450 AMG luxury sedan.
The retired boxing champion most famous for incessantly running his mouth remaining undefeated throughout his 49-fight career, has given a brand-new unit of said car to his son for the latter's 16th birthday. Yes, while most kids would have been content with a new phone or gadget, Amir Mayweather got a $50,800 Mercedes. Let that sink in for a moment.
Okay, so the price tag isn't really that impressive compared to the rest of Mayweather's car collection. The Benz pales in comparison to the elder Mayweather's Bugatti Veyron, Lamborghini Aventador, Ferrari 458 Itlaia and $4.8-million Koenigsegg CCXR Trevita. Still, it's a sweet ride nonetheless.
The guy may be universally perceived as a douchebag, but he does know how to give lavish gifts to people who are dear to him.
Continue reading below ↓
Recommended Videos