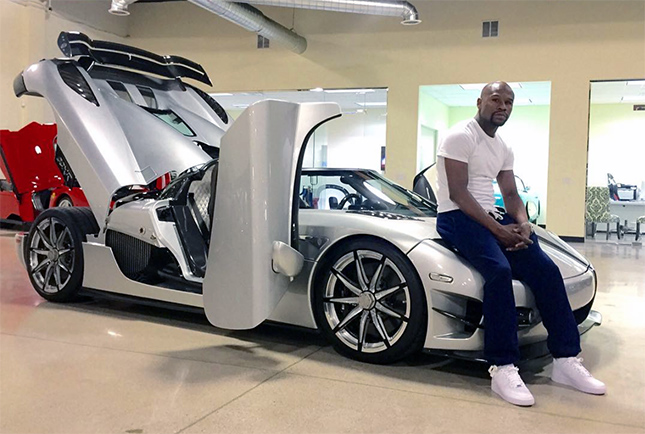 We all know American boxing champion Floyd Mayweather is a douchebag rich man, and as such he can very well afford to do things only douchebags wealthy guys can do. Like buy stupendously expensive supercars hypercars on a whim and then brag about it on social media.
So here's the latest acquisition of the controversial pugilist--a Koenigsegg CCXR Trevita, which, according to Mayweather, was purchased for a whopping $4.8 million. And he made sure his nearly eight million followers on Instagram knew about it, posting the above photo with the following caption (in italics):
My new 4.8 Million dollar car. $4,800,000.00 Koenigsegg CCXR Trevita supercar. KOENIGSEGG Is An ULTRA Boutique Automobile Manufacturer For The Super Rich. KOENIGSEGG made only 2 TREVITA'S for the World, and this is No. 2 of 2. In addition it is the only USA Spec TREVITA Built in the World. The Origin of the car is Sweden. The word TREVITA means "3 Whites." It is beyond a Super Car, and is classified as a "Hyper Car."
Okay, we apologize. Floyd isn't rich--he's super rich. Damn. With all that money, we'd take a crash course in basic grammar.
Photo from Floyd Mayweather's Instagram account
Continue reading below ↓
Recommended Videos