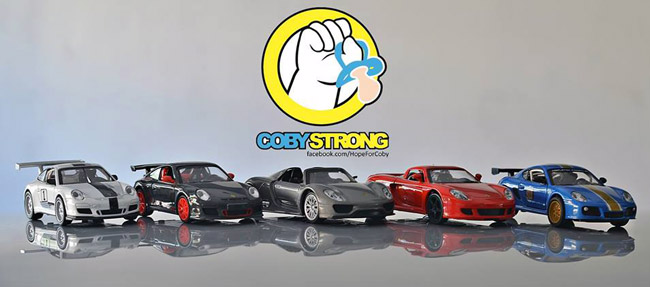 Jing Gines, a reader of Top Gear Philippines and member of the car club Subaru Society, wrote to inform us that he's auctioning his complete set of "Passion for Porsche" die-cast toy cars painstakingly acquired from Petron's series of promos. The proceeds of the auction, which will happen online on Facebook on February 15, will go directly to the medical care of a very sick baby, Coby Castillo, who was born last October and diagnosed in early January as having severe neonatal hepatitis.
In order to survive, Coby needs to undergo a liver transplant, the procedure for which could reach P12 million as the parents--Emer and Leah Castillo--plan to have it done in Singapore.
Gines wrote: "I'm auctioning my complete set of the 'Passion for Porsche' die-cast cars--15 pieces in all--for the benefit of Coby, who is the nephew of a family friend. Coby is suffering from chronic liver failure. The parents have started a fund-raising campaign to generate money for their baby's treatment."
Explaining how he completed the set, Gines said: "Originally, there were only five cars--the Porsche GT3 RSR, the Porsche Cayman S, the Porsche Carrera S, the Porsche Panamera and the Porsche Cayenne. But Petron released three more when it extended the promo, and also offered different colors for the Cayman S, the Panamera and the Cayenne. All these can be yours so place your bid on February 15."
Continue reading below ↓
Recommended Videos
The mechanics of the auction are as follows:
We will auction off the complete set (no sale of individual units) on February 15, Saturday, from 1:30pm to 2:30pm. Bidding will start at P5,000 via the comments section. Participants have an unlimited number of bids within the allotted time. The highest bidder at the end of the auction must send his or her contact details to via private message. Should the highest bidder fail to contact us for one reason or another, the prize will go to the second highest bidder.
The Facebook page for the auction can be found here.
Now, if die-cast toy cars are not your thing and you simply want to help, you may donate cash via the following bank accounts:
DOLLAR ACCOUNT
Account name: Craig Jacob Araos Castillo
Metrobank Savings: 265-2-26500652-8
SWIFT code: MBTCPHMM
PESO ACCOUNTS
Account name: Craig Jacob Araos Castillo
Metrobank Savings 265-3-26527762-5
Branch: E. Rodriguez, Quezon City
Account name: Leah Anjelica Araos
BPI Current Account 3080 0065 77
Branch: Katipunan, Quezon City