Desite all the hype, glamour, and pizzazz of the recently launched Camry and Previa minivan earlier this year, it's really the Avanza that will silently conquer the world for Toyota, here in the Philippines and the rest of ASEAN at least.
If Toyota were to have named it after an animal, Ant would be just right, since the little insect can carry far greater loads than its minute proportions might lead you to think. Just like the Avanza. Practically everything is unique with the Avanza, sharing little with other Toyota models. Toyota no doubt sees the Avanza as the spiritual successor to the Toyota Tamaraw N and FX that have seen heavy use as taxis and fleet vehicles of choice for various firms with extensive logistical requirements. In short, the Avanza will lead a long, torturous life being overloaded beyond belief, will most likely miss multiple service checkups, and trample over terrain best left to its upscale Hilux and Fortuner siblings. And it has to lap it all up happily, begging for more in true God-like reliable Toyota fashion.
ADVERTISEMENT - CONTINUE READING BELOW ↓
Its longitudinally-mounted 1.5-liter VVT-i K5-VE has a twin-cam 16-valve head, allowing it to deliver an adequate but very broad spread of 109hp and 141Nm of torque, enough to haul the diminutive 1,085kg Avanza quickly enough around town. And thanks to short gearing, it has enough usable grunt to haul probably close to double that when it's overloaded, which for sure Toyota has foreseen to happen anyway.
ADVERTISEMENT - CONTINUE READING BELOW ↓
Recommended Videos
The 1.3-liter K3-VE makes do with 92hp and 120Nm of torque, but is still adequate for in-city commuting. Excellent, considering the engine's the size of a sewing machine, leaving much in the way of crash-space for added safety of the passenger cabin. Attached to it is either a five-speed manual or a four-speed automatic transmission that drives the rear wheels, just like the older Toyota AUVs. In hindsight, Toyota could probably have installed a continuously variable transmission to really help performance and fuel consumption, but CVTs in general haven't reached Toyota levels of durability in taking well beyond the rated capacity. More importantly, a CVT would have driven production and long-term maintenance costs up. So a regular automatic was deemed appropriate.
ADVERTISEMENT - CONTINUE READING BELOW ↓
Underneath, the Avanza's equipped with MacPherson strut suspension up front for improved component packaging and a refined ride able to handle the abuse of overcapacity and our pitiful excuse for a road network. At the back, Toyota thankfully didn't go cheap, developing a unique five-link rear axle design so handling shouldn't be too lairy for those who don't want to get it sideways in the rain with balding, under-inflated tires. If someone will make aftermarket suspension bits for the Avanza, you can be sure someone will dream up of rallying the Lander Robot-looking thing thanks to RWD.
The stoppers are modestly sized front disc brakes with drum-type rears, yet they're able to haul down the Avanza quickly enough, thanks to its light weight. With a turning radius of 4.7 meters, this little wonder will be perfect for Christmas shopping in Divisoria, slipping into and out of the tightest parking slots as well as breezing past lumbering big vehicles in traffic.
ADVERTISEMENT - CONTINUE READING BELOW ↓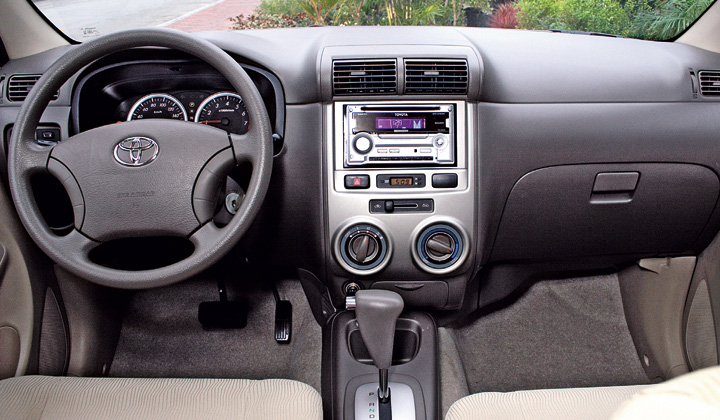 Inside, the equipment levels are surprisingly generous. On the 1.5 models, there's a 2-DIN CD/MP3/tuner radio, and on the 1.3 variant a 1-DIN CD/tuner radio, both with four speakers and power steering as standard. The 1.5 also gets power side-view mirrors and windows, whereas in the 1.3, everything else is manually controlled. There's also an SRS airbag for the 1.5, though ABS-EBD brakes would have been more welcome in the safety department. More goodies differentiating the 1.5 from the 1.3 are remote-keyless entry and an immobilizer- equipped key, plus the use of vinyl instead of the two-tone fabrics for the 1.3.
ADVERTISEMENT - CONTINUE READING BELOW ↓
The driver's seat is upright, with a fixed-angle steering wheel closer to that of a truck than an MPV/sedan, but high enough for the lardiest of drivers like me. It drives decently well, dynamically speaking. It's typical Toyota-soft, but a wee bit bouncy for even the most modest of the female anatomy's humps. Still, you won't feel so tired after a day's worth of driving, as the glasshouse is airy despite the limited interior space.
But fully laden, it drives brilliantly thanks to good visibility. And despite slightly pinched accommodations, it'll be comfortable enough on a modestly long drive, thanks to adequate foot and knee space for everyone. The third row seats two more for a total of seven occupants, but that's best reserved for children and midgets. Luggage space is limited with the third-row seats down, but they fold away, increasing luggage space almost tenfold. That's enough to swallow two balikbayan boxes. Unfortunately, ingress isn't as easy as the previous FX, as the tailgate swings up and not split-sideways.
ADVERTISEMENT - CONTINUE READING BELOW ↓
Toyota will definitely make a killing with the Avanza. While shooting it, people would stop by and ask questions about it, inquiring about availability, pricing and equipment specs. People instantly knew it was a Toyota even from a distance, quite amazing in itself. And they know from experience that this little bugger will be one tough mother.
Those are the secrets to Toyota's success: reputation and cult-like following. They always make cars that are tough as, er, you know what. So right now, the Avanza looks to be a shoe-in for success. Perfect as an only car for the average Filipino family that needs the increased utility a Vios cannot provide. It's perfect as a second or third car for the household help to do errands with as well. Simple design meets state-of-the-art execution. As a purely utilitarian tool, you can't go wrong with the Avanza. (Botchi Santos)
ADVERTISEMENT - CONTINUE READING BELOW ↓
NOTE: This story first appeared in Top Gear PH's December 2006 issue.