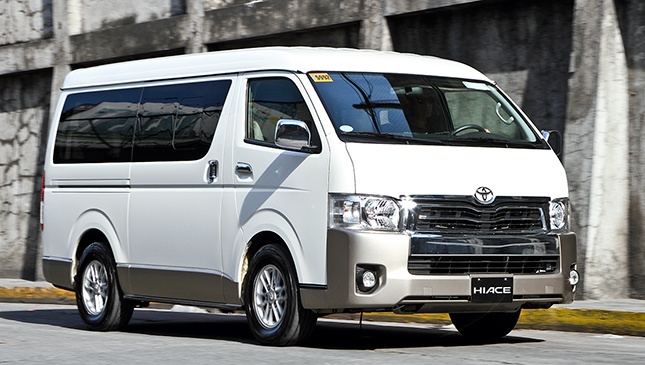 The Philippines is a market enamored with SUVs, but somehow the Toyota Hiace has managed to survive the changing times. Here are a few reasons this van has outlived most of its competitors and continues to be as popular as ever.

1) It's cavernous
While sleek flowing shapes may look cool, these are not ideal when you're trying to maximize interior volume. Like a square room, this boxy van makes use of every possible millimeter of its interior for usable space. It's like a configurable condo unit on wheels you can take on long out-of-town trips. In terms of versatility, you can further increase its decent-sized cargo area via folding seats.
Continue reading below ↓
Recommended Videos
2) More power
While the old 2.5-liter diesel seemed adequate enough, the Japanese carmaker gave it a power upgrade in the form of a larger 3.0-liter inline-4 diesel engine, which produces 134hp and 300Nm. That's a very significant increase of 33hp and 40Nm. Some extra boost and pulling power is always welcome in this type of vehicle.
3) Timeless looks
The advantage of a box with flush windows is it will never look outdated. Well, at least not for a really long time. This Hiace was actually unveiled for the 2005 model year. That's a little over 13 years ago. In vehicle years, that's a really long time. Unlike other competitors that have also been blessed with a long lifespan, Toyota's van has effortlessly managed to look current. Surprisingly, it has not received any major sheet-metal changes, just cosmetic surface tweaks like the bumpers, grille, lights and side trim.
4) There's one for everybody
The Hiace has a broad range of variants, with prices starting from as low as P1,373,000 stretching all the way up to P2,619,000. There's the basic narrow-body Commuter, the wide-body Grandia GL and Super Grandia, and the long-wheelbase high-roof Super Grandia LXV. When it comes to features, all variants now come with dual-airbags and seatbelts for all passengers. Anti-lock brakes are standard from the P1,784,000 Grandia GL variant and higher. As you climb up the ladder, you also get added luxuries like leather seats, captain's chairs, and extra room.