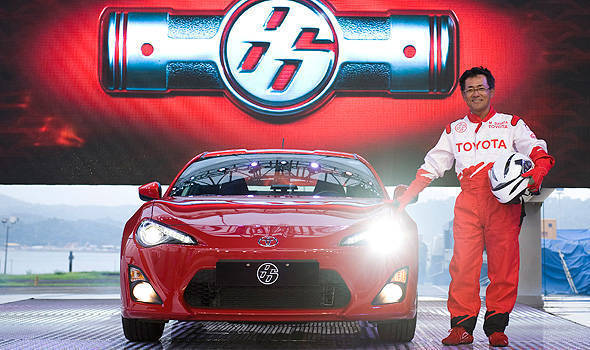 We all remember our firsts. You know what we're talking about: first love, first kiss, first heartbreak. For gearheads, it's the first car we drove and the first car we owned. And for Toyota Motor Philippines president Michinobu Sugata, his first car remains unforgettable: a Toyota AE86.
Call it fate but Sugata acquired his AE86 shortly after he joined Toyota Motor Corporation as a new college graduate in 1983, the very same year the now-iconic model first rolled off the Japanese carmaker's assembly line.
For six years, Sugata says he "was totally fascinated by the 86." Familial responsibilities, however, saw him selling his 86 after he got married in 1989.
"It wasn't too long after that I felt sorry for selling my beloved AE86," Sugata reminisces. "It was as if a part of me had died."
Fast-forward to the Tokyo Motor Show last year in which the production version of the AE86's spiritual successor--the simply-named Toyota 86--was launched, and Sugata found himself once again drawn to the small, lightweight coupe. Picture the scene in the Disney-Pixar animated film Ratatouille where one character instantly recalled his mother's cooking after he took a bite of the food that was served on his table; that was almost how Sugata felt when he first saw the modern 86.
Continue reading below ↓
Recommended Videos
"It was as if I was able to meet my loved one once again after 22 years," Sugata recalls. "She has become more beautiful and sexy than she was more than two decades ago, and I felt that she was whispering to me, 'Do you want to have fun and drive me again?'"
Don't think though that just because Sugata belongs to the upper echelon of Toyota's corporate hierarchy that it'll be easy for him to get his hands on an 86. Much like everyone else, Sugata will also have to wait for his 86 in his home country.
"The demand for the 86 is so high that I, too, will also have to wait for my own 86 in Japan," Sugata shares. "After all, we have to serve our customers first."
So, if you're having second thoughts about placing an order for the 86 considering that it's sold out locally for the year...don't. Because keeping you company is the big boss of Toyota's Philippine subsidiary. And to be quite honest, we don't think Sugata-san is just saying all of this for the sake of PR. We truly feel his desire to get a unit right now, but we also believe him when he says he will have to fall in line just like everyone else.