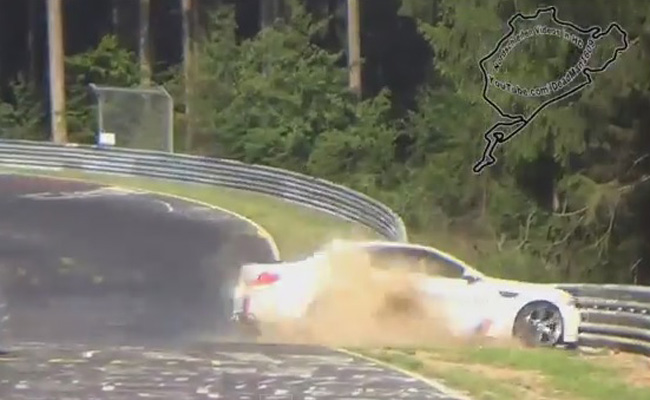 The BMW M5 Nurburgring taxi--or Ring-Taxi, as it is popularly known--is driven by only the most skilled drivers recognized by the German carmaker. And for only 225 euros, the famed circuit's official site says that you "can enjoy an exciting lap with true Nordschleife experts such as triple World Touring Car champion Andy Priaulx or BMW driver Claudia Hurtgen."
But it seems fate has a way of proving that these expert Nurburgring taxi drivers are still human. One such M5 Ring-Taxi was caught on camera crashing and spinning around a couple of times before coming to a stop on the nearly 23km track.
Although no mention was made as to who was behind the wheel of the car, the accident reportedly happened on the Brunnchen corner. It was also fortunate that only the M5 Ring-Taxi was involved in the crash, because following close behind it was a red Porsche 911.
Check out the cringe-inducing video below.
ADVERTISEMENT - CONTINUE READING BELOW ↓
If you're viewing this on a mobile device and can't see the video, please click here.
ADVERTISEMENT - CONTINUE READING BELOW ↓
Recommended Videos