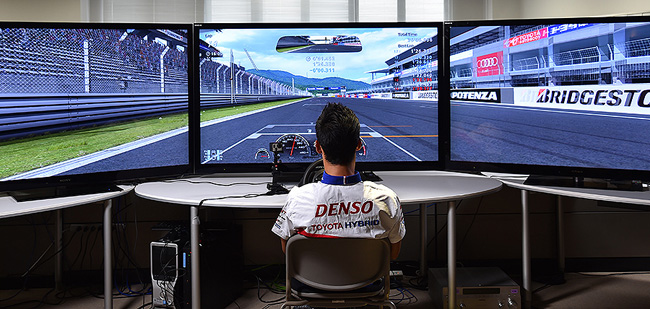 If you've always been curious about how a race car driver who has driven a particular race car will fare in the same vehicle but on a simulated racetrack, Toyota has answered it for you by having its Le Mans and World Endurance Championship driver Kazuki Nakajima drive a 2012-spec TS030 Hybrid at the Fuji Speedway on Gran Turismo 6.
On hand to watch Nakajima do five laps on the racing simulator was the game's creator, Kazunori Yamauchi, who was amazed by how the driver was able to quickly adjust to how the car felt in the game.
"I watched Mr. Nakajima driving the simulator today, and I realized that at one point he changed his driving style suddenly," said Yamauchi. "I thought that was the sign of a true professional. With the settings as they are, you would want to start giving it the accelerator at the apex of a turn, but if you wait just a second until the car straightens out before giving it accelerator, the (electric) motor will kick in when the accelerator is open just over 80%. Until that point, it is a 500hp car. From there, when the accelerator is open more than 80% and the car speed is over 100kph, the motor kicks in to supplement the drive power. We didn't instruct Mr. Nakajima that this was the setting we had, but after just a few laps he had quickly figured it out and changed his driving style. That really surprised me."
Continue reading below ↓
Recommended Videos
Nakajima also marveled at how the Gran Turismo version of the TS030 and Fuji Speedway felt so close to their real-life counterparts.
"I can say that things like the braking points, the feeling of tire grip and the feeling when you turn the steering wheel, those places are almost identical to the actual car," shared Nakajima. "It's true, I'm sure, that they are not releasing information about the contents of the hybrid system and its effects, so it must be difficult to get a simulation that is this close. Despite that, I feel that the simulator really recreates those aspects well. If I were to cite one thing that is different, it would probably be the first corner. On the actual car, the traction control system comes into play there so there is a difference, but that is about the only thing that I feel was really different."
At the end of Nakajima's five-lap time trial, his lap time of one minute, 26.545 seconds beat not only his 2012 pole-position time (one minute, 27.499 seconds) but also his 2013 equivalent (one minute, 26.577 seconds).
If you're viewing this on a mobile device and can't see the video, please click here.