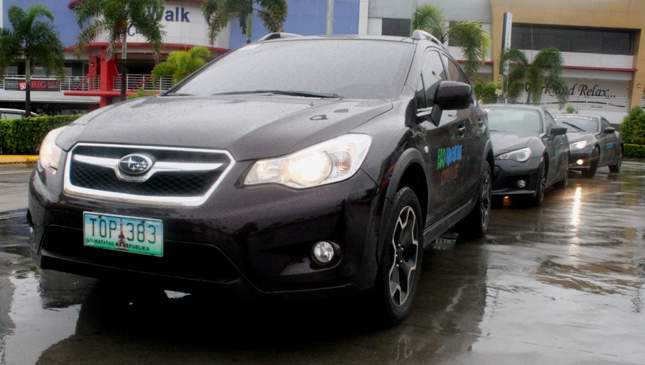 Fuel economy runs--while to some extent entertaining (watching capable vehicles driving at a snail's pace in an effort to save fuel is somewhat amusing, we guess)--aren't exactly the most exhilarating of affairs. You're slow, and all you can do is watch as every other vehicle passes you. What kind of a car nut enjoys cruising along NLEX at an average of 65kph just to see who saves the most fuel? Well, let's just say we can still appreciate the exercise every now and then.
We were recently invited by Motor Image Pilipinas to partake in its "Subaru Eco Adventure Drive" from Manila to Clark, a relatively short distance but enough to see just how much we could squeeze out of the XV that was provided to us (other teams were given the Forester). The rules were simple: No coasting in neutral; don't adjust the climate control; and don't overtake the lead car. All the vehicles in our convoy would be equipped with fuel-economy meters, and we would all begin the drive on a full tank of gas.
ADVERTISEMENT - CONTINUE READING BELOW ↓
It was my first time joining a fuel eco run, so I had very little clue as to what I was doing. Fortunately, my teammates Atty. Karen Jimeno (CNN Philippines) and Manny de los Reyes (Philippine Star) were patient enough to give me a few pointers. Unfortunately, however, we were up against the legendary Ron de los Reyes (Auto Review), who had gained a reputation for being a skilled hypermiling driver. The bright spot to being pitted against such a seasoned veteran? Well, our vehicle was placed directly behind his in the convoy, which gave us an opportunity to try an unusual approach to staying competitive: Do whatever Ron does.
ADVERTISEMENT - CONTINUE READING BELOW ↓
Recommended Videos
Those four words pretty much sum up our strategy for the entirety of the drive. When Ron slowed down, we slowed down. When Ron braked, we braked. Ron did 65kph, we did 65kph. You get the gist of it.
It went on like this for 105km, and while it didn't make for a very lively drive, it was a sound plan for a beginner eco-run driver like yours truly. Just how far could we push the XV's 2.0-liter boxer engine in terms of fuel efficiency while playing copycat?
ADVERTISEMENT - CONTINUE READING BELOW ↓
So how much were we able to squeeze out of the Subaru XV? A respectable 13.89km/L--not bad for a first-timer. But was it enough to threaten Ron? No, definitely not. He ended the drive with an average of 14.18km/L, and wound up taking the top spot. He sure knows how to make the most of a full tank. Still, we were able to bag second place. We're not complaining.
Beginner's luck? Not at all. As a matter of fact, we were able to pick up fuel-saving tricks from simply observing Ron. Firstly, do not accelerate unnecessarily. There's no need to rush. It isn't a race, so let faster vehicles pass you, and stick to the slow lane. Secondly, find an efficient pace and stick with it. In our case, we hovered between 60kph and 70kph for most of the drive. Lastly, anticipate the actions of other vehicles. Watch their braking pattern and observe proper spacing in between vehicles so you can allow your car to slow down instead of constantly stepping on the brakes.
ADVERTISEMENT - CONTINUE READING BELOW ↓
We're pretty confident we'll have more of a fighting chance next time. Watch out, first place--we're coming for you.
Photos by Drei Laurel
ADVERTISEMENT - CONTINUE READING BELOW ↓