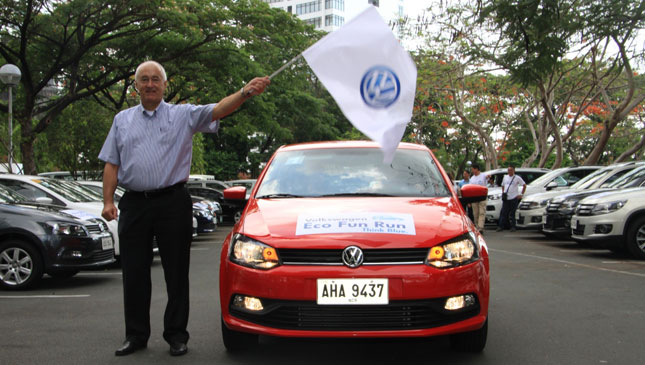 It was dubbed the "Battle of Champions." The category winners of each of the three previous Volkswagen Eco Fun Run rounds were to be pitted against each other in this final event. We had done pretty well when we won the 1.4-liter Beetle category by managing 16.32km/L a few months ago. Of course, we were eager to give it another shot.
However, our spirits fell when we saw that we would be up against Ron de los Reyes of Auto Review in the Polo Notch (sedan) diesel category. Darn. That guy took eco driving very seriously, and had racked up so many trophies already. He pretty much always won these things.
Knowing that, we offered the Polo's steering wheel to our teammate Ruel Asuncion of Drive and said: "Ikaw na bahala." Our new game plan was to just enjoy the scenery, navigate for Ruel a little bit, and maybe even snooze. The last thing we did before we were flagged off was to set the air-conditioner thermostat to maximum (summer, remember?). And away we went.
We drove 139.9km from Nuvali, Santa Rosa, to Batangas, and then back via SLEX and Star Tollway, often cruising at 105kph. Some of the participants even saw us drooling while fast asleep in the passenger seat. We had given up all hope of winning the competition, so imagine our surprise when our names were called during the awarding ceremony. Wow. Even after having cruised above 100kph with the air-conditioner thermostat at maximum--and taking a wrong turn here and there--we were able to produce 28.17km/L. Yep, no typo error there.
Continue reading below ↓
Recommended Videos
De los Reyes, meanwhile, "only" registered 24.43km/L. What the hell happened?!
Anyway, the big revelation here is that current Volkswagen cars deliver excellent mileage without using any eco-driving tricks. The only explanation is that we traveled at a proper cruising speed, while our competitors drove a bit too slowly. I suppose we got lucky and hit the average-speed sweet spot. The real winner is the VW owner, because he or she doesn't even have to try.
This result translates very well into the real world. Using eco-driving tricks isn't safe, and you don't need them when behind the wheel of a turbocharged direct-injection Volkswagen. But even we were pretty shocked that we won. Anyway, we're sure de los Reyes is already preparing for a rematch. But until then, we will be enjoying the eco-driving crown. Check out the official results below.
Car
Driver/navigator tandem
Fuel eco
Polo Sedan
Ruel Asuncion/

Paulo Subido

(Drive/Top Gear)
28.17km/L
Steven Edward Yu/Jerel Fajardo (Malaya/C!)
25.73km/L
Ron de los Reyes/Davein Madrid (Auto Review)
24.43km/L
Polo Hatch
Tessa Salazar/Love Love Tioseco (Inquirer/Stoplight)
20.12km/L
Angel Rivero/Greg Alcober (Philippine Star/Turbo Zone)
18.97km/L
Brent Co/Martin Aguilar (Autoindustriya)
18.69km/L
Tiguan SUV
Kris Lim/Ronald de los Reyes (Business Mirror/Carmudi)
21.04km/L
Wee Gamboa/Raul Promeda (Motoring Today)
20.68km/L
Allan Hernandez/Wayne Tulio (FHM/Men's Health)
16.82km/L