1) Nissan Pulsar VZ-R N1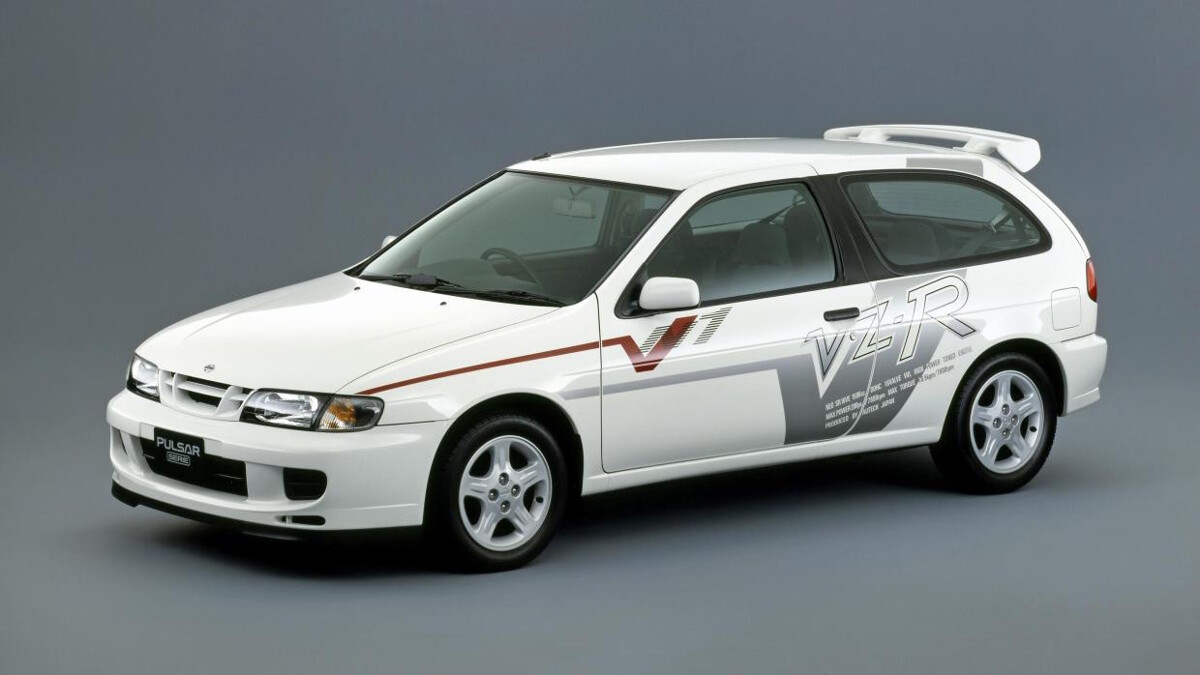 You all know the Nissan Pulsar GTI-R, aka the Japanese Integrale. And you might be familiar with the Euro-spec Almera GTI this car almost resembles. But we promise you, it's nothing like either. This is basically an 'engine car': It uses a 1.6-liter four-cylinder tuned up to 197hp without a turbo in sight, its 8,600rpm redline and 123hp/L figures rivaling a modern Ferrari's.
Oh, and it weighs 1,090kg. Think of it as a 306 Rallye with gauche graphics and more berserk power delivery. Find one for sale and it'll almost certainly not be using its original powerplant. Wonder why...
2) Honda City Turbo II
ADVERTISEMENT - CONTINUE READING BELOW ↓
Thought the JDM Almera was odd? Then meet the JDM Jazz—an '80s city car with a weeny 1.2-liter turbo squeezed in for an utterly wild 108hp peak. But that isn't actually the City's party trick…
That comes when you open the rear hatch, where you'll find an additional powerplant, a 50cc engine mounted to the actual motorbike that squeezes into the rear cargo. Yep, if for some inexplicable reason you find the City a bit too girthy, then simply pull over and unfurl your onboard Honda Motocompo and use its mighty 2.5hp to complete your journey.
3) Suzuki Alto Works
Familiar to anyone who soldiered through the career mode of early Gran Turismo games, this was often the only car your meager credit balance would stretch to. Like a couple of others on this list, it's a hot hatch made to diminutive kei-car regulations, which means its wheelbase rivals a roller skate's and power is limited to 64hp. Though you can have 4WD, should 32hp per driven wheel strike you as unhinged madness.
But unlike the other kei cars on this list, the Alto is still manufactured to this day, now in its eighth generation. It's the decal-tastic original you see above, though.
4) Daihatsu Cuore Avanzato TR-XX R4
Another kei hot hatch, but this one was actually imported to the UK for a little while in the late '90s. If you take a second to decode a name only an online banking security check could love, you'll work out it's four-wheel drive. It's a mini rally rep!
Or not. But don't mock too much: With just 750kg to shift, it's no slower than a modern Swift Sport. To 100kph, at least.
5) Subaru Vivio RX-R
ADVERTISEMENT - CONTINUE READING BELOW ↓
Our third and final kei contender is a turbocharged Subaru performance car that isn't an Impreza. They do exist. Promise. And the RX-R had an actual rally-car spinoff, one which actual Colin McRae competed in. Until he crashed it.
Want a fun fact to impress your mates down the Zoom pub with? The name 'Vivio' is derived from converting the digits of its weeny 660cc displacement into Roman numerals: VI-VI-O. Bet we've never seemed cooler.
6) Nissan March Super Turbo
Yep, this is an original granny-spec Micra. But rather like the granny with a hip flask and some saucy photographs tucked inside her handbag, it's a Micra with sass. That air scoop might seem optimistic at first glance, but it's desperately cooling down a 930cc engine sporting both a supercharger and a turbocharger. Reread its initially cheesy name and you'll realize how literal it actually is.
Yep, this JDM Micra—aka the March—packs twin-charging long before VW was squeezing it into Golfs. Like most cars on this list, modest power (108hp) moved scant weight (740kg), resulting in relatively punchy performance. There was even a race version...
7) Toyota Corolla T Sport Compressor
When Toyota launched the Yaris GRMN a couple of years ago, it was fair to surmise its supercharged 1.8-liter engine was borrowed from a Lotus Elise. And yet a mightily similar powerplant actually appeared well over a decade earlier in the front of this Corolla, and with a smidge more power, too.
Why doesn't anyone remember? Because despite having a traditionally Japanese sky-high redline and a stocky 215hp from its forced induction, the rest of the car was fairly forgettable. Only 250 run-out editions benefitted from the supercharger, too, which was actually deployed to give the Corolla T Sport a stay of execution when emissions regulations came closing in on its standard setup. If only that's how it worked now, huh?
ADVERTISEMENT - CONTINUE READING BELOW ↓
8) Mitsubishi Colt Ralliart Version R
You might remember the Colt CZT. It was sold a decade ago in Europe as a surprisingly good turbocharged rival to the RenaultSport Twingo and its ilk. But it was all very Route One hot hatch—three doors, manual gearbox, and nowhere near odd enough to occupy this list, even if its facelift did see the Lancer Evo X's nose gracelessly grafted onto a very small hatchback.
The Eastern Hemisphere got its much more esoteric sibling: five doors, an optional CVT, another 15hp, and a 'Version R' tag that's more like the result of sticking a load of rogue, eBay-sourced badges on the back of a base spec car than an actual real thing. But a real thing it is, and we kinda love it. Manual, though, please.
9) Nissan Note e-Power Nismo S
Another Nissan, a company usually so mainstream scoring a trio of entrants in our rundown. But what's odd about the car you're looking at here is that it's actually mainstream, given its base car is among the best-selling in all of Japan.
If you'd not guessed, Nissan is a bit less precious about where it sticks Nismo badges outside of Europe, and thus a small hybrid people carrier like this isn't exempt. A small hybrid people carrier with stiffer suspension and sticky Yokohama tires, no less, all the better properly transmit its dizzying 134hp to the road.
NOTE: This article first appeared on TopGear.com. Minor edits have been made.