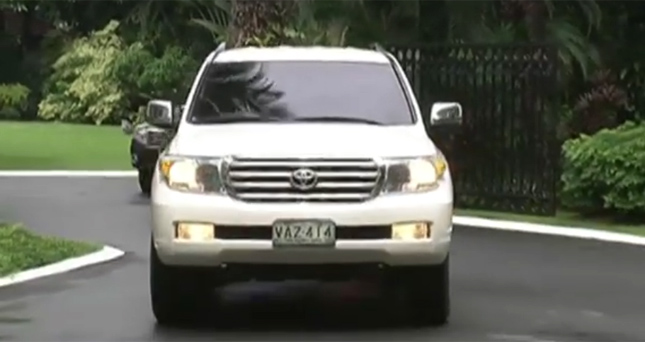 Change has come, and today it arrived onboard a white Toyota Land Cruiser.
Rodrigo Duterte--the Philippines' 16th president--showed up at his inauguration ceremony in Malacañang Palace riding the premium Japanese SUV, flanked by black Nissan Patrols and several other escort vehicles.
Chances are the vehicles weren't his. We're assuming the former mayor of Davao City was picked up by the Presidential Security Group and escorted to the venue. Duterte is from Davao after all, and he has indicated that his presidential vehicle of choice is a pickup.
It's safe to say these rides are only temporary. For all we know, Duterte's personal Isuzu pickup might already be on its way to the capital.
For comparison, former President Noynoy Aquino rode around in the same kind of SUV. Well, sort of. We're not entirely sure. We all saw his presidential vehicle, and while it sported a Toyota badge, it was undoubtedly a Lexus LX570--the wheels even carried the Lexus logo. Why the attempt at making it look like a Land Cruiser? Your guess is as good as ours.
If our new president sticks to his word, it's only a matter of time before the presidential fleet bids farewell to premium SUVs, and corrupt choosy government officials will have no choice but to settle for the more affordable variety. Frankly, the country is excited. Here's to change!
Screenshots from ABS-CBN