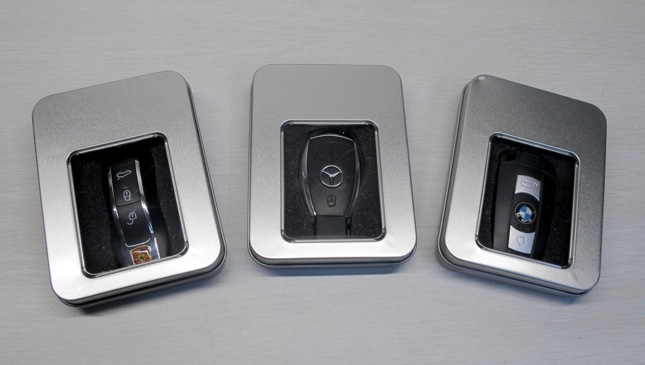 See the cool-looking luxury car keys above? Well, as the title of this article says, these are not really car keys, but thumb drives made to look like car keys. In these digital times when practically your whole life can fit inside one of these things--photos, videos, songs, spreadsheets, word files, passwords--USB flash drives have become quite ubiquitous. In fact, we get one at three out of five press events we attend these days.
And because thumb drives are pretty common now, it's just so easy to either lose them or mistakenly swap them for another person's (which could be catastrophic, if you know what we mean). So, wouldn't you want yours to look unique and stand out from the others? Better yet, wouldn't you want your USB drive to look like a high-end car key? Imagine the conversations you will start when you place your thumb drive on the table while you and your colleagues are wasting precious office hours at a coffee shop.
The three thumb drives you see here--designed after BMW, Mercedes-Benz and Porsche car keys--were brought to our office by a young entrepreneur named Sheena Tan, whose day job is selling cars for a European automotive brand. These thumb drives are her personal business now. She sells these at P899 apiece with the 16GB capacity and P1,699 apiece with the 32GB storage. These things can also be ordered in 64GB and 128GB versions.
Continue reading below ↓
Recommended Videos
According to Tan, her USB drives feature a "Toshiba chip," and that other car brands will soon be available (including Audi, Peugeot and Volkswagen).
And now, the enterprising car salesperson wants to give these 16GB thumb drives away to our readers. And we're happy to indulge her. Let's not complicate the rules: The first three (3) people to send us a photo of themselves with a Top Gear Philippines magazine article featuring BMW, Mercedes-Benz or Porsche get these thumb drives. Each person may only win once.
Again: Browse through your stack of Top Gear Philippines magazines and look for any article about BMW, Mercedes-Benz or Porsche. Then pose beside the magazine article (your face has to be seen) and e-mail the photo to vernon.sarne@summitmedia.com.ph. The first person to submit a photo with a BMW article gets the BMW thumb drive; the first person to submit a photo with a Mercedes-Benz article gets the Mercedes-Benz thumb drive; and the first person to submit a photo with a Porsche article gets the Porsche thumb drive.
We repeat: A person may only get one thumb drive.
We will announce once all three thumb drives have been snapped up.
Now, even if you don't get one of these freebies, you may get in touch with the seller if you wish to purchase one. Her contact number is (0917) 794-1703. Interested distributors are also welcome to inquire.
UPDATE: All three thumb drives are now taken. The BMW thumb drive goes to Wilner Siarot; the Mercedes-Benz thumb drive goes to Patrick Julaton; and the Porsche thumb drive goes to Joshua Benjamin Esperanza. Thanks to all who joined.
Photos by Vernon B. Sarne