Whenever a nostalgia-driven movie comes out, there's a game we like to play called 'name that car.' The awesome Wonder Woman 1984 trailer dropping this week gave us at the office ample opportunity to practice. While nothing here is quite as iconic as the Aston Martin Vantage teasingly uncovered in the latest Bond trailer, or Ecto-1 in the latest Stranger Things Ghostbusters spot, there's a lot to see here. Especially if you're a fan of the mechanically miserable Malaise era.
The Malaise era was so-named because strict 'smog' controls enacted in the '70s—aimed at curbing urban air pollution—resulted in cars encumbered with overcomplicated, unreliable, power-sapping emissions control devices. Imagine giant V8-powered land barges with less power—and performance—than your typical Toyota Vios, and you'll get an idea of how bad things got. To cope with this loss of power, manufacturers were forced to downsize their formerly gargantuan land barges. It could be worse. About the only new cars you could buy in the Philippines back in 1984, during the Marcos era financial crisis, were whatever Laser hatchbacks Ford left behind when it pulled out.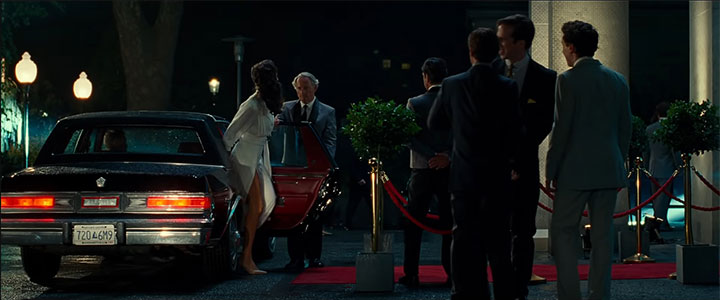 Continue reading below ↓
Recommended Videos
The 1984 Chrysler Fifth Avenue that Diana Prince is seen alighting from at the start of the trailer is emblematic of this downsizing trend. Smaller than its predecessor, which was likewise smaller than the car before it, it was nevertheless massive by today's standards, at 5.25 meters long. It would soon be replaced by a front-wheel-drive successor, and Chrysler would not return to rear-wheel-drive sedans until the Mercedes-sourced 300C in 2004.
The next part of the trailer features a ruckus at a mall, which means the police are called in. DC's finest arrive in a trio of 1983 Ford LTD Crown Victorias. These cars were also downsized from their '70s predecessors and were up to 200kg lighter while maintaining the same interior space. These were some of the first 'Panther' platform cars, equipped with big '351' Windsor V8s and prized by police forces for their ruggedness and durability. The Crown Victorias dominated US Police fleets for over 30 years before finally retiring earlier this decade.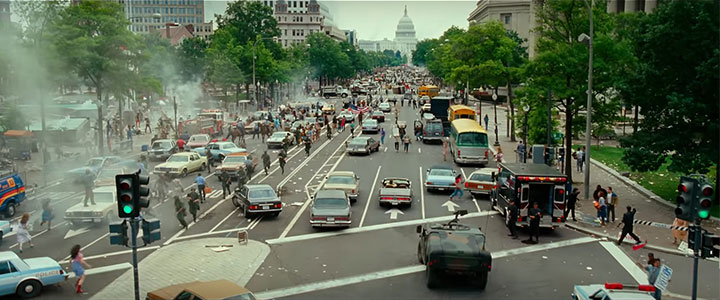 After the surprise reappearance of Diana's dead lover, Steve Trevor, the pair head on down to Pennsylvania Avenue where something big is going down. We get a brief glimpse of a gaggle of stopped cars. Immediately obvious is the W126 Mercedes S-Class, if only because the wheels are just way too big—apparently '90s Merc alloys. There's also an ageless Hummer plowing through the chaos—yes, the Hummer is that old. Extra credits for spotting the 1967 Chevrolet Camaro sitting innocuously in the middle of it all. But it's difficult to identify all the other cars considering how briefly they're on screen.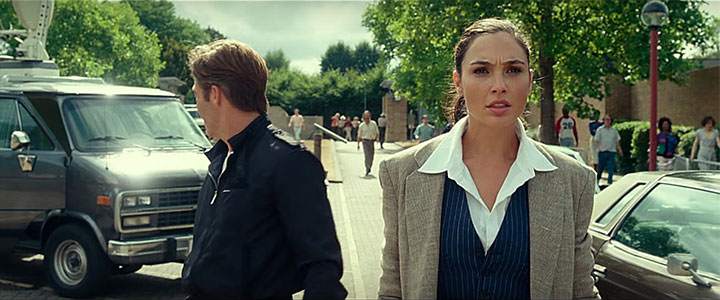 We do get a lingering shot of Steve looking confusedly at a news van in the background. Maybe he's wondering what a 1992 Chevrolet Van is doing on set. Back in the '80s, the iconic Chevy van, which spawned the famous GMC Vandura used by the A-Team, had single-lens headlights, not the paired lights the news van is sporting. Guess Steve isn't the only time traveler on set!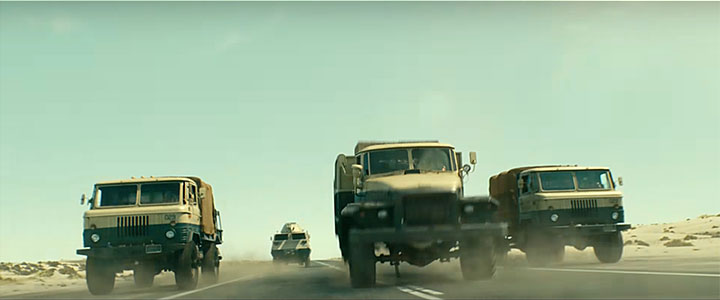 As the tension builds up, we get some action set pieces out in the desert, featuring a bunch of Russian military trucks—a staple of Cold War action movies—chasing a lone Mercedes G-Wagen. According to our resident off-road guru, the G-Wagen appears to be a 1990's '463'—with the more modular side mirror mounting—simply disguised as a period correct '460.' There's a 6x6 Ural 4320, which Wonder Woman spectacularly trashes, flanked by two 4x4 GAZ 66 trucks. The GAZ 66 was in service from the '60s until the late '90s, when it was replaced by the Sadkho, which is actually being sold locally. The Ural 4320 and the G-Wagen, on the other hand, are both still in production—over 40 years since their introductions—and yes, you can buy them here, too.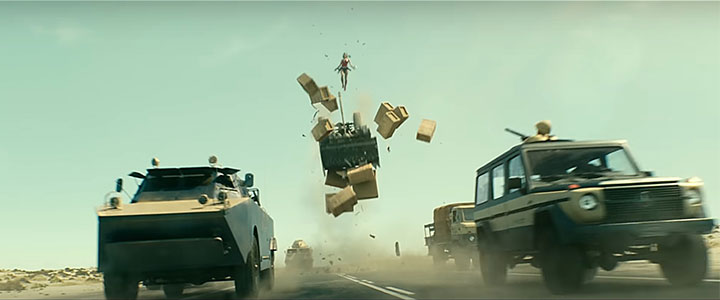 After that, there's not much else to see but a lot of running, web-swinging—er, lasso-swinging, and gold disco eagle outfits, set to a thumping techno remix of New Order's 'Blue Monday.' Not many cars to see—they're zipping by too quickly to identify as the trailer builds to a climax. All except the familiar white one right here: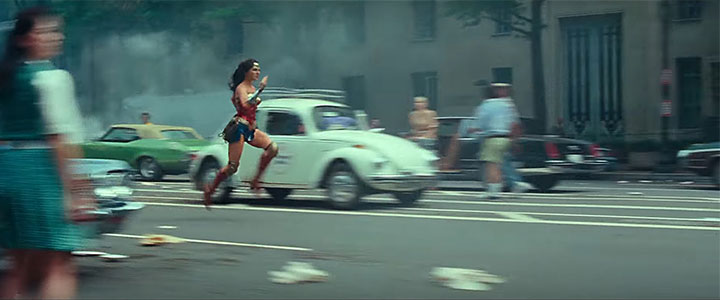 Who knew Bugs were so rare in Reagan-era America?
Wonder Woman 1984 comes out June 2020. To the delight, or possibly horror, of '80s auto enthusiasts everywhere.