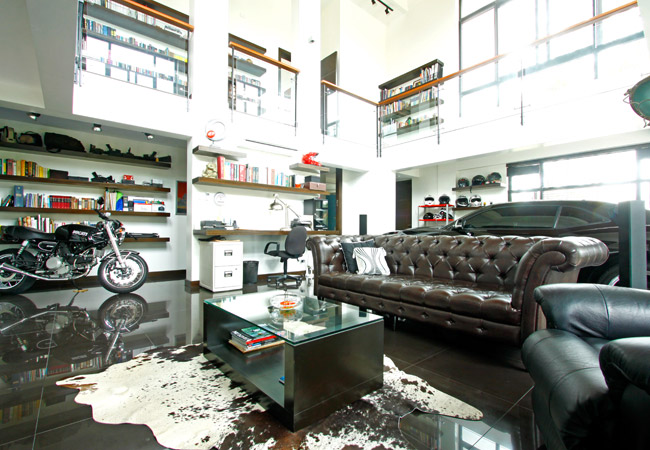 Most car guys park their rides in a proper, well-kept garage. But we imagine there are a few out there who are so obsessed with their automobiles that they never want to be separated from these prized possessions even for just a night. These individuals--we're still imagining--prepare a special spot inside the house for their cars.
How? No idea. Again, we're just imagining.
Thanks to this story which we dug up on the website of Real Living--a sister magazine also published by Summit Media--we no longer have to dream up the above scenario. The house you see here, originally published in the December 2011 issue of the magazine, is owned by interior designer Joy Ejercito and was put together by architect Arlen de Guzman.
Joy describes the design motif of her house, which is located in Alabang, as "retro Scandinavian hip." But we won't get any deeper into all this home-decor stuff. What caught our eye is the part of the house where Joy's husband Don, a doctor, holds office. Here, Don keeps his Ducati motorcycle and Chevrolet Camaro car.
According to the website article: "He wanted his office to be a library and showroom-cum-entertainment room that would show his love for Ducati motorcycles, Miatas and toy cars. The result leaves guests surprised to find a Camaro and a Ducati alongside furniture and accessories inside the air-conditioned space."
Continue reading below ↓
Recommended Videos
Wow. It's every guy's dream--well, okay, many guys, to be accurate--to be able to park the car inside a capacious domicile. But the reality is that many car owners in the Philippines don't even have their own private parking space, never mind a living room big enough to accommodate a muscle car.
But we can dream, can't we? And if you simply like decorating your home, visit Real Living's Facebook page for tips and ideas.
Photos from Real Living