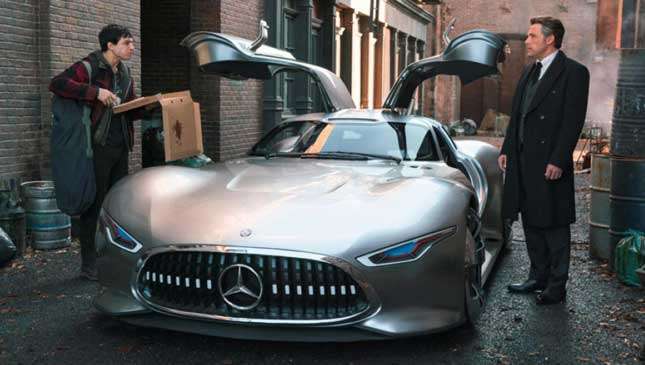 For a fictional character who enjoys his evenings mostly grunting into a mask and beating criminals to a pulp with his bare hands, perhaps this is the perfect fit.
Yep, in a fictional tie-up to appease the deepest, darkest parts of your inner 12-year old, Mercedes has announced that Ben Affleck's Bruce Wayne will drive the Mercedes-Benz Vision Gran Turismo in the upcoming superhero movie Justice League. The movie charts the impossible heroics of a group of super humans—and Wayne—in a plot you probably won't care about too deeply.
The Merc though… woah. Revealed in full way back in 2013, it was Mercedes' response to Gran Turismo creator Kazunori Yamauchi's call to the car world to build him the future of motoring, for use in Gran Turismo 6.
Continue reading below ↓
Recommended Videos
And though you could only really drive it in the game, at the time Merc said the Vision GT was powered by a 577hp twin-turbo V8, powering a car that weighed just 1,385kg. Interestingly, the mad Mercedes-AMG GT R also uses a 577hp twin-turbo V8, though it clocks in rather heavier at 1,630kg. Just thought you should know.
We're told that for the movie, the actual concept car had to be modified a bit. Because Ben Affleck, who plays Bruce Wayne/Batman, is, erm, a big fellow. "Filming required the whole vehicle to be enlarged to 110% compared to its predecessor," says Merc, "in order to accommodate seating the film's 6ft 3in tall Bruce Wayne, while maintaining its sleek-looking roofline."
Not only was it embiggened, it was also given things Wayne might find useful. Like racing seats, and a virtual dashboard, and other shiny precious things.
"Who other than Bruce Wayne, aka Batman, would be more inclined to drive a car like the Mercedes-Benz AMG Vision Gran Turismo?" Hmmm, maybe Wonder Woman? She gets an E-Class Cabriolet for the movie, which feels a bit mean spirited when Wayne gets a friggin' V8 concept car.
Reckon the Vision GT is the perfect car for Wayne/Batman, or can you think of something even better or—dare we say—hilariously inappropriate? As ever, regale us with your wit in the comments section below.
NOTE: This article first appeared on TopGear.com. Minor edits have been made.