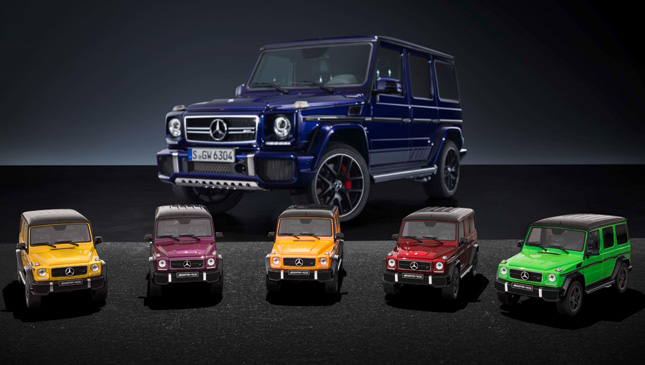 To hardcore collectors, scale models are more than just a hobby. For this passionate bunch, acquiring a miniature version of their favorite car is an art form and a lifestyle. These guys look for attention to detail and a bit of uniqueness in every piece they can get their hands on.
In a bit of good news, Mercedes-Benz now offers scale-model aficionados and G-Class fans the chance to own a one-of-a-kind specimen: a 1:18-scale Mercedes-AMG G63. Actually, this can be considered five-of-a-kind as the G-Wagen replica comes in five eye-catching shades, aka the Crazy Color editions: Solar Beam, Alien Green, Sunset Beam, Tomato Red and Galactic Blue. Each of these wild hues reflects the distinct styling of the ultimate SUV, while still possessing a look that's unique to the particular paint shade. Galactic Blue, for instance, transforms into various levels of blue, depending on the light.
More important for collectors, the Mercedes-AMG G63 showcases a level of detail that is as close to the original as possible. The miniature seats, for example, are faithful to the real thing. And just like its bigger brother, the 100-piece mini G63 can be spec'd with various accessories for that authentic touch.
Mercedes-Benz Accessories GmbH will only be offering a total of 463 copies of the cool little G-Class. This is a nod to the model's W463 internal code. Each one will even bear a "1 of 463" designation on the underside.
Continue reading below ↓
Recommended Videos
Now excuse us as we start contacting our toy dealers and Mercedes-Benz sales rep to see if we can get one for ourselves.