Dune bashing in the Sahara Desert should be on every car guy's bucket list, whether or not one is into off-roading. The view alone is worth the drive out, if you ask us, and nothing on earth will prepare you for the jaw-dropping sight of sand and sky as far as the eye can see. It's almost like CGI, to be honest.
Then of course, there's the experience of maneuvering up and down the dunes. Driving on a surface this fine and this soft can be a challenge even without steep inclines, so you can imagine the thrill of ascending and descending mountains of sand inside a vehicle.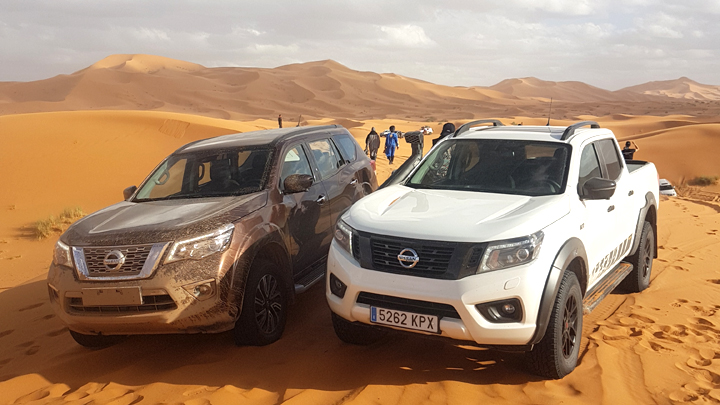 Continue reading below ↓
Recommended Videos
It's an incredible experience, and one we're very grateful to say we experienced last week during Nissan's global light commercial vehicle drive in Er Rachidia, Morocco. We were equipped with the Japanese carmaker's complete 4x4 arsenal: The Nissan Navara AT32, the Terra midsize SUV, the Titan full-size pickup truck, and the legendary Patrol.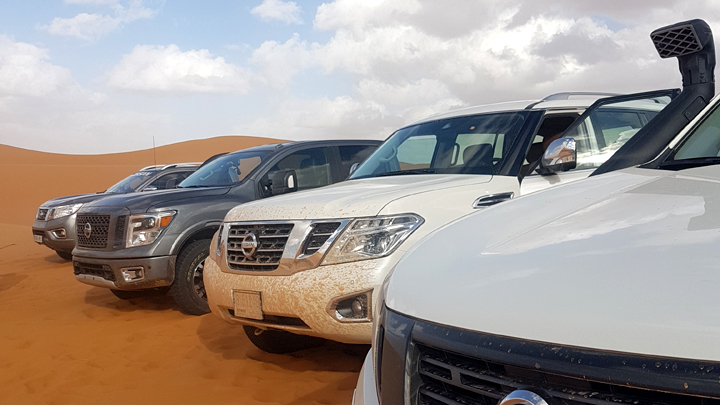 They're all very capable vehicles, but even so, we couldn't just hop in and kick up sand right away. Here's 10 things we learned after a short course in the basics of bashing and a full day in the dunes:
1) Go in an appropriate vehicle.
Like we said, we tackled the dunes behind the wheels of Nissan's finest off-roaders. Don't even try going in anything less than a capable 4x4. Driving aids like Sand Mode may come in handy, but as long as you can switch to 4-low, you should be good.
2) Don't forget to lower your tire pressure.
Event instructors lowered our vehicles' tire pressures to 1 bar (about 15psi) before we headed out. This was to provide the tires with more surface area for better traction. Do so only before hitting the dunes, though, as moving around with low psi on hard surface may damage your tires.
3) Keep your windows closed and your seatbelts fastened.
Be sure to keep your windows up, lest you end up with a mouthful of sand. Seatbelts must always be fastened, too, for obvious reasons.
4) Accelerate smoothly and modulate your speed.
Stay in 4-low and keep track of your engine revs. Acceleration should be progressive both heading up and going down the dunes: Power up while ascending, glide toward the apex, then slowly power down. Apply your brakes gently when needed, as coming to a complete stop in the wrong position will leave you and your vehicle stranded.
5) Always keep your distance.
If you're in a group, try to maintain a one-dune distance from the vehicle in front of you. If the car ahead gets stuck and you're directly behind it, you'll have no choice but to brake, steer sharply to one side, or hit it in the rear—all of which will leave you stuck more often than not. Some dunes are also so steep that it'll be difficult to see what's directly on top of it as you ascend.
6) No sudden movements; keep the steering wheel straight.
Maneuvering on soft, fine sand can sometimes be a handful. You will at certain points feel as if your vehicle is floating. Avoid jerking the steering wheel in either direction, and always remember to keep it steady and straight as you ascend and descend.
7) Only come to a stop facing downhill.
This is in order to have momentum going for you once you need to get going again. Do so facing up and you might just end up getting stuck.
8) When in doubt, just stop.
If you're unsure of what's stopped up top, or you're doubting your situation completely, just stop. It's better to be safe than sorry. Worst-case scenario? Someone will have to assist you.
9) Don't try to free yourself with brute force.
Stuck? Don't slam on the accelerator and hope for the best—you're only going to dig yourself a deeper hole and make your situation worse. Instead, shift into reverse, head down, and try again.
10) Be sure to take tons of photos.
A phone camera will do fine, but it would be better to pack a full-size DSLR. Bring a couple of GoPros while you're at it, and a drone, too, if you can spare one. Hitting the Sahara Desert is an experience of a lifetime, and you're going to want to document every minute of it.