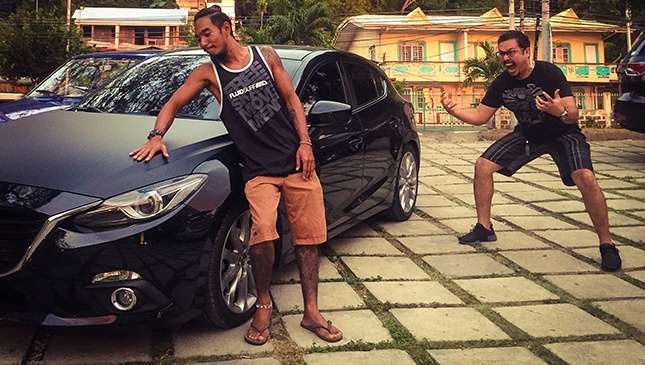 Just mentioning the words "leaning" and "car" in the same sentence sends bad vibes throughout my system. Among the top no-nos in my automotive pet peeves list is when someone decides to shift his center of gravity and use my car's fender for support.
You might say I'm ridiculous or maarte. I'd say that a car and a chair are two different things! And that's just me being politely blunt.
As far back as my childhood, aside from learning the ins and outs of old school car care from my late father, I recall his repeated lectures on the importance of respecting a man's ride. This included keeping my hands and the rest of my body off the vehicle's sacred surface—unless I'm washing or waxing it, of course.
Continue reading below ↓
Recommended Videos
So, why shouldn't you lean on your car—or any vehicle—for that matter? Let me explain.
Most of us tend to be unaware that our clothes may be detrimental to our car paint's health. From zippers to rivets to buttons; all these little bits attached to our jeans or shorts can (with minimal force) definitely cut into our shimmery clear coat and paint, leaving unsightly marks or scratches that will cost you a pretty peso to repair. As far as I'm concerned, your gem-studded distressed designer denims belong on a runway and nowhere near your painted panels.
In some cases, others would lean on a car's side and place their hands between them and the panel. From rings to watches, I can only imagine the potential damage your borloloys can do. In fact, I cringed after seeing a recent photo of Steven Tyler all dressed up for a show leaning on the driver's side door of his Hennessy Venom GT Spyder.
Even if you're wearing cottony-soft clothing, the tiny particles of dirt that have settled on the vehicle's surface can be quite abrasive on your paint with the added factors of external weight and friction. Simply put, whether clothed or butt-naked, simply avoid having unnecessary contact with a vehicle's paint. Period.
Do note that almost all modern automobiles have much thinner paint surfaces than vehicles made two decades ago, to adhere to the constantly increasing environmental standards imposed on car manufacturers. Certainly, more reason for you to be extra careful with that factory finish.
Unless your prized ride falls under the vintage category, chances are the sheet metal used on your panels isn't as thick as those made thirty-something years ago. The reason for this is to reduce a vehicle's weight, lessening drag and improving fuel consumption—both huge factors in marketability.
That said, it won't take much to add a dent or dimple here or there. The next time you hang out in a parking lot with your buddies and get caught up in a stimulating conversation over a few cold ones, please don't rest your elbow on the hood, or saddle your booty (especially if you weigh anywhere north of 150lbs) on the fender or doors. Dimples look cute on Miranda Kerr, not on your car!