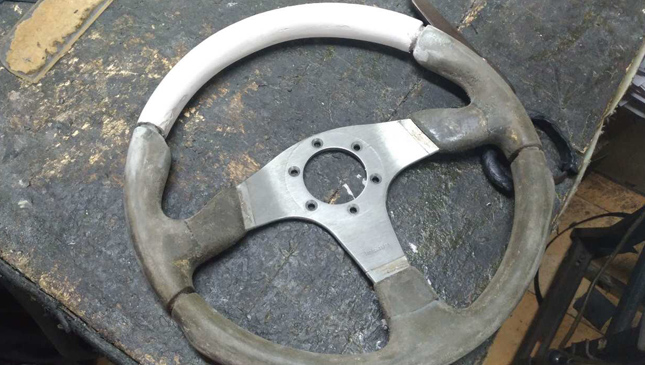 We are all about restoration and recycling because we'd hate to see a perfectly good car part go to waste—especially one that we spent a good amount of money on. There's hope for steering wheels that have been used and abused. Here's how to bring an old one back to life. Read on to find out how the pros refurbish a steering wheel.
1. Study the construction
Examine the leather very closely, because maybe it just needs to be reconditioned. But if you feel that it is too far gone, it's time to strip the old leather off. Use a blade or a razor to remove the stitching from the wheel. Be very careful and make sure that you don't cut any of the existing leather. This will play an important part later on. Don't forget to snap photos of the stitching pattern so that you have a reference when it's time to sew the leather back together again.
Continue reading below ↓
Recommended Videos
2. Take it apart—carefully
Take your time when peeling the old leather back. Don't tug at it violently because you might end up ripping the foam underneath away. Using a white crayon, mark where the leather folds over. You will use this as your guide later. Make sure that the foam hasn't deteriorated underneath the leather as well. If the foam is damaged, you will have to build it up using epoxy or resin, and then sand it down.
3. Scrub the dirt off
Now would be a good time to give the spokes of the wheel a good clean. After that, lay the original leather down on some cardboard and trace it. Be as precise as possible. Some of the curves will be complex. With this pattern, cut the new leather.
4. Now, sew
Stitch both sides together, and connect both ends with a closed seam. Slide the cover on the wheel. It should be a snug fit. Use the crayon marks as a guide for where the leather should go. Start stitching from the middle spoke and work your way up to avoid any alignment issues. Take your time and be patient when stitching the rest of the leather together. When done right, your wheel will look as good as new.
If this job sounds too difficult, go to an upholstery shop that offers this kind of service. Do note that not all shops can do this kind of work. Your best bet would be at one that specializes in automotive upholstery. Don't forget that safety is paramount. Proceed with caution when you are taking the wheel off. Use common sense, especially if it is fitted with an airbag. Unplug the battery and disconnect all of the cables before even attempting to remove an airbag-equipped wheel.