Most of us in the big bike community know Aris Cuevas well. Other than being friendly and a good family man, his fellow riders recognize his deep passion for motorcycles.
So we were not surprised when he decided to try his luck in the International GS Trophy 2018, a grueling off-road event in Mongolia organized by BMW Motorrad that runs from June 3 to 10, 2018.
ADVERTISEMENT - CONTINUE READING BELOW ↓
Aris trained hard on dirt riding, bike recovery, river crossing, and navigation among others. Through perseverance and determination, he qualified to be one of the three members of Team Southeast Asia.
The GS Trophy is not only a test of the durability of the legendary BMW R 1200 GS, but also a challenge for the physical and mental capabilities of the riders who take on the harsh mountains and deserts of Mongolia.
ADVERTISEMENT - CONTINUE READING BELOW ↓
Recommended Videos
Last June 3, 18 teams from different regions, including two all-female groups, took off with high spirits of winning. The participants arrived in one piece from the tough special stage on Day 1.
However, Aris's dream of coming home victorious was short-lived. On Day 2, he was riding shotgun along with his teammates when a fellow rider suddenly came from behind and hit Aris's body. This caused the Pinoy rider to fall from his bike, injuring his arms in the process. Event marshals refused to allow him to resume his riding.
ADVERTISEMENT - CONTINUE READING BELOW ↓
"Bad luck could happen to anyone. Unfortunately, the arrow pointed on us. But God has His own ways. I highly believe in His plans. In the future, another Filipino warrior will rise and once again carry our flag to this event," said Aris in his Facebook post.
Amen! Aris was not able to complete the adventure ride, but he'll be bringing home colorful memories of the GS Trophy that most of us can only dream of.
We're proud of you, Aris Cuevas! *hugs*
ADVERTISEMENT - CONTINUE READING BELOW ↓
ADVERTISEMENT - CONTINUE READING BELOW ↓
ADVERTISEMENT - CONTINUE READING BELOW ↓
ADVERTISEMENT - CONTINUE READING BELOW ↓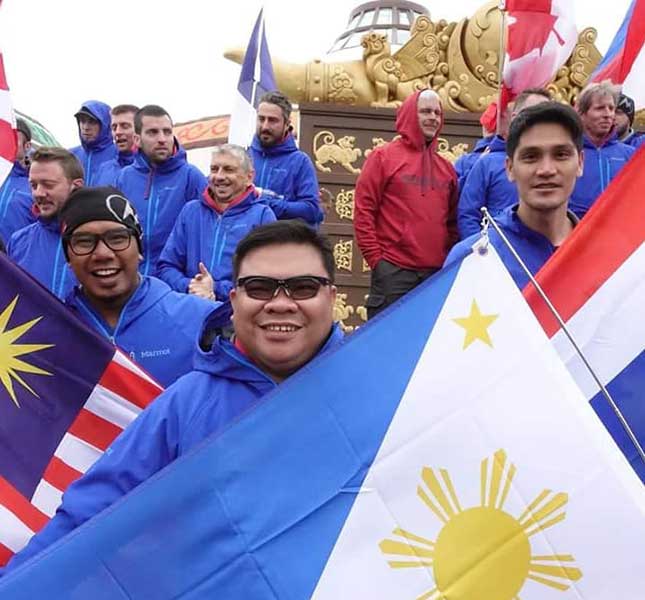 ADVERTISEMENT - CONTINUE READING BELOW ↓