What is it?
This is what's commonly known as a motorbike, formally known as the Myth 001, and informally known as the kind of bike we daydream about owning while we're supposed to be making useful contributions to conversations. Or society, or whatever.
It's an ode to the adventure-touring warrior that is the '80s BMW R80 G/S. But as you can see, it's nothing you can waltz into a vintage bike dealer and buy. Even your very best waltz (or tango, or foxtrot) won't get you this bike. For that, you'll need to talk to Matias Corea at Myth Motors. And maybe skip the dancing.
Who builds it?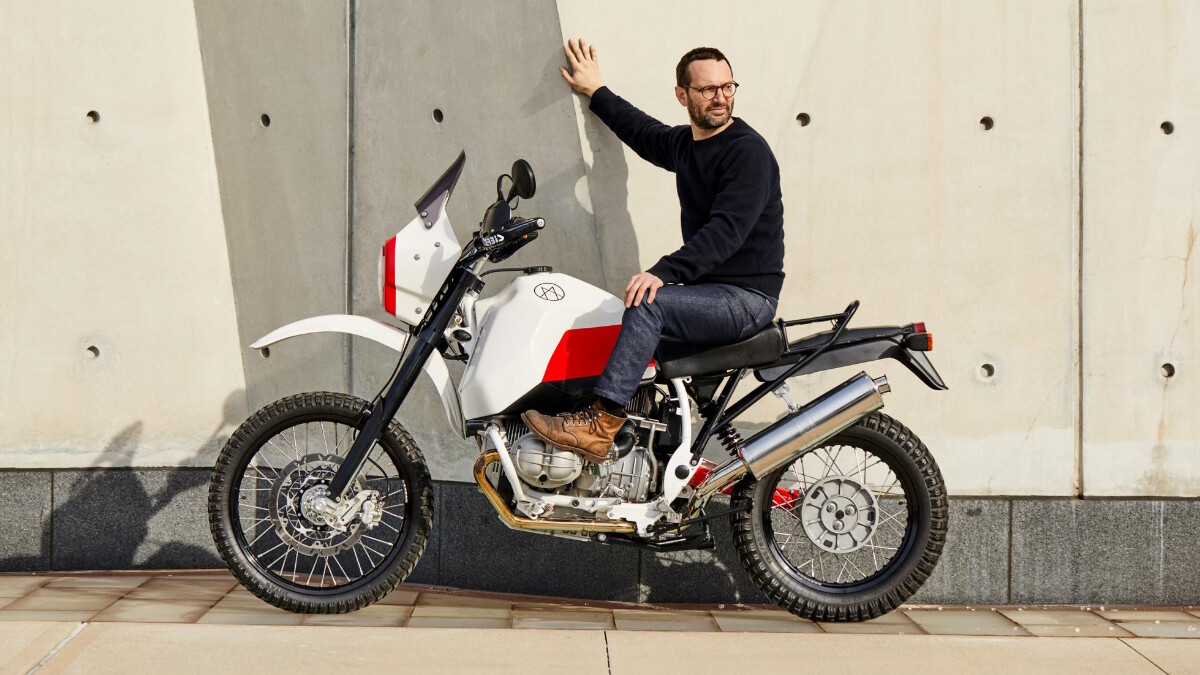 ADVERTISEMENT - CONTINUE READING BELOW ↓
The very same Matias Corea at Myth Motors. What, did you think we were going to give you a bum steer on things? We want to see as many of these in the world as possible. Ideal scenario, we'd have one in our garage.
Myth Motors is really a one-man band. And, to torture that musical metaphor, like Chick Corea was to music, Matias Corea is to motorcycles—taking familiar building blocks and inventing something entirely new, offbeat, and deep-niche cool.
His background in...ooh, just about everything—design, photography, adventure motorcycling, writing, co-founding a filmmaking company, co-founding Behance (a social-media site for actual creatives, not sponsored-content shills)—means he has a pretty damn good feel for what works visually, practically, and emotionally. Getting tutelage from "master mechanic Peter Boggia from Moto Borgotaro," as Corea rightly credits him, means his building skills are up to snuff as well.
What's been done to it?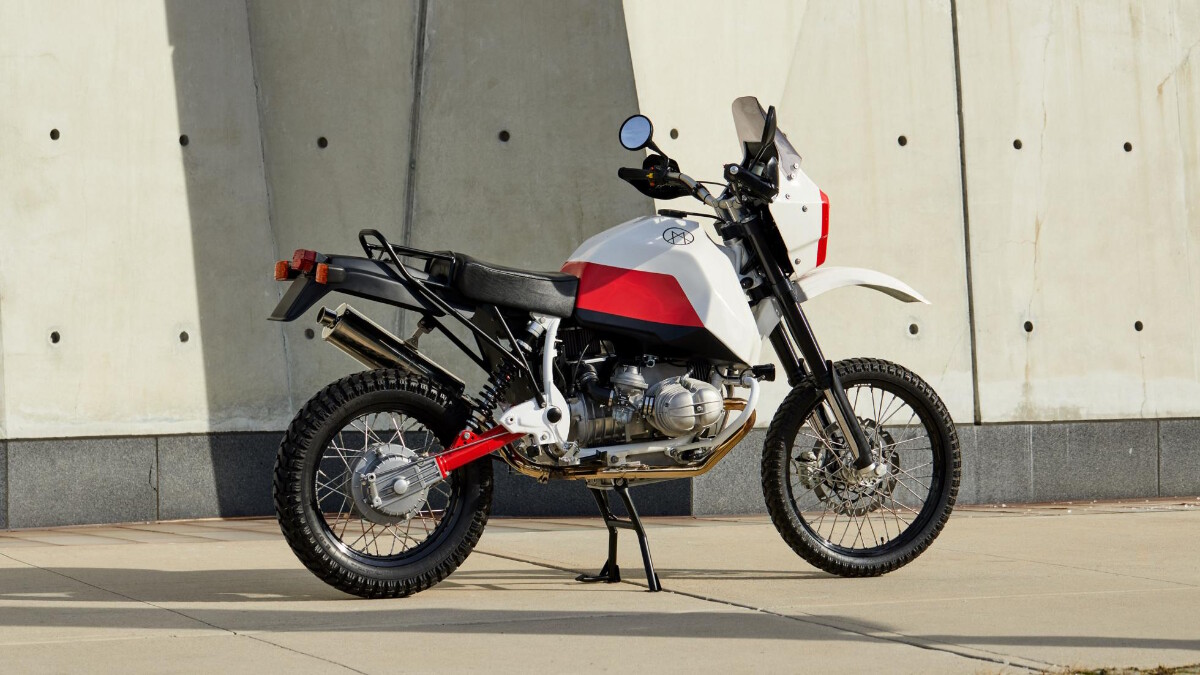 ADVERTISEMENT - CONTINUE READING BELOW ↓
Recommended Videos
In keeping with its builder, just about everything. Pick a spot and it's been tweaked, improved, or replaced entirely to ensure the GS lives up to the 'Gelande' part in its name. And it'd want to—Corea is planning to take one of his creations from Barcelona to Africa as a final shakedown run. As you do.
The original airbox on the G/S is about as restrictive as the FODMAP diet, so it's been ditched in favor of an open rally filter. Carburetors from Bing make the most of the extra air, and keep things simple, reliable, and easy to fix in the middle of nowhere—in 168 days of hard riding from Brooklyn to Ushuaia on a standard G/S, Corea says the Bing carbs didn't need a single intervention.
The original airhead boxer engine has been bored out to 1,001cc and fitted with a racing camshaft, ported heads, and a custom exhaust. Compression is up from a sedate 9.2:1 to a modern (but still safe) 10.6:1, but fuel-quality issues are sidestepped with a dash-controlled dual-curve ignition mapper. For good fuel, flick up. For kerosene with bugs in it, switch down. And try to refill the behemoth, 43-liter fuel tank with something better next time. If you're running good fuel and the full-strength ignition map, there's more than 70hp to the rear wheel—a healthy improvement over the original 50-odd horses at the crank.
ADVERTISEMENT - CONTINUE READING BELOW ↓
And reining it all back in falls to a four-piston front brake by Brembo, grabbing a modern-size 320mm rotor. That way, this added oomph doesn't also equal added oof. Thank you, we'll be here all week.
A reinforced frame is mated to WP open-chamber forks that offer between 250mm and 300mm of travel, depending on how tall you are and just how far off-road you're intending to go. Speaking of off-road, Excel's rims are pretty much the gold standard in that space. And it's unsurprising to find them here, including a trail-ready 21-incher up front, laced with heavy-duty stainless-steel spokes. To keep the geometry spot-on (hint: bad geometry equals bad bike and very likely bad crash), there's an extended rear swingarm and custom shock. Oh, and there's a new cockpit, new handlebars, a marine-rated USB charger...maybe it would've been easier to name the bits that weren't changed.
ADVERTISEMENT - CONTINUE READING BELOW ↓
"These bikes are still customized to the rider," says Corea. "The client gets the opportunity to be part of the process, from the visual design to their riding style, body type, and personal preferences." So really, all that we've listed so far is just a jumping-off point for you to get a near-as-dammit bespoke bike.
How many are being built?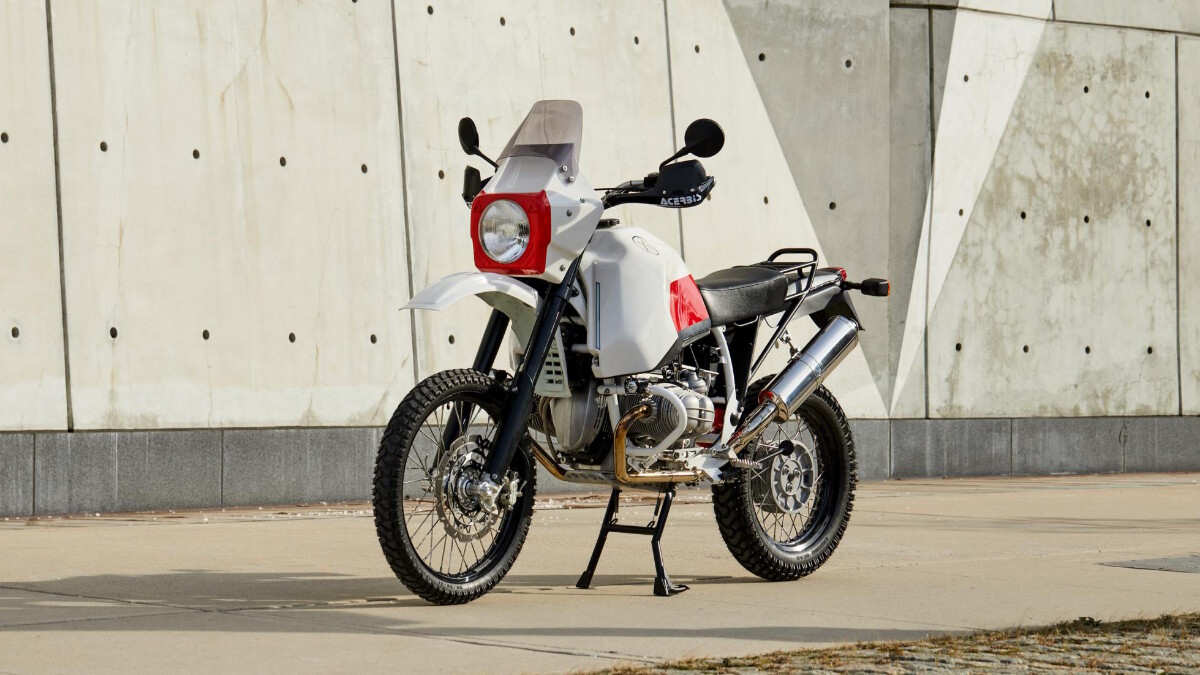 ADVERTISEMENT - CONTINUE READING BELOW ↓
The clue here is that it's called the Myth 001. Corea says he's keen to build "at least 100" of these wondrous machines, but admits that it'd take a while to get there at the six to eight bikes Myth will build in a given year.
There's also something of a catch—Corea says that he's building them until he's "no longer excited" by the prospect, so we wouldn't be waiting to nab build number 100 or anything like that.
Is it fast?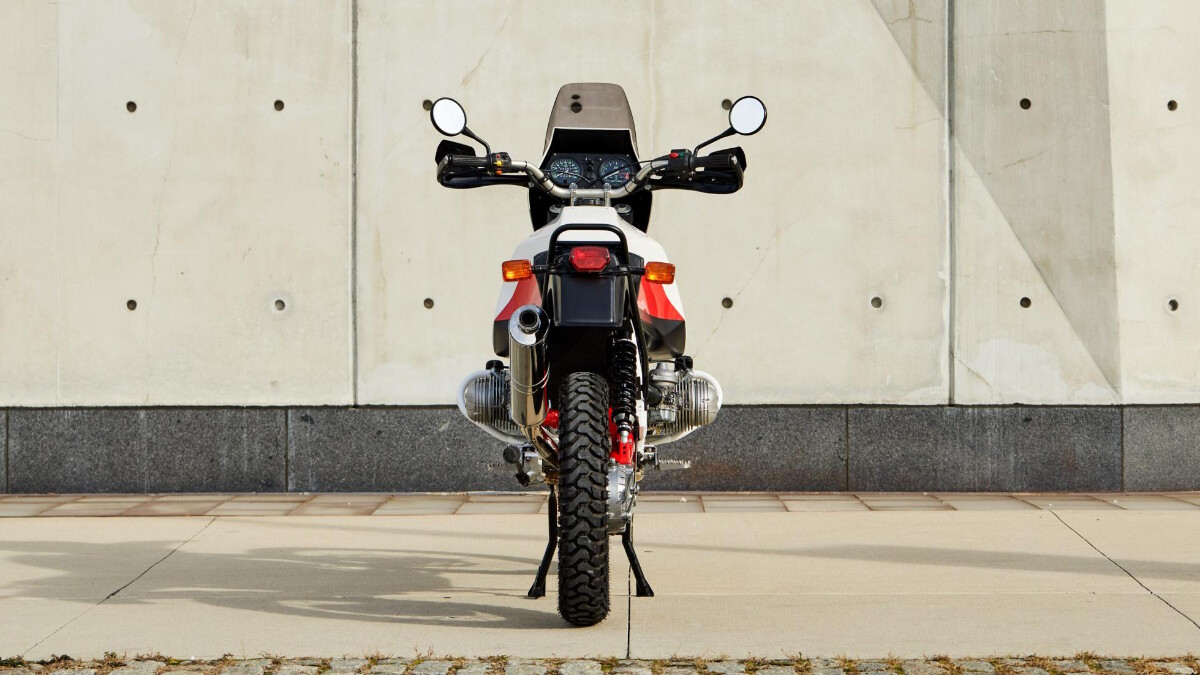 ADVERTISEMENT - CONTINUE READING BELOW ↓
Put simply, yes. If you're used to how cars accelerate, then getting on a bike that puts 72hp to the back wheel will redefine your notions of what a small-sounding power number can achieve.
Corea has also stripped weight from the original Heffalump—his motto is one from Antoine de Saint-Exupéry, and one that warms the heart of our inner minimalist: "Perfection is achieved not when there is nothing more to add, but when there is nothing left to take away." That's the creed of cafe racers, Colin Chapman, and our paisley-shirted savior Gordon Murray. And that's the right kind of company to share a mindset with.
How much does it cost?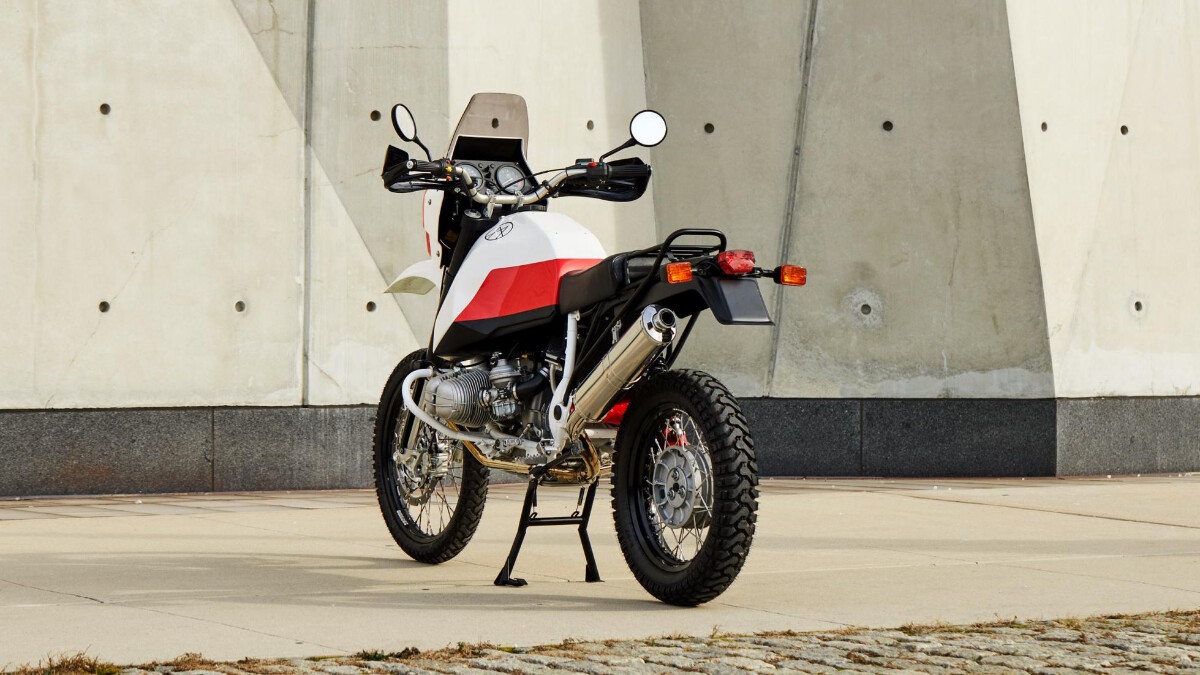 ADVERTISEMENT - CONTINUE READING BELOW ↓
Prices start at $40,000 (P1.94 million), but go up for something like the top-tier ' Pro Adventure' version you see here, with its gargantuan fuel tank, razor-sharp paint job and so on. Still, this the cheapest restomod we've ever featured by a factor of about 10.
Seriously—this is the rough price range of a Toyota RAV4, and yet you're getting a hand-built, achingly cool, and astoundingly capable machine that's as tailored to suit you as a Savile Row sports coat. Such is the power of two wheels—those brave enough to ride are rewarded quite literally tenfold over those who drive.
Why should I care about it?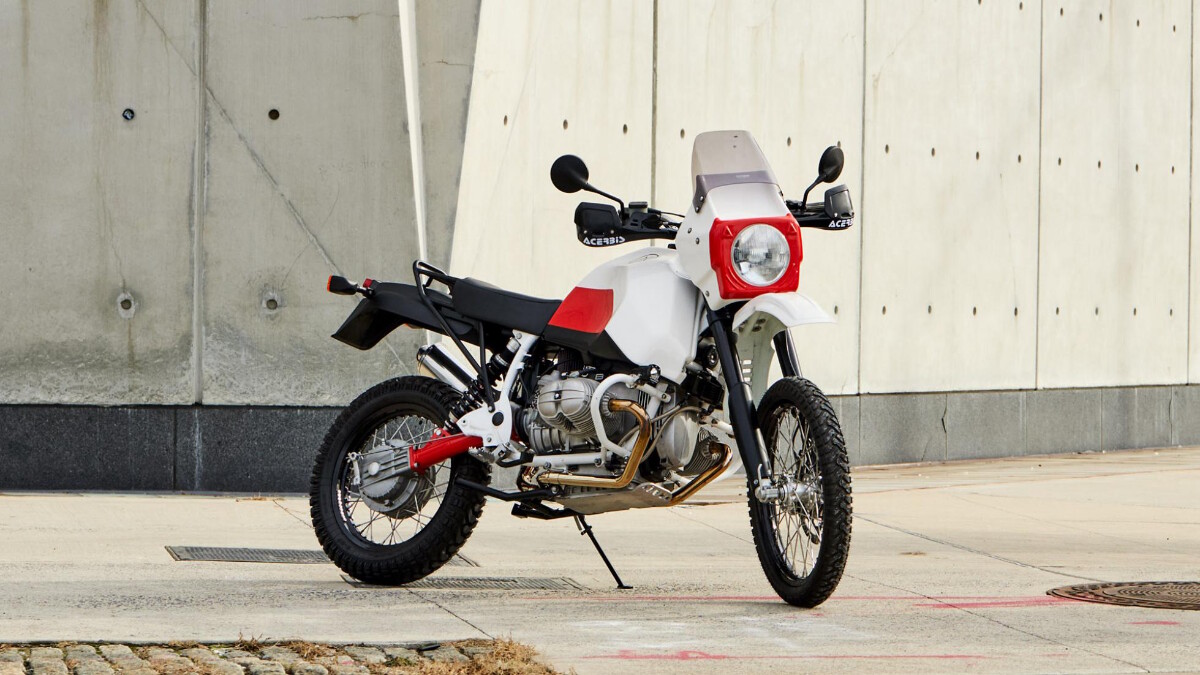 ADVERTISEMENT - CONTINUE READING BELOW ↓
We're of the opinion that a restomod must accomplish three things: celebrate what was, explore what could have been, and imagine what could be. Having achieved that, adding in some mind- and soul-easing reliability, simplicity, and longevity can only help matters.
But in the case of the Myth 001, reliability, simplicity, and longevity was as integral to the build as any of the pillars of restomodding. After riding a standard BMW GS from Brooklyn to Ushuaia, he was in a pretty decent position to know what should stay, what had to be beefed up, and what needed to be changed altogether.
"Every element on the bike was vetted in regards to how easy it would be to repair or replace in a remote area," says Corea. "The main focus was on keeping the simplicity of the airhead systems, but improving suspension, off-road handling, braking power, riding comfort, fuel capacity, and top-end power while maintaining fuel efficiency."
ADVERTISEMENT - CONTINUE READING BELOW ↓
Can you tell me one interesting fact about it?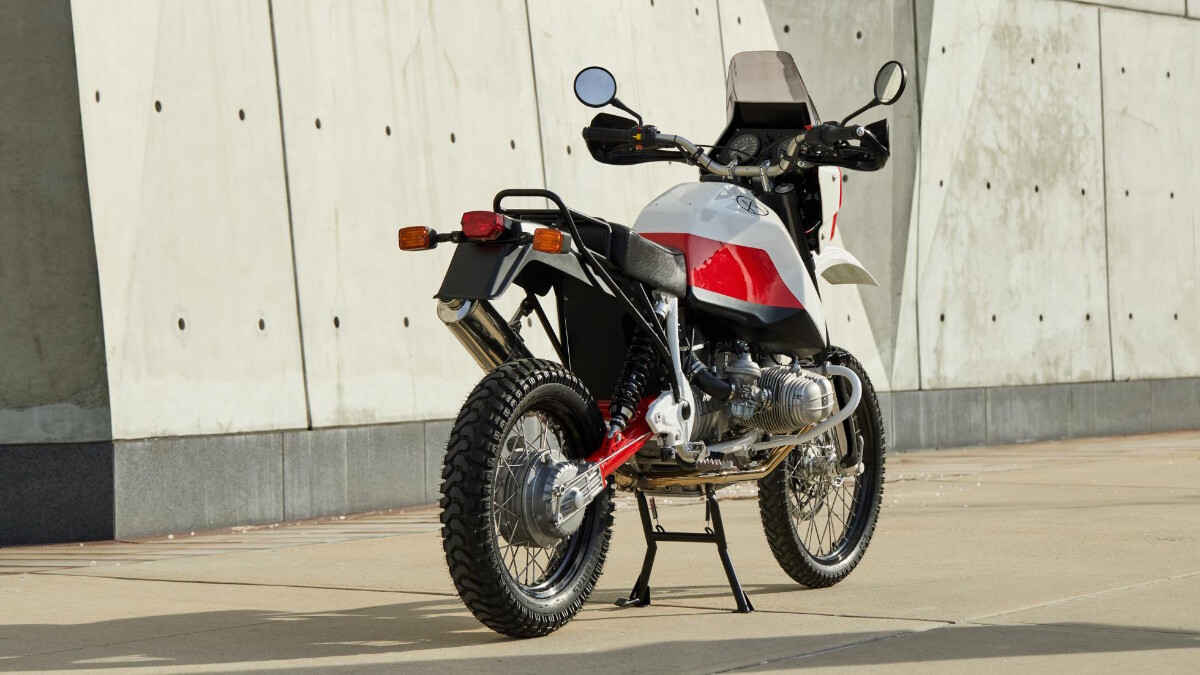 Indeed we can. Or rather, Corea can, given that he's been a sport and chatted with us: "The builds come out of my actual adventure-riding experience. In 2016, I did about 20,000 miles (roughly 32,190km) from Brooklyn to Ushuaia on my 1985 R80 G/S. We rode in all conditions, on all sorts of terrain in very isolated areas; when I came back, I knew everything I wanted to keep and everything I wanted to upgrade.
ADVERTISEMENT - CONTINUE READING BELOW ↓
"Every component is vetted for true adventure travel, so I keep in mind how easy it would be to deal with an issue if you're in a more isolated area. For example, I choose to stay with the monolever [suspension], which is a lot simpler and robust than the paralever with virtually no parts that can break. Also, I install a dual ignition curve for poor fuel quality, I replace the air filter with an easy-to-access washable air filter...I can go on and on."
We're guessing—and this just a hunch here—so can the bikes.
NOTE: This article first appeared on TopGear.com. Minor edits have been made.