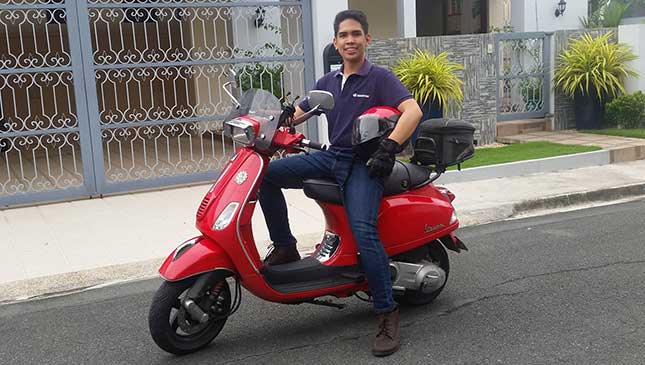 "Dad, when will you teach me how to ride a motorbike?"
Admittedly, I was speechless when I heard this question from my son, Tongki. He knows my motorcycling background well. And now here's my dilemma: Should I teach him how to ride? Or enroll him in a riding school?
ADVERTISEMENT - CONTINUE READING BELOW ↓
Come to think of it, people consider it a badge of honor when daddies first introduce driving or riding to their children. Wake up, guys! That's old-school thinking that spread during the era when rider training facilities and the scientific method of teaching still did not exist.
Motorcycle journalists get to take part in rider training programs that cover almost all disciplines of motorcycling. The advanced riding skills we acquire allow us to review the latest models without the motorbike companies worrying about their brand-new units being damaged. Or worse, getting ourselves hurt or killed while doing our jobs.
Although we have stacked up skills from foreign and local riding experts, we still know our limitations. These skills do not give us the license to teach. We were not trained to train newbie riders. With the increasing of road accidents happening in the country involving motorbikes, it's better to stay on the safe side. Our children are our most prized possessions, right?
ADVERTISEMENT - CONTINUE READING BELOW ↓
Recommended Videos
Here are 9 reasons why I took my son to the Honda Safety Driving Center (HSDC) to undergo the Basic Riding Course:
1) Because discipline is a must
We all know teenagers. It would take a crane to pull them out of bed. Enrolling them in a riding school would force them to wake up early so they won't miss the training.
Imagine if we parents are the instructors. It will be noontime before they will wake up for the session. Let's make our kids feel that using a motorbike is a responsibility, and it starts by waking up on time.
2) To meet new friends
Unless you are willing to shell out more bucks for a one-on-one session, riding schools give our children the opportunity to meet and mingle with other people. And since motorcycles have become a necessity nowadays, you'll likely encounter different kinds of people during the training sessions. This is the time we unleash our kid from his protective shell.
ADVERTISEMENT - CONTINUE READING BELOW ↓
3) It's a world-class facility
The widow-style of 'teaching' your teenagers how to ride will entail riding on regular roads which, of course, is more dangerous. Compared to cars, motorcycles offer less protection to the rider. Primarily designed for cars, HSDC's training facility is for motorcycles, too.
4) To spare my bike
Honda Philippines offers different motorcycle models as training bikes. From small displacement 125cc to big bikes, they have it. The student may also choose between motorbikes with automatic or manual transmissions. With this, I don't have to worry about the probability of Tongki damaging my Vespa scooter. Since he choose the automatic transmission, he was assigned the Honda BeAT Fi.
5) No student permit, no training
Before an individual can enroll at the HSDC, he or she is required to get a Student Permit from the Land Transportation Office (LTO). This is one important document that a father usually overlooks when he lets his teenager take his first crack on the motorbike. And when disaster strikes, they both end up having a big headache.
ADVERTISEMENT - CONTINUE READING BELOW ↓
6) To digest traffic rules
This is one aspect of formal riding training that I really think gives it a lot of weight. At HSDC, instructors are equipped not only with visual aids about traffic rules and regulations, but they also have simulators to determine if the students can recognize the road signs while riding. After doing the exercises on the training ground, students must pass both the practical and written tests before they are accorded the Certificate of Completion.
7) It has interactive lessons
During classroom sessions, HSDC instructors are so professional that they are able to get the students' attention by interacting with them. Every now and then, instructors throw some random questions to check if their audience is listening or just staring at the student beside him or her. The course entails only 20 hours of lessons, not only about riding skills, but also about road safety and discipline.
ADVERTISEMENT - CONTINUE READING BELOW ↓
8) It's worth it
While P3,000 is not a drop in the bucket, it is a good investment for a basic riding course. If you insist on training your kid how to ride, include in your computation the cost of fuel, possible damage to your personal bike, and medicine for your high-blood pressure--among others. At HSDC, if you accidentally drop the bike, they will not charge you for the damage. At least, that's according to my son.
9) It's a soon-to-be requirement
We've heard directly from the LTO that it's considering to include the certificate of completion from driving academies in the requirements for application for driver's license. No certification, no driver's license. Take our word for it, this will become a reality sooner than we think. It's time to say goodbye to informal driving or riding lessons.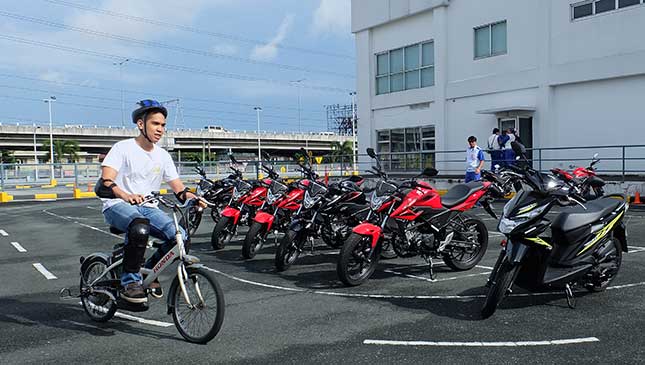 ADVERTISEMENT - CONTINUE READING BELOW ↓