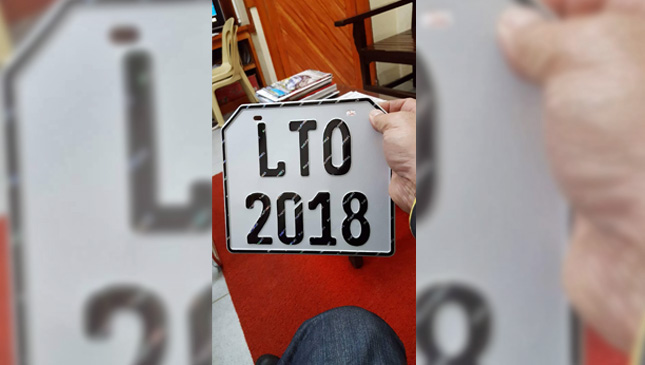 If you're a motorcycle owner who's curious about the status of the proposed bill on bigger license plates for two-wheelers now pending in Congress, here's an update.
According to an official of one of the country's biggest motorcycle clubs, Congress has already narrowed down the size and shape of the license plate to be issued by the LTO to motorycles to one option, and it's for approval by members of the House Committee on Public Transportation and Committee on Public Order and Safety.
"We were informed that the next LTO license plate will be similar to those issued by tranportation authorities to motorcycles in Germany," says Atoy Sta. Cruz, president of the Motorcycles Philippines Federation (MCPF).
Continue reading below ↓
Recommended Videos
Citing his recent conversation with some legislators involved in the deliberation on the proposed measure, Sta. Cruz said the discussions now focus on the size and shape of the decal that mirrors what appears on the rear license plate. If approved by Congress, this decal shall be placed on the front fender of the bike.
Sta. Cruz got a sample of the proposed LTO license plate which, he claimed, had been approved 'in principle' by the members of the two committees.
Motorcycle clubs had apparently succeeded in convincing the legislators to allow the use of decals instead of installing a second metal license plate in front of the motorbike because it poses a risk to the rider.
"There's possibility that the license plate attached at the front of the motorbike might be blown off by the wind while moving at high speed and it might end up hitting the rider," Atoy added. "We were also told the legislators are amenable to using decals that will be placed at the front fender. Only the size and shape are subject for discussion in the future hearings."
Earlier, the LTO temporarily stopped the issuance of license plates for motorcycles while waiting for Congress to decide on the size and design of the new plates. These issues are up for approval on the third and final reading.
On the other hand, while the debates on the proposed measure continue, the backlog on LTO license plates for newly purchased motorbikes has reached a critical status.
Senator Richard Gordon earlier filed Senate Bill No. 1128, or the Motorcycle Crime Prevention Act of 2017. It will mandate the LTO to issue bigger and reflectorized license plates to every motorcycle and scooter in the country.
Gordon's bill wants motorcycle license plates to be readable by the naked eye from a distance of at least 12 meters, to prevent these two-wheelers from being used in criminal activities. However, the lower house later came up with a substitute version that is now up for a third and final reading.
With the bigger dimensions, this German-style license plate definitely looks good on big bikes. But how about smaller bikes? Do you like the proposed design?