Are compact scooters also good for long rides?
This is one of the most frequently asked questions of newbie riders looking for a reliable steed to cope with the daily traffic, the high cost of fuel, and the difficulty of finding parking in the urban jungle. Small, slim, and lightweight scooters are usually regarded as being good only for quick errands; people think of them as unstable and easily affected by the wild tailwind coming from speeding buses on the opposite lane. They also have a reputation for having a sparse features list.
But Suzuki wanted to convince us that there's more to small scooters, so it invited 14 journalists to join a 150km out-of-town ride on well-paved roads, with scenic spots and historic landmarks along the way.
It actually took us just over half a day to complete the route, which began at the SM Mall of Asia grounds and ended at the plush Escala Hotel in Tagaytay, but 150km was enough to get acquainted with the Skydrive Sport, a stylish 113cc scooter that Suzuki says is a good fit for millennials. Ahem! Good thing I was able to dye my hair before the event.
Styling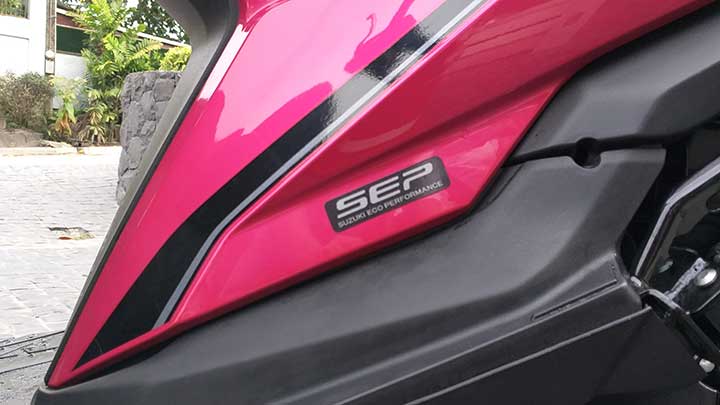 ADVERTISEMENT - CONTINUE READING BELOW ↓
To be honest, it took a while to get used to the fact that we would be riding 14 Skydrive Sport units wearing Hyper Pink paint jobs. There were only two female riders in the group; the rest were 'alpha males' who thought wearing the all-black Suzuki riding gear would help boost our machismo. Where are the Black or the Matte Silver variants?
OTHER STORIES YOU MIGHT HAVE MISSED:
We can't help but wonder why so many tricycles in Manila City have no license plates
Size comparo: How big is the all-new Toyota Innova compared to the Geely Okavango?
As we started our journey, we couldn't help noticing that motorists' and pedestrians' eyes were on our bikes instead of us riders. The stark contrast between our black riding gear and the trendy pink finish of the Skydrive Sport apparently did well for the scooter.
The saddle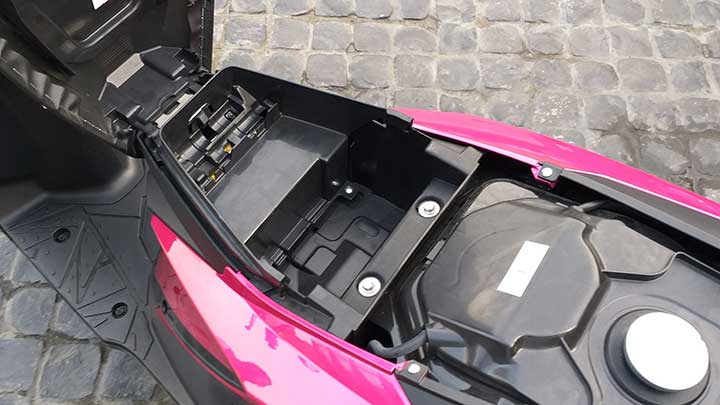 To have more affordable prices, entry-level scooters like the Skydrive Sport are less generous with comfort and convenience features.
When I first saw the narrow and thinly padded seat, I gave up hope that the 150km ride would be pleasurable on this two-wheeler. This, combined with the twin rear shock aborbers and front fork that offer limited suspension travel, had me bracing myself for a sore bum as we rode to our destination. The low-profile tires mounted on solid alloy wheels added to the stiffness of the ride.
If you're thinking of using this as a motorcycle taxi, better think again—we found its seat wide enough for a solo rider, but cramped with two on board. At least the average Pinoy standing 5'4" will find it easy to balance the Skydrive Sport with both his feet firmly planted on the ground.
Engine performance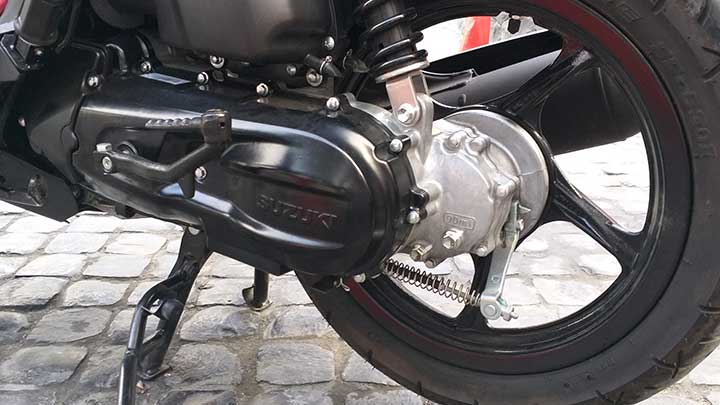 This small wonder is propelled by a 113cc single-cylinder engine that churns a modest 8.9hp and 8.5Nm of torque. Don't ask anymore about its 0-100kph performance, but the motor is at least good enough to take two adults all the way up to Tagaytay.
ADVERTISEMENT - CONTINUE READING BELOW ↓
The throttle and brake levers are easy and light to operate, making the Skydrive Sport perfect for beginners. Acceleration, although not very aggressive, is smooth and linear. At most, we found ourselves cruising between 60kph and 80kph. Equipped with a single disc in front and a trailing drum at the rear, the scooter boasts reliable braking performance not just in stop-and-go traffic, but also on steep slopes and challenging twisties.
The Skydrive Sport's fuel efficiency has been improved, too, thanks to its new EFI system. During our 150km ride, we consumed almost all the fuel in the 3.6-liter tank. That equates to fuel consumption of around 42km/L. Not bad at all!
Ride and handling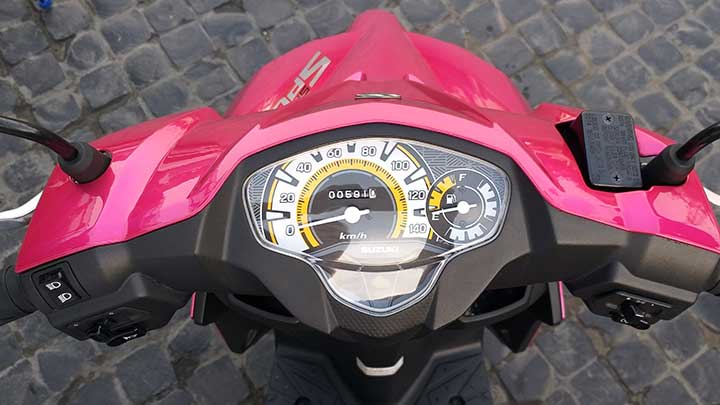 After taking off at the SM Mall of Asia grounds past 6am, heavy traffic welcomed us as we reached Imus, Cavite. At first, we all behaved as we were told by the event marshals—which meant keeping the double formation and never overtaking the lead bike at all times.
But while stuck in gridlock, we realized what scooters are made for—squeezing through traffic. This is where the Skydrive Sport shines best, with its short wheelbase, light weight, and nimble characteristics.
Extra features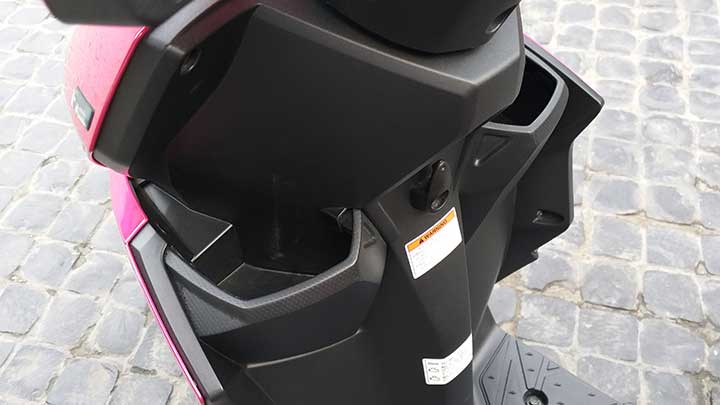 With the new Suzuki Skydrive Sport priced at P67,900, don't expect much in  terms of extra features—there's almost nil. The passenger footpegs are difficult to retract, and unlike in other conventional scooters, the underseat compartment offers very limited space. Even the gauges are purely analog.
The verdict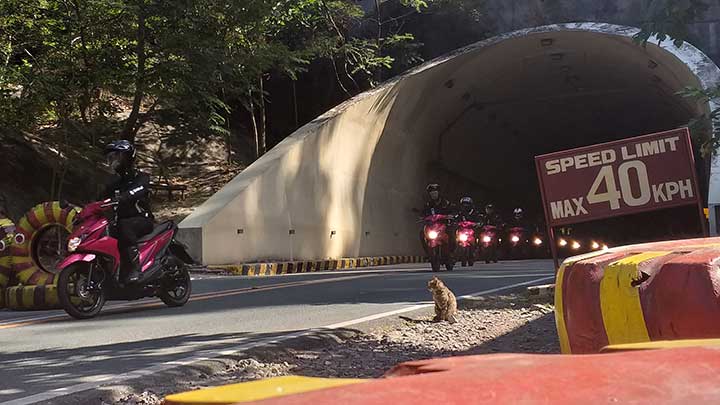 ADVERTISEMENT - CONTINUE READING BELOW ↓
We recognize that this cute tiny product of Suzuki Philippines is aimed at opening the doors for newbie riders or providing an alternative transport for city dwellers. Even as such, many prospective buyers would appreciate it if the engineers of the Skydrive Sport had installed an anti-lock braking system. What's a few more bucks for safety?
Overall, the Skydrive Sport is fun to ride, but only within city limits. Unless you're as young, fit, and energetic as Suzuki endorsers Enrique Gil or Liza Soberano, you might want to reconsider long rides on this.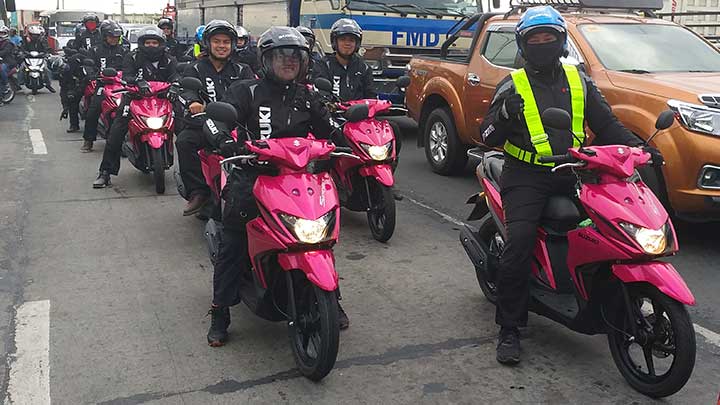 SPECS: 2018 Suzuki Skydrive Sport 115cc
Engine: 113cc SOHC two-valve single-cylinder
Power: 8.9hp @ 8,000rpm
Torque: 8.5Nm @ 6,000rpm
Seat height: 29.3 inches
Transmission: automatic
Price: P67,900
Score: 14/20