Have you ever encountered the term "protracted people's war"? In military parlance, this means waging the battle in the countryside instead of urban zones to gain bigger support from the masses.
We can't help but liken this strategy to the new marketing approach of Honda Philippines (HPI) in promoting the Honda XRM 125 DS.
For many years after it was first launched in 2001, this affordable, fun-to-ride underbone had single-handedly ruled the city streets. Back then, it was a big hit at racing events run on makeshift tracks outside shopping malls.
But as urban traffic worsened, scooters seized the sales charts in a swift, unstoppable manner. This prompted HPI to shift its marketing offensive of the XRM to the countryside, thinking it's the best way for the model to survive in an already packed segment and even regain its former glory. This is why the company has consistently held an XRM one-make race dubbed 'Ride Red' in Visayas and Mindanao the past three years.
It's been a long time since we sat astride the XRM, and we are grateful for HPI for sending us a loaner bike. This time, we're testing the 2019 XRM 125 DS not off the road, but back in the busy streets of Metro Manila, its original habitat. Let's see if it still has a fighting chance against the other underbones now flooding the market.
Continue reading below ↓
Recommended Videos
Styling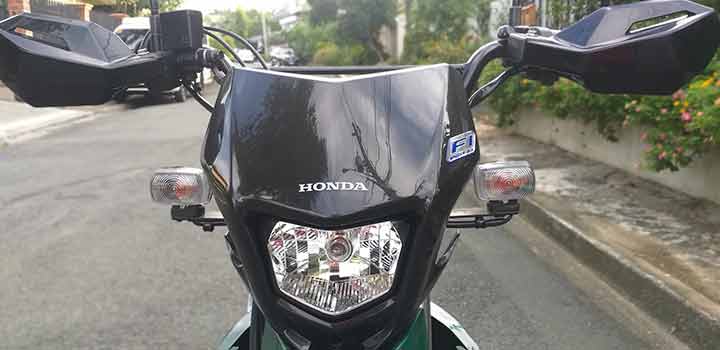 Basically, the latest versions of the XRM still carry its predecessor's design cues, including the unmistakable underbone stance. The traditional telescopic fork, the double shock absorbers, and, yes, that old-school rear drum brake have been left unchanged for an obvious to reason: to cut costs.
Don't frown yet because there are some design upgrades that make the XRM 125 DS a true dual-sport machine. Among them are new hand guards, a standard skid plate, CRF-inspired front and rear fenders, and all-terrain tires. The last three accord the new XRM a real off-roader stance.
The saddle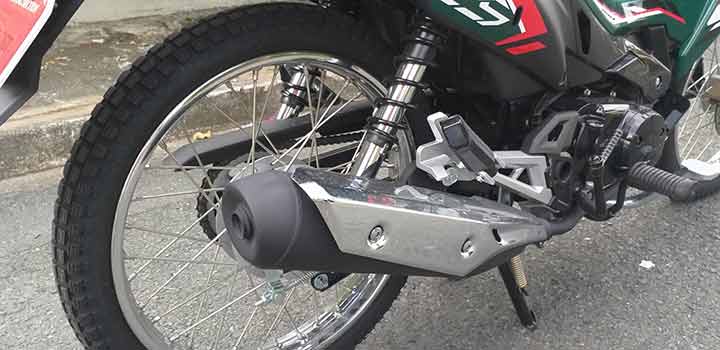 First produced as a street bike, this XRM now sports a DS badge, meaning it assumes an expanded role. Being positioned as an off-road-capable underbone model that's still very much usable on the road, it offers a well-padded, comfy seat for the rider in either riding condition. But if the riding gets tough, there are two rubber-wrapped metal foot pegs the rider can stand on to prevent his bum from taking the impact when tackling annoying road ruts. The rear passenger gets the same comfortable perch and a grab rail.
That said, the XRM receives a demerit for the very limited space provided by its underseat compartment. This is probably why we see many XRM riders with a backpack.
Engine performance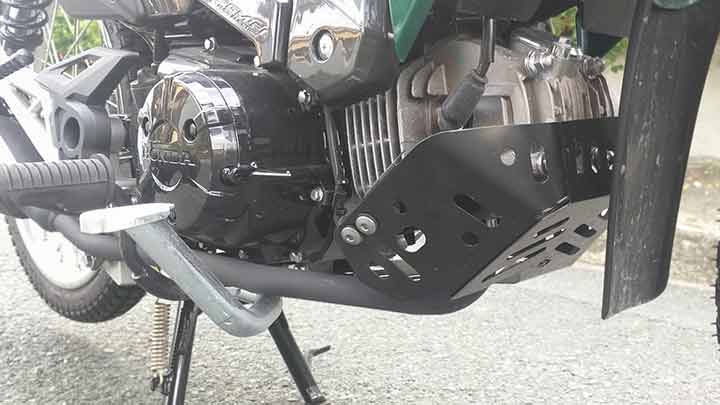 Here's where the XRM proves legendary. For almost two decades now, Honda's engineers have shown that even their entry-level products can shine when it comes to durability, dependability, and performance.
The XRM 125 DS shares the same engine as the RS125R, which we previously subjected to heavy rain and floods during a weekend run in the Visayas. The mill never failed us then, and it didn't fail us now—even though this time, we took the XRM through horrendous city traffic. This 125.8cc air-cooled, four-stroke single-cylinder engine capable of a modest 9.2hp showed consistency in terms of throttle response despite long idling periods.
The semi-automatic transmission with a rotary gearshift pattern (four down, four up) makes shifting gears seamless even in stop-and-go traffic. Just make sure you close the throttle when downshifting to avoid shift shock.
Ride and handling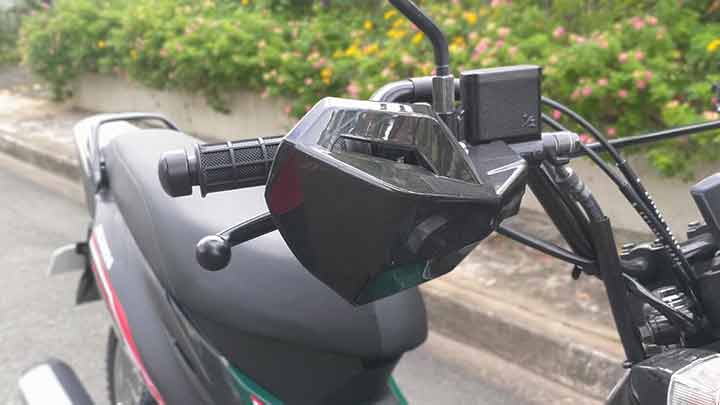 Versus the old models, there's a slight change in the 2019 XRM's ride and handling because of its dual-sport setting. First, the handlebars are wider and positioned higher than before. This allows the rider to have better control of the bike either on rugged or well-paved surfaces. On the negative side, having wider handlebars also limits the bike's capability to filter in between cars when caught in a traffic snarl.
Another thing we've noticed is that the XRM's suspension has been softened by quite a bit in order to strike a balance between comfort and stability during both dirt and city riding.
Given the 30.5-inch seat height, Pinoy riders will find drifting the XRM on a flat track very tempting to do knowing they will be able to plant their feet on the ground. We also wouldn't be surprised if the rider will even try popping a wheelie with the XRM not only because it's light and easy to maneuver, but also because original Honda motorcycle parts can be bought almost everywhere.
Extra features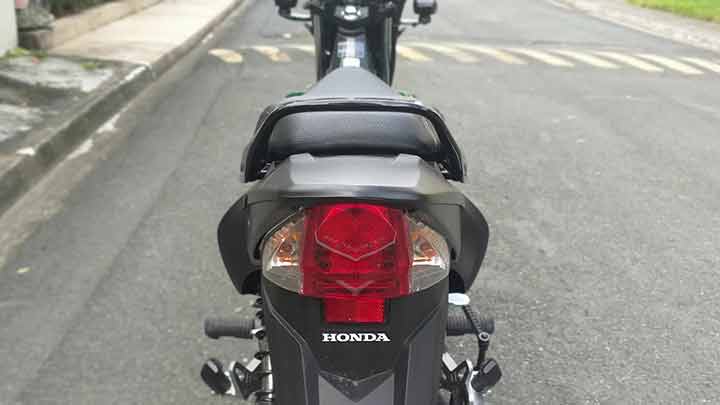 Considering the XRM 125 DS's asking price of P67,900, don't expect too much from it in terms of extras. It doesn't even have ABS, and its instrument panel still uses an analog design, with the Jurassic-era speedometer needle being run by outmoded cables.
The most striking 'extra feature' of the bike that's very much worth noting is the electric/kick start combination. Kick-start systems might be old-school, but they're still very helpful for riders like me who tend to be neglectful of the condition of the bike's battery.
And of course, we can't miss mentioning the fuel-injection technology that has replaced the old carburetor system. This environment-friendly setup never resulted in loss of power, and it also stretched our fuel consumption to about 60km/L.
Verdict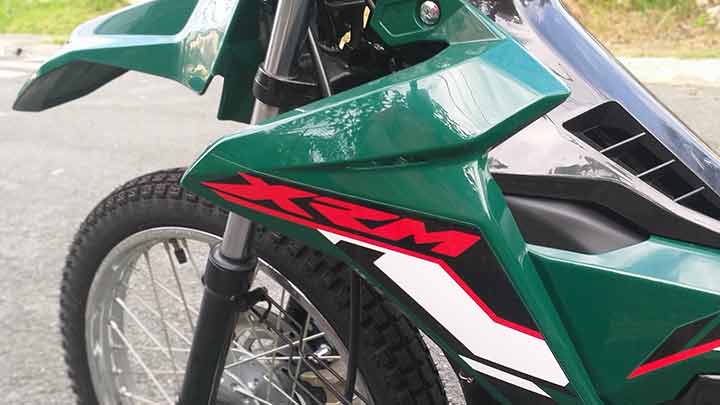 A change in marketing strategy entails a change in styling. In the case of the XRM, the range has been expanded to include a DS variant to cover both on- and off-road riding needs. That's very clever of Honda engineers.
Considering the Honda XRM 125 DS's competitive pricing and unparalleled brand quality, there's no doubt this do-it-all underbone will still be around for some more years. Drop it, crash it, abuse it. Who cares? After all, this bike was primarily born to withstand any kind of beating.
SPECS: 2019 Honda XRM125 DS
Price: P67,900
Engine: 125.8cc air-cooled, four-stroke single-cylinder
Power: 9.2hp @ 7,500 rpm
Torque: 9.55Nm @ 6,500rpm
Transmission: semi-automatic
Seat height: 30 inches
Verdict: 14/20