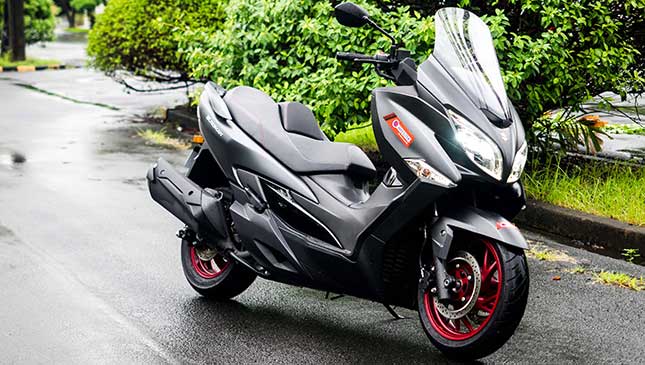 Rider camps tend to split the riding public into two types of riders: Those who ride motorcycles and those who prefer scooters.
This delineation exists because motorcycles generally require more involvement than scooters, what with a clutch and gears to have to worry about. Scooters, on the other hand, are generally equipped with automatic transmissions. They're the 'twist-and-go' species.
There is also a differentiation (or discrimination?) when it comes to speed, thinking motorcycles are generally faster than scooters, mainly due to a lighter weight and a more aggressive suspension setup. This delineation is especially felt in highway riding, as majority of scooters fell well below the mandated 400cc limit, relegating their use to city duties and/or backroads.
Continue reading below ↓
Recommended Videos
Maxi scooters are a different beast, and they are so named because of two things:
First, they are much larger than typical scooters. They have both weight and girth going for them, giving them more road presence, and also quite usable and practical storage (in general). Second, they also come with much larger engines—usually higher than 400cc. Many of these maxi scoots can easily keep up with most motorcycles in terms of acceleration and cruising speed.
The one we tested recently was the 2018 Suzuki Burgman 400, a 399cc offering from the Japanese brand. The unit was provided by the Suzuki showroom of Wheeltek in Makati.
The Burgman is the latest in a long line of maxi scooters that traditionally blow past cars at high speeds in European cities. But just how well does the maxi scooter lifestyle translate to local roads? Let's give it a shot and find out.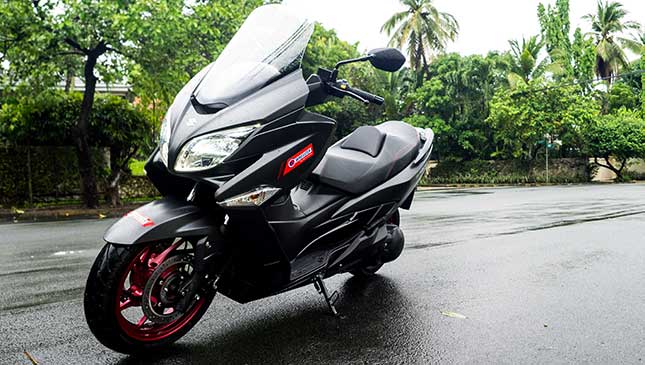 STYLING
The Burgman looks like any other maxi scoot on the market. A wide butt J. Lo would be proud of accentuates the sporty lines up front, where the front fairing meets the wide footwells.
Lording over other bikes on the road, there is no mistaking this scooter for anything less than a long-range-cruising two-wheeler. This is a bike that would look right at home sitting outside your house or parked in a building's motorcycle parking lot.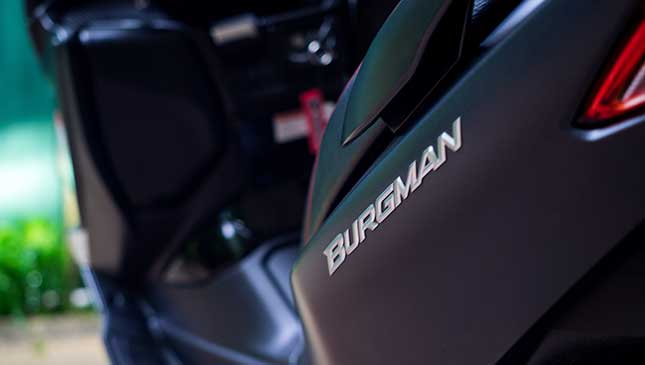 THE SADDLE
Straddling the bike, the first thing that strikes you is the weight. At 215kg, this scooter weighs more than most other bikes on the road. Thankfully, the bike keeps its weight down low, so maneuverability is unimpeded, save for the occasional times you will need to walk the bike out of a tight space or push it backward into a parking slot.
The controls feel solid and tactile for the most part, with the lone exception being the front storage cubbies. Suzuki gave the bike two large glove boxes up front to hold your mobile phone, wallet and/or other valuables. The biggest problem with this is that the plastic they used for the doors to the containers felt brittle and extremely wobbly. Feeling quite cheap, they have so much play you start to worry whether your phone hitting it would be enough to dislodge the door at speed (it isn't, but it's still disconcerting).
Weather protection is outstanding, which is the biggest advantage of a scooter over a motorcycle. Your upper body is protected by a massive windscreen, and your legs are shielded by the body of the bike. I rode this bike in the middle of a rain storm, and while I was riding along no water droplets touched my body at speed.
Lastly, the seat is nice, soft and wide, with the only problem being the way it cups your butt. Because of this, you are stuck in a single position, and after about 30 minutes or so, you start feeling some numbness. Thankfully, the passenger seat is a lot flatter, which means that passengers are free to move about—a better setup than the rider.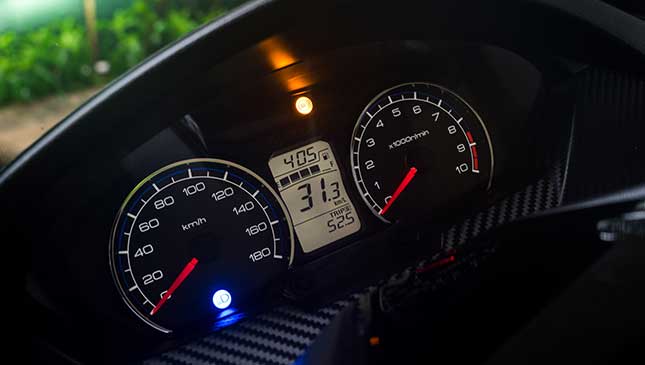 ENGINE PERFORMANCE
Now for what puts the 'maxi' in maxi scoot: The Burgman is powered by a 399cc 4-stroke single cylinder with double overhead cams. It puts out around 30.5hp at 6,300rpm and 36Nm at 4,800rpm. It may not sound like a lot, but when paired to a CVT, the Burgman can haul its heft up to highway speeds in no time.
The CVT may assault your ears with a bit of a drone at speeds, but it does an adequate job of translating engine power into forward momentum, all the while keeping the engine within its optimum powerband.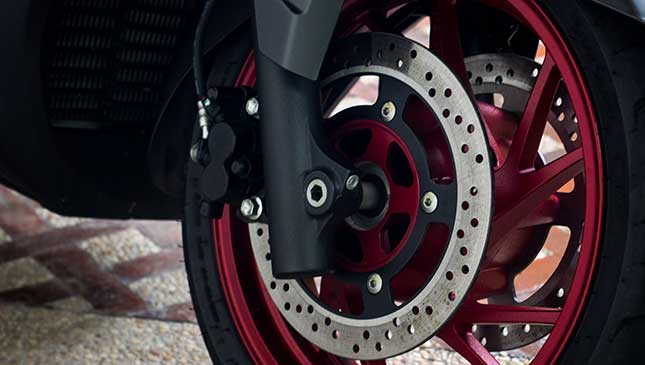 RIDE AND HANDLING
The bike is your typical scooter, meaning it isn't the greatest canyon carver. But in the curves, since the weight is quite down low, it does well enough that you tend to forget just how heavy the bike is.
Suzuki graced the bike with a large 15-inch front wheel (well, larger than other scooters, at least), which helps it tackle road imperfections a lot better than other AT scooters with much smaller wheels.
Braking is good and confidence-inspiring with twin 260mm front discs and a 210mm rear disc brake, which thankfully replaces the regular drums on most scooters. The bike has ABS as standard, which just makes it more usable in adverse weather conditions. The ABS is a feature that should be made the norm across all two-wheeled machines.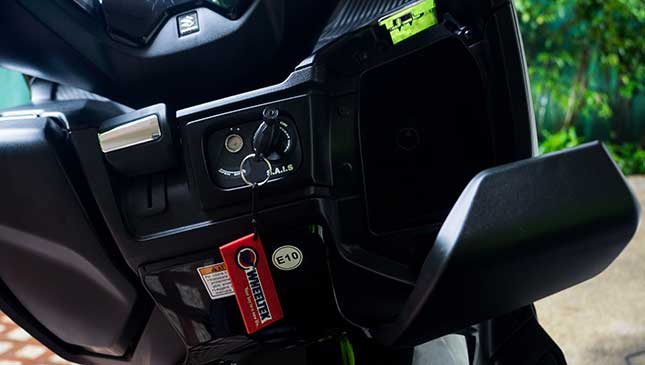 EXTRA FEATURES
Being a scooter, practicality is the name of the game here. Inside one of the glove boxes is a 12v power outlet, which means you can charge your phone as you would do in a car; quite handy on those long drives when you are using Waze to navigate.
The bike also comes with a handbrake. There's really not much more to say about this other than it's handy when parking on an incline (since it's an automatic, there's no way of locking the wheels to prevent rolling).
Storage is mediocre, with the underseat cubby complementing the two glove boxes. It can easily fit a full face helmet, but there is no way of fitting more than that, unfortunately. Two half face helmets might just fit, but we were unable to test this as we only had full face helmets on hand (safety first!).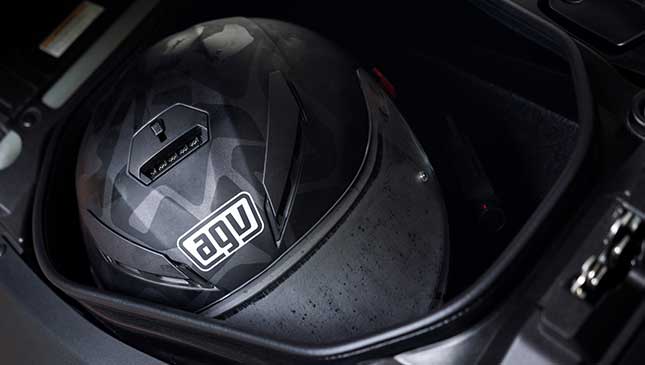 THE VERDICT
The Burgman is a great maxi scooter and a much applauded first effort from Suzuki in bringing in a more diverse lineup of middleweight bikes. When Wheeltek lent us the Burgman, we had no idea what to expect, never having ridden a large scooter before. But after a few out-of-town trips as well as some city traffic crawls, we can readily say that we quite enjoy the scooter life.
The engine is more than enough to keep up with the pace of big bikes, and you will never be left wanting during a group ride. In fact, with the amazing wind protection you might arrive at your destination more relaxed than when you left, much to the envy of your motorcycle-riding friends.
SPECS: SUZUKI BURGMAN 400cc
Price: P 499,000

Engine: 399cc, liquid-cooled, DOHC, single-cylinder
Power: 30.5hp @ 6,300rpm
Torque: 36Nm @ 4,800rpm
Transmission: CVT
Score: 17/20