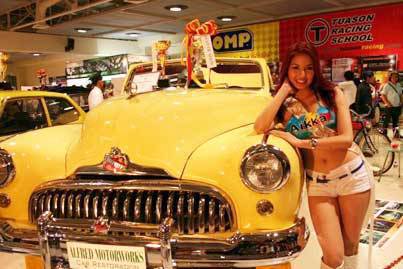 It is no surprise that the top award at the Trans Sport Show Cup went to the 1948 Buick Roadmaster.

With its eye-catching mustard yellow color and hulking size, everyone's gaze naturally gravitated to this beautiful behemoth owned by Juanito dela Cruz.

The top car on TopGear.com.ph's must-see list may be a sectagenarian but Alfred Motorworks has restored it to showroom state deserving of the Best of Show award at the 18th Trans Sport Show Cup.

The Reserve Best of Show award went to Ramon Orlina and the Orlina Atelier for the 1974 Volkswagen Beetle-turned-limousine. Orlina, a renowned sculptor, gave the classic Beetle a classy limo treatment with the black paint and privacy glass down to the mini-bar and ref with matching champagne goblets, making it win the 'Concept & Execution Award' as well.

The Best Graphics award went to Sammy Liuson and A-Toy Bodykits' 1997 Lexus LS400 which was painted with a colorful, patriotic display of National Hero Andres Bonifacio rallying his countrymen.

'Best Engine Display' went to Alan Lim and Split Second Autoshop's 2000 Honda Civic EK entry, for a neat and simple display that didn't go overboard with too much chrome.

John Lee Hagoriles, Jworks Unlimited and Sound Experience received the Outstanding Showmanship award for an outrageously designed 2005 Honda Civic VTEC 3 with scissor doors, a backseat area packed with a huge sound system set-up, the literally over-the-top mural that covered the car, the chromed engine, brakes and suspension system, not to mention the chromed wheels and the mirrors displaying the car's undercarriage.

The 2008 Nissan Skyline R35 GT-R of Larry Palad and A-Toy Bodykits drove off with two trophies for winning the Best Bodykit and the Sophie's Choice awards.

And to prove that car shows are not just about cars, Abby Poblador of exhibitor Red Octagon was recognized as Miss Trans Sport Show 2009.
ADVERTISEMENT - CONTINUE READING BELOW ↓
2009 TRANS SPORT SHOW CUP Winners

BEST OF SHOW
1948 Buick Roadmaster (Alfred Motorworks/ Juanito dela Cruz)
HISTORIC CLASS
1. 1948 Buick Roadmaster (Alfred Motorworks/ Juanito dela Cruz)
2. 1959 Lancia Zagato (REG Restoration/ Bu Corcuera)
VINTAGE
1. 1963 Lincoln Continental (REG Restoration/ Lee Martin Kierulf)
2. 1964 Triumph TR4 (JCB Bodyshop/ Jevis & Lito Aguila)
CLASSIC UTILITY VEHICLE
1. 1968 Kaiser Jeep (John Escobar Customs & Restoration/ Art Galang)
2. 1983 Jeep CJ-5 (Asian Coatings, Inc – Genix Racing/ Boying L. Anolin)
CONCEPT & EXECUTION AWARD, RESERVE BEST OF SHOW
1974 Volkswagen Beetle Limousine (Orlina Atelier/ Ramon Orlina)
CLASSIC
1. 1975 Mitsubishi Minica (Alfred Motorworks/ Juanito dela Cruz)
2. 1971 Opel GT (Olson Camacho)
3. 1972 Toyota Celica (Dino Ray Directo III)
POST CLASSIC MODIFIED
1. 1984 Toyota Trueno (JCB Bodyshop/ IC Tan)
2. 1989 Nissan 240 SX (Split Second Autoshop/ Lawrence Go)
3. 1983 Mercedes Benz 190E (A-Toy Bodykits)
POST CLASSIC
1. 1987 Mitsubishi Lancer SL (D.C. Autosport/ Myk Icban)
2. 1987 Mitsubishi Lancer GT (Hotwheels Autobody Specialists/ Patrick Ng Suy)
MILLENNIUM SPORTS
1. 2009 Porsche Cayman S (Autoline Motorsports Acc. Zentrium/ Edward Aguilar)
2. 2009 BMW M3 (A-Toy Bodykits/ Artemis Cheng)
3. 2002 Ford Mustang (Autoline Motorsports Acc. Zentrium/ Edward Aguilar)
CONTEMPORARY COMPACT 4-DOOR
1. 1999 Honda Civic Sir (Split Second Autoshop/ John Moreno)
2. 1994 Honda Civic Esi (Asian Coatings-Genix Racing/Rhoda Yap)
3. 1996 Honda Civic Lxi (MK2 Trading/Christine Jao)
CONTEMPORARY 2-DOOR EUROPEAN
1. 1993 Austin Mini Cooper (A-Toy Bodykits/ Alex Domingo)
2. 1998 Mini Cooper (Starbright Bodykits-Fabulous/ Roque Abella)
CONTEMPORARY 2-DOOR ASIAN
1. 1995 Honda Civic EG (Auto Circuit Enterprises)
2. 1997 Mitsubishi Lancer GSR (Autoline Motorsports Acc. Zentrium/Rhayan de Leon)
CONTEMPORARY JAPANESE SPORTS AWD
1. 1997 Nissan Skyline R33 GTR (A-Toy Bodykits)
2. 1997 Nissan Skyline R33 GTR V-Spec (A-Toy Bodykits)
3. 1991 Nissan Skyine R32 (LNS Paint & Bodykits/ Mike Lanting)
CONTEMPORARY LUXURY SEDAN EURO
1990 Mercedes Benz 260E (DC Autosport/Toots Pesigan)
CONTEMPORARY LUXURY SEDAN ASIAN
1. 1997 Honda Accord (Starbright Bodykits-Fabulous Autoworks/Mike Tanto)
2. 1997 Lexus LS 400 (A-Toy Bodykits/Sammy Liuson)
BEST GRAPHICS AWARD
1997 Lexus LS 400 (A-Toy Bodykits/Sammy Liuson)
BEST BODYKIT, SOPHIE'S CHOICE AWARD
2008 Nissan Skyline R35 GTR (A-Toy Bodykits/Larry Palad)
OUTSTANDING SHOWMANSHIP AWARD
2005 HONDA CIVIC VTEC 3 (Jworks Unlimited/Sound Xperience/ John Lee Hagoriles)
MILLENNIUM HATCHBACK/BEST ENGINE DISPLAY
1. 2000 Honda Civic EK (Split Second Autoshop/Alan Lim)
MILLENNIUM SUPER STREET
1. 2006 Honda Civic FD (Careation Bodykits & Paintings/Marcelino Domingo A. Veloso)
2. 2007 Honda Civic FD (Hotwheels Autobody Specialist /Mags Mendez)
3. 2008 Mitsubishi Lancer GT (Solar Auto Club/ Patrick Ting)
MILLENNIUM CUSTOM
1. 2005 HONDA CIVIC VTEC 3 (Jworks Unlimited/Sound Xperience/ John Lee Hagoriles)
2. 2008 Honda Civic FD (Red Octagon Dist. Phils. Inc./Joyce Tan)
MILLENNIUM COMPACT
1. 2008 Mazda 3 (Careation Bodykits & Paintings/ Francis Uyehara)
2. 2007 Honda Civic FD (Hotwheels Autobody Specialists/ Drake Austria)
MILLENNIUM SUBCOMPACT
1. 2003 Honda Jazz (Asian Coatings-Genix Racing/Jun Tiangco)
2. 2009 Honda Jazz (Autoline Motorsports Acc Zentrium/ MJ and Cher Sison)
3. 2008 Honda Jazz (Asian Coatings-Genix Racing/Gerard Alajar)
MILLENNIUM SPORTS AWD
1. 2009 Nissan Skyline R35 GTR (Alex Car Restoration & Modification Services, Inc./Coy Enriquez)
2. 2008 Nissan Skyline R35 GTR (A-Toy Bodykits/Larry Palad)
3. 2008 Mitsubishi EVO X (A-Toy Bodykits)
AMERICAN SUV
1. 2005 Chevrolet Trailblazer (LNS Paint & Bodykits/ Billy Crawford)
2. 2004 Chevrolet Trailblazer (LNS Paint & Bodykits/ Lawrence Yu)
ASIAN SUV
1. 1999 Nissan Terrano (Jworks Unlimited/Sound Xperience/ Egbert Rodriguez)
2. 2005 Nissan X-Trail (Maxx Energie/ Ryan Young)
MULTIPURPOSE VAN
1. 1992 Mitsubishi Spacewagon (Phat Audio/FM Garage Painting/ Alvin Ryan Cu)
MISS TRANS SPORT SHOW
Abby Poblador (Red Octagon Booth)