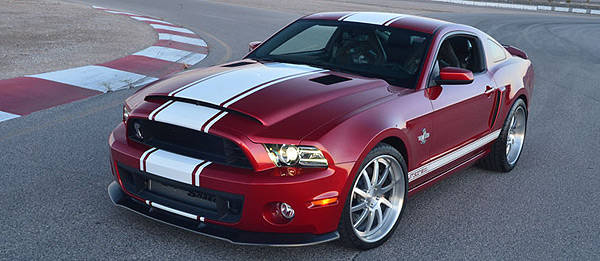 Last May, Ford labeled the 662hp 5.8-liter supercharged V8 engine of its Shelby GT500 as the "most powerful engine ever produced in an American vehicle." Four months later and that doesn't hold true anymore as Shelby American has rolled out the 850hp Shelby GT500 Super Snake.
The immense power of the Shelby GT500 Super Snake comes from the Shelby/Ford Racing/Whipple supercharger. Helping to cool the high-performance engine down is the Shelby Performance cooling package that includes a performance radiator, heat exchanger, and aluminum cooling tanks. Stopping the car are the Shelby/Wilwood front and rear brake kit and the Shelby front brake duct cooling kit. The Shelby GT500 Super Snake rides on 20-inch Shelby Super Snake three-piece billet forged wheels with the upgraded suspension package further improving the car's ride.
Which would you rather have, the 850hp Shelby GT500 Super Snake production model or the limited-edition 50th anniversary 750hp Shelby GT500 Super Snake that Shelby American unveiled in April?
Continue reading below ↓
Recommended Videos