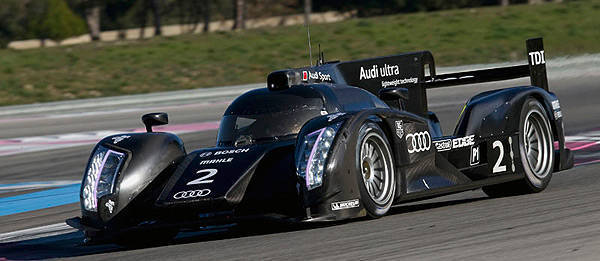 Toyota isn't the only carmaker running a hybrid car at the legendary 24 Hours of Le Mans in June 2012. German carmaker Audi has confirmed that two of its four cars will be equipped with a hybrid drive system for the first time.
"To develop the hybrid technology for Le Mans is at least as ambitious and challenging as our diesel project was in its early stages," said Wolfgang Ullrich, head of Audi Motorsport. "The first test results are very encouraging and we are intrigued to see just how this technology performs in combination with our ultra lightweight technology on the race track at Le Mans. As before, we still, however, see potential with the conventional drive--just as our colleagues do in production development. This is why we are absolutely delighted that the ACO (Automobile Club de l'Ouest, the organization behind the annual 24 Hours of Le Mans) and FIA (Fédération Internationale de l'Automobile) selection committee has accepted our entries and that we can join the grid with four cars at the commemorative running of the Le Mans race."
Audi's Le Mans sports prototype with the hybrid drive will officially be presented at the end of February. Its first competitive outing is scheduled to be on May 5 in the Six Hours of Spa-Francorchamps where it will, incidentally, go up against the Toyota TS030 Hybrid, the Japanese carmaker's entry to the 2012 24 Hours of Le Mans and the first hybrid system-equipped car to participate in the FIA World Endurance Championship.
Continue reading below ↓
Recommended Videos