Car dealerships particularly in Metro Manila may be busy with flood-related repairs after typhoon Ondoy but the business of selling brand-new vehicles goes on.
Here are the best deals
TopGear.com.ph
found for the month.
Three-way for Toyota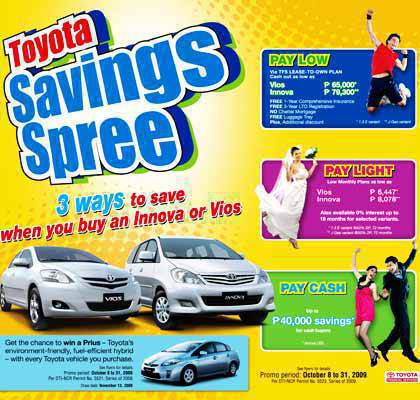 Toyota Motor Philippines gives potential buyers three options to purchase their brand new Vios or Innova: pay low, pay light or pay cash.
Under the "pay low" program, Toyota Financial Services offers lease-to-own scheme for a downpayment of P65,000 for the Toyota Vios 1.3E and P79,300 for the Toyota Innova J.
With "pay light," clients can opt to shell out a downpayment equivalent to 50 percent of the vehicle's cost to reduce the monthly installment to P6,447 for the Vios and P8,078 for the Innova for 72 months. A zero-percent interest plan of up to 18 months is also available for select variants.
Toyota's "pay cash" option gives buyers of diesel-fed Innova variants savings of up to P40,000.
To further sweeten the deal, buyers of Toyota vehicles from October 8 to 31 get a chance to win a Toyota Prius. The winner will be announced on November 13.
Nissan's October 10 blowout
Nissan's Metro Manila dealers will be giving buyers of the new, blacked-out Grand Livina a treat on October 10. The One-Day Black-Out entitles clients who place an order for the all-new Grand Livina Black gets either a Navi phone or a portable global positioning system (GPS) for free. Buyers who come dressed in black will also get an exclusive Grand Livina merchandise.
Suzuki's freebies
Suzuki's promo across various models continues. Buyers of the Alto mini-hatchback and the Grand Vitara 2.4-liter sport-utility vehicle get free three-year registration, window tint, floor mats and seat covers. Swift hatchback buyers can get a gas card worth P5,000 and free three-year registration, while buyers of the SX4 compact sedan get both plus free window tint, floor mats and seat covers.
Freebies vary for those buying the APV compact multipurpose vehicle. Mid-level GLX and the automatic transmission-equipped, top-of-the-line SGX buyers get a P5,000 gas card and three-year LTO registration; while those getting the manual transmission-equipped SGX get a P5,000 gas card, free window tint, free floor matting and seat covers and three-year registration.
ADVERTISEMENT - CONTINUE READING BELOW ↓
ADVERTISEMENT - CONTINUE READING BELOW ↓
Recommended Videos