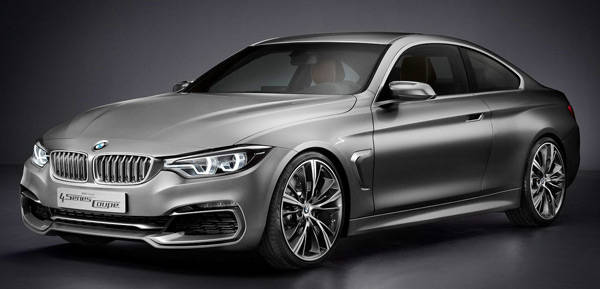 BMW has revealed what the all-new 3-Series Coupe will look like, only it won't be called this anymore. Instead, following the German's carmaker new system of naming its coupes with an even number (like the 6- and 8-Series), the 3-Series Coupe will now be known as the 4-Series Coupe.
According to BMW, the 4-Series Coupe "adds a new dimension to the qualities of the BMW 3 Series Coupe in terms of aesthetics, dynamics and elegance." The carmaker even goes as far as saying that it "represents the zenith of a development curve" since the new model has its own individual character and stand-alone design.
Though BMW didn't divulge any technical specifications or even what engines the car will come with, it did reveal that the Concept 4-Series Coupe is longer and lower, and has a wider stance than the existing 3-Series Coupe, giving it even more exceptionally dynamic proportions.
As expected, the Concept 4-Series Coupe fits the familiar BMW template with the long wheelbase, long sweeping hood, set-back passenger compartment, and short overhangs. The rear wheel arches also not only mark the widest point of the car but also exude athleticism that complements the car.
The sophisticated details of the car also stand out as functional elements like air intakes and vents, door openers and exterior mirrors, are given a satin-finish aluminum accent treatment.
Continue reading below ↓
Recommended Videos
Unfortunately, despite BMW's revelation of the Concept 4-Series Coupe, it has yet to reveal when the car will go into production.