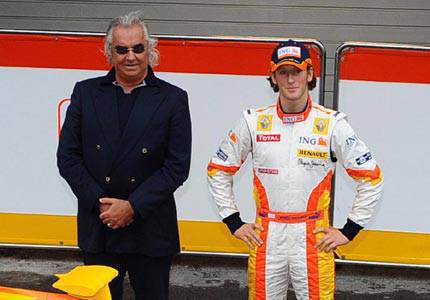 ING Renault F1 jumped the gun ahead of the Fédération Internationale de l'Automobile (FIA) World Motor Sport Council's September 21 meeting by announcing the team will not dispute allegations regarding its "crashgate" scandal.
The team posted this statement on the ING Renault F1 website:
The ING Renault F1 Team will not dispute the recent allegations made by the FIA concerning the 2008 Singapore Grand Prix.
It also wishes to state that its managing director, Flavio Briatore and its executive director of engineering, Pat Symonds, have left the team.
Before attending the hearing before the FIA World Motor Sport Council in Paris on 21 September 2009, the team will not make any further comment.
Continue reading below ↓
Recommended Videos
The meeting was called for Renault to answer charges that the team "conspired with its driver, Nelson Piquet Jr. to cause a deliberate crash at the 2008 Singapore Grand Prix with the aim of causing the deployment of the safety car to the advantage of its other driver, Fernando Alonso."
ING Renault F1 has yet to say whether or not it has found replacements for Briatore and Symonds. It is likewise uncertain of the team will show up on the next race which ironically happens to be the Singapore Grand Prix.
However, if the team is found guilty of the allegations, the sanctions could range from a hefty fine to the team being excluded from the world championship, or maybe even both as what happened to McLaren in the "spygate" scandal in 2007. Alonso's future is also uncertain if the FIA finds Piquet Jr.'s crash to be a deliberate attempt that worked to his advantage.
In the photo: Former ING Renault F1 team principal Flavio Briatore with driver Romain Grosjean at the revelation of the R29 early this year. Grosjean replaced Nelson Piquet Jr. in August.