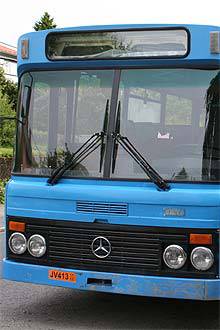 Bus-driver wannabes will soon need more than just a professional license to run a public-utility vehicle if a bill filed by a party-list representative is signed into law.
According to Rep. Mark Aeron Sambar of Puwersa ng Bayaning Atleta, future bus drivers should be subjected to theory and hazard perception tests, a practical driving test and a driver accreditation for professional competence.
"Bus drivers are notorious for reckless driving habits of swerving their way through busy traffic or careening through open highways," Sambar said. "The State should improve the knowledge and skills of bus drivers before they start driving professionally, and improve road safety through better-qualified drivers."
Under the bill, the Technical Skills and Development Authority (TESDA) and the Department of Transportation and Communications (DOTC) are mandated to develop a training and certification program for bus drivers to ensure their competence and professionalism.
The bill also requires states that only bus drivers with TESDA and DOTC accreditation shall be allowed to drive public buses. The accreditation is an additional requirement on top of the professional driver's license issued by the Land Transportation Office.
ADVERTISEMENT - CONTINUE READING BELOW ↓
The proposal is in response to the growing number of accidents involving bus drivers, the latest of which is the incident that killed journalist Lourdes Estella-Simbulan after a speeding bus hit the taxi she was riding.
According to the statistics stated in the bill, the Metropolitan Manila Development Authority recorded an average of 13 bus accidents per day in 2008, while 1,488 bus-related accidents were recorded in the first five months of 2009.
The DOTC said as much as 85 percent of road accidents are caused by human error.
What do you think of the bill that proposes training and accreditation for bus drivers?
Photo from SXC.hu
ADVERTISEMENT - CONTINUE READING BELOW ↓
Recommended Videos