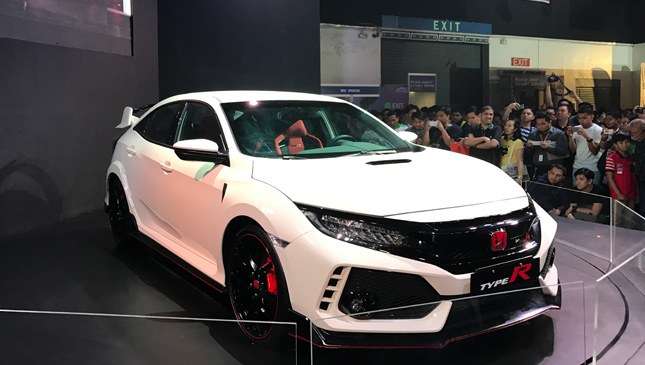 You know how they say that highly anticipated consumer products like the Samsung Galaxy S8 and iPhone 7 have such well-orchestrated marketing campaigns, that it seems like even the 'leaks' were planned? Well, that's kind of how we felt with the Philippine debut of the Honda Civic Type R.
First we theorized that the Type R's arrival was a distinct possibility, then the anonymous mystery photos arrived, and finally Honda Cars Philippines let the cat out of the bag. Hearing the 2.0-liter turbocharged engine's sound screaming out of triple exhausts only made us more excited.
And today, the moment finally came. Outgoing HCP president Toshio Kuwahara announced the other product introductions, thanked the crowd, and unveiled the perfect sayonara—a white Civic Type R emerged from the smoke.
We've never seen so many smartphones raised in the air at a motor show (and tablets as well, ugh). So it took a while before we could get proper photos.
Thankfully, HCP saw the longing in our eyes and let us come closer to the Civic with the famous red badge. Our photographer was lucky enough to sit inside as well.
So enjoy the photos, and relish the details like the red seats, crimson seatbelts, red leather and carbon fiber touches.
No announcement was made if and when this will go on sale. Perhaps the Japanese carmaker isn't done with us yet. Well played, Honda. You know us too well.