That looks...proper.
In the flesh, the exterior of this Bugatti Chiron Pur Sport delivers a far more aggressive design dynamic than that of the regular Chiron. At the front, there's a whole new clamshell featuring heavy use of visible carbon fiber in the more aggressive front splitter, which improves airflow, downforce, and cooling. Over-wheel vents (to release air pressure and further increase downforce) are dissected by a taut new raised sinew line over the front wheel arch and give the impression the bodywork is stretched taught over the technology.
In profile, the whole car gives the impression of sitting lower due to the horizontal split between body-colored upper and lower dark section. The rear is dominated by the 1.9-meter wide wing, which is mounted on fixed uprights, and a slightly more extruded carbon-fiber bumper punctuated by the 3D-printed twin exhaust. All in, the Pur Sport delivers a more purposeful attitude. According to the marketing spiel, Bugatti says the Pur Sport is "made for corners, a new concept in Chiron." It continues its "when beast meets beauty"—but we'll park that for a minute. All you need to know now is that it's another limited-series Chiron.
ADVERTISEMENT - CONTINUE READING BELOW ↓
Another limited-series Chiron, eh?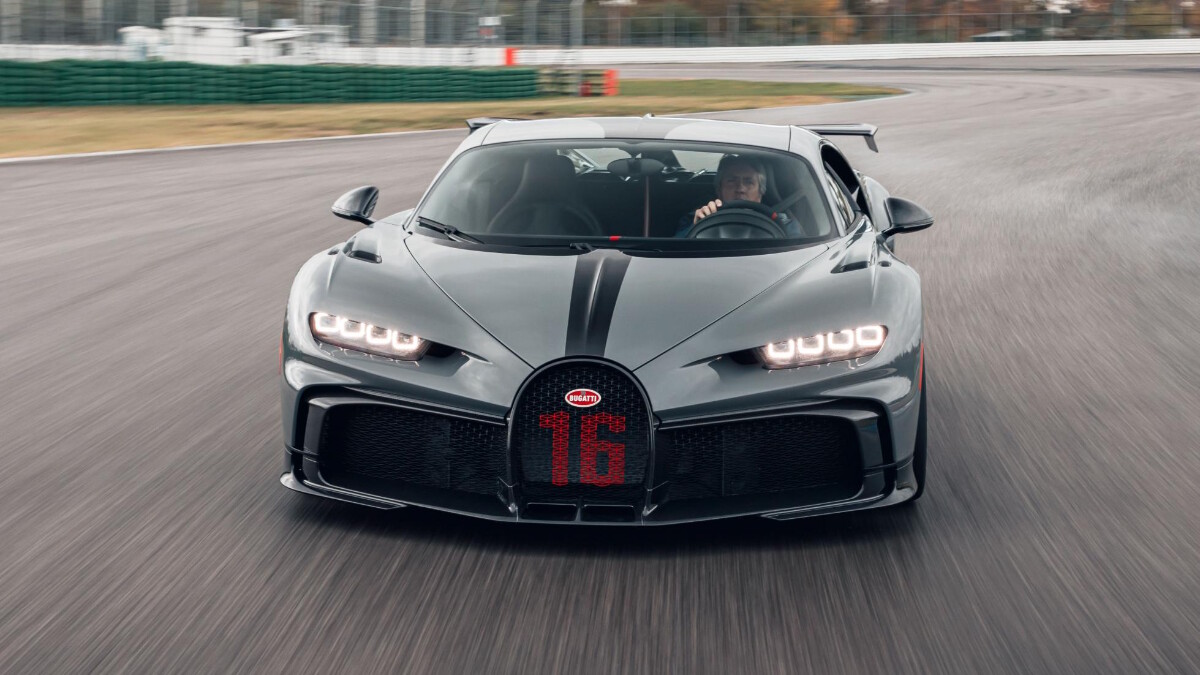 Indeed. To be fair, in recent times, it's become a little challenging to keep up with which version of Chiron is which, so here's a handy refresher for those of you heading to your local dealer to order one.
The range starts at the completely accessible price of £2.5 million (P157.5 million) with the regular Chiron...the entry level if you will. Powered by the iconic 8.0-liter W16 engine producing 1,479hp and 1,598Nm of torque, and capable of propelling you from 0-100 in 2.4sec and onto a Vmax of 423kph. As entry-level models go, this one is best described as sufficient for most needs.
ADVERTISEMENT - CONTINUE READING BELOW ↓
Recommended Videos
But Bugatti owners didn't get where they are today by having the same car as everyone else, so in recent years, the range has expanded to include a number of different flavors—starting in 2018 with the arrival of the carbon-fiber wiper-blade-shod Chiron Sport. It's 18kg lighter (thank you, wiper blade), features stiffer suspension and different torque vectoring, and is yours for an additional £300,000 (P18.9 million) over the base car. Then 2019 brought the arrival of the 110 ans edition. Featuring much matte raw carbon and many French tricolors, it was limited to 20 'pieces.'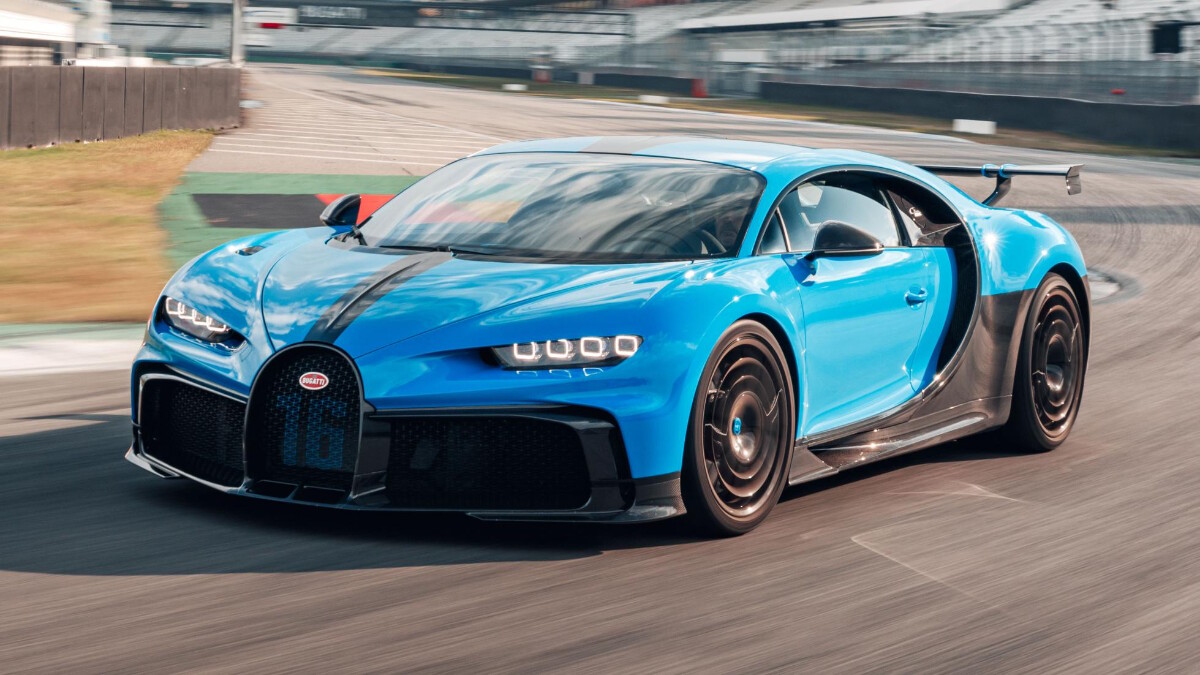 ADVERTISEMENT - CONTINUE READING BELOW ↓
Last year also saw the launch of the Chiron Super Sport 300+, created to celebrate the fact that Bugatti hit 490.48kph (304.77mph) with its Chiron Super Sport at Ehra Lessien. It features an uprated engine (nicknamed Thor) delivering 1,577hp and capable of 482kph (300mph) when delimited and deployed with Bugatti assistance at Ehra Lessien. Then the Chiron Noire (20 pieces) arrived earlier this year.
With the Divo (more aggressive styling than the Pur Sport but more creature comforts inside and limited to 40 pieces), the Centodieci (limited to 10), and a rumored extreme track-only Chiron arriving imminently, it's fair to say that the oligarch community has plenty to choose from at their local Bugatti dealership...and the collector who insists on having one of every Bugatti in their collection is probably hoping the limited-series idea loses its appeal shortly.
So, it's got more aggressive looks, but what are the other changes on the Pur Sport? And why should I ask the dealer to sort me a test drive?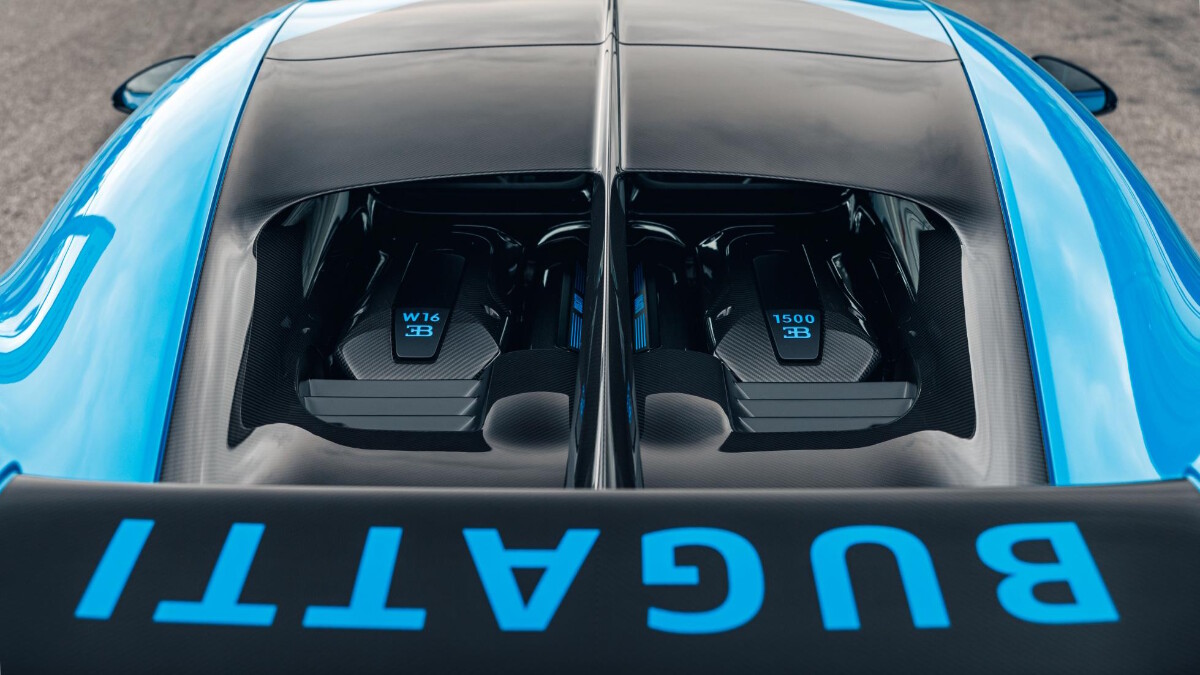 ADVERTISEMENT - CONTINUE READING BELOW ↓
The Pur Sport—as you'll remember—is "where beast meet beauty," which, in extreme engineering terms, translates as follows. It's 50kg lighter than the standard Chiron (equivalent to 2.52% of the total mass)—a diet delivered via new magnesium aero blade wheels (16kg) wrapped in all-new Michelin Pilot Sport Cup 2R tires that deliver a claimed 10% increase in lateral grip; the titanium 3D-printed exhaust tips (2kg); heavy use of alcantara, unobtainium and titanium in the interior; thinner glass in the rear window; titanium brake-pad backplates; less sound deadening; and the addition of the massive static wing. Fixing the wing in place not only creates a look-at-me feature that the target market owners desire—the removal of the mechanical and hydraulic system required to batter that amount of physics in the face is responsible for further significant weight loss.
Is it still powered by the same W16 engine?
Yup, the W16 remains, but has added bragging rights among your Bugatti peers with a 200rpm increase in redline. It now tops out at 6,900rpm and delivers the "regular" 1,479hp with the full earth rotating 1,598Nm of torque available at 2,000-6,000rpm. Handy.
ADVERTISEMENT - CONTINUE READING BELOW ↓
Any other stuff I should know?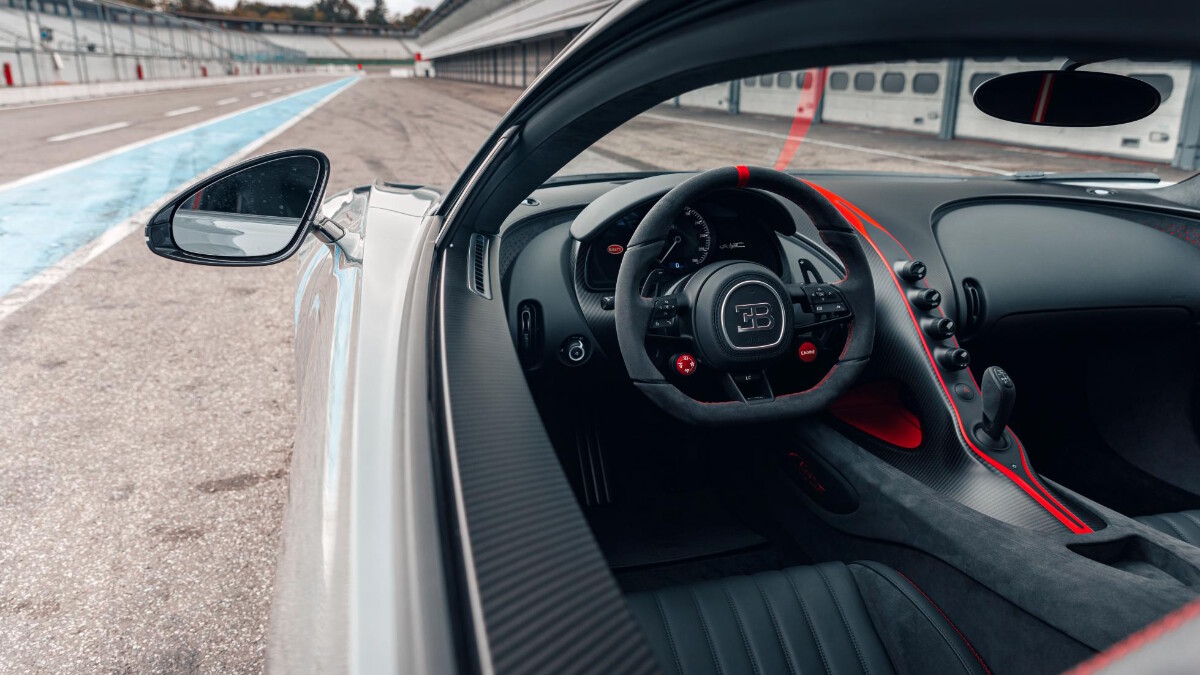 To harness all that new performance and give a more dynamic driving experience, the gearbox has been substantially revised with the ratios 15% shorter than before. Anecdotally, that makes seventh gear in the Pur Sport the equivalent to somewhere between fifth and sixth in the standard car. This is bad for top speed, which is reduced to a mere 350kph compared with the standard car's 380kph (420kph with Vmax key), but good news for acceleration.
ADVERTISEMENT - CONTINUE READING BELOW ↓
In other good news, the Pur Sport features an all-new ESC mode called Sport Plus, which will allow greater drift angles before the ESC kicks in and saves you bankrupting your insurance company. The springs have been stiffened by 65% at the front and 33% at the rear. This, combined with revised damper tuning, stiffer top mounts (130% front, 77% rear), carbon-fiber anti-roll bars, and revised negative camber on the front wheels (2.5 degrees to be precise), gives what Bugatti hopes is the most engaging driving experience on road and track of any of its products.
Pub-ammo time—what are the numbers?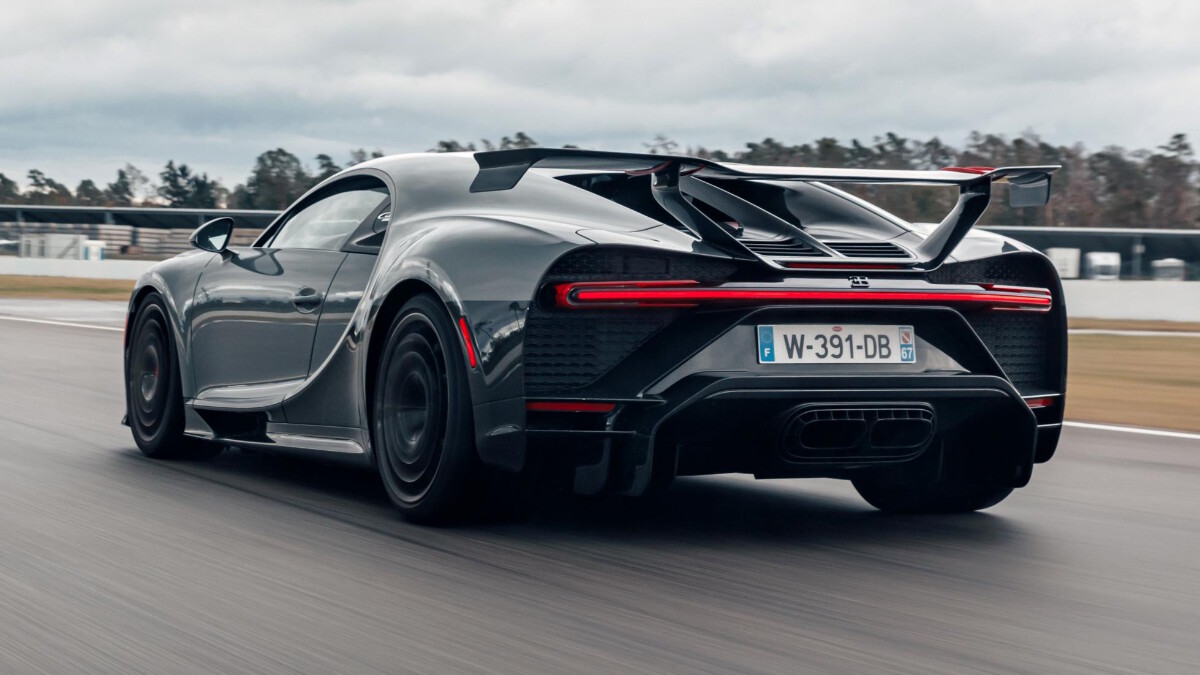 ADVERTISEMENT - CONTINUE READING BELOW ↓
The changes Bugatti has made shave 0.1 sec off the 0-100 time, reducing it to 2.3sec. But, as ever, there are other figures that make your eyes water: 0-200kph in 5.5sec and 0-300kph in under 12sec (we're hearing it's close to 11.6sec), plus a power-to-weight ratio of 1.19kg per horsepower. Bugatti will be producing 60 Pur Sports...leaving plenty of room for a few further sub-derivatives (maybe including one for left-hand turns and a multi-story car-park edition) to land before Chiron production ends. With the car priced at £3.4 million (P214.2 million) currently and rising to £3.5 million (P220.5 million) in  2021, you're advised to act swiftly to avoid disappointment.
Enough data—what's it like to drive?
Conscious that driving any flavor of Chiron will always deliver sensory overload, I arrive at a damp gray Hockenheim circuit fully prepared to be stunned by the Pur Sport's performance, but concerned that the visual drama may well over play the actual differentiation between it and the 'regular' car.
ADVERTISEMENT - CONTINUE READING BELOW ↓
A damp, greasy race circuit with multiple surface changes is probably not the ideal place to deploy 1,479hp and try to appraise the finer handling details of an outrageously expensive vehicle...especially when there are only two of them on the planet. This is the first morning of a five-day program where potential owners get to experience (and sign on the line), and the boss is due to arrive any minute. Fortunately, my Pur Sport comes with Le Mans winner and all-round proper chap Andy Wallace preloaded into the passenger seat. Duly warned about the need to obtain optimal tire temperature of 45 degrees (that'll take a few laps to reach on the cold, damp surface with the tires currently at 23 degrees), we set out cautiously.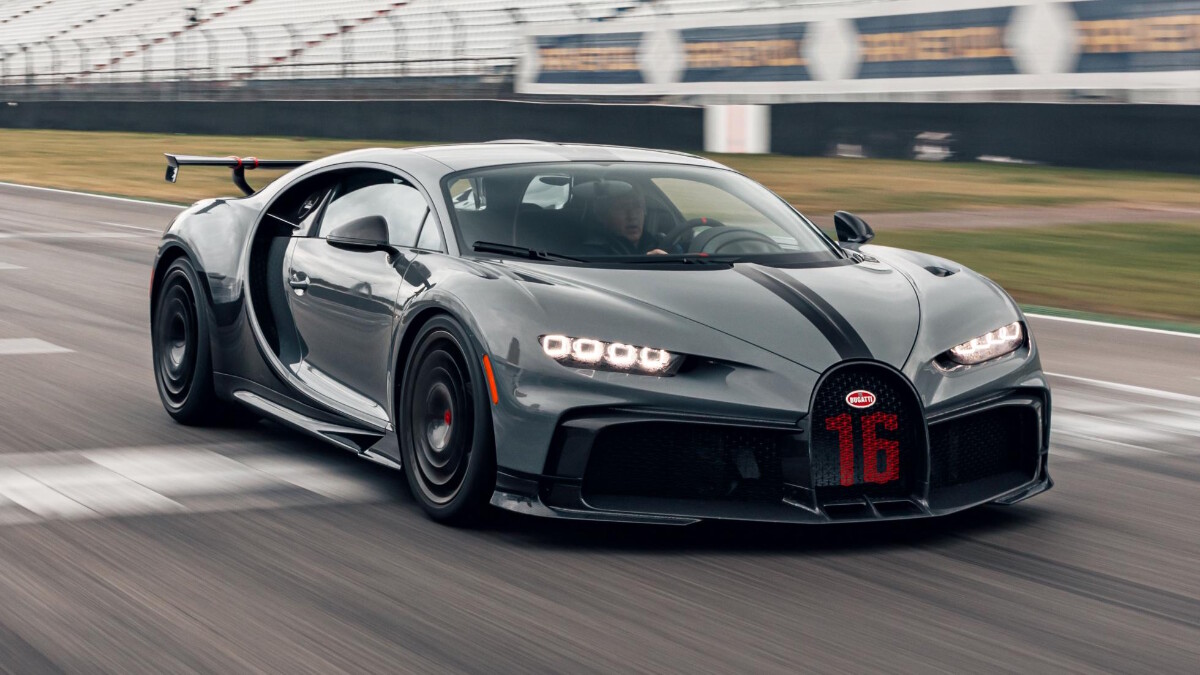 ADVERTISEMENT - CONTINUE READING BELOW ↓
What is immediately obvious is that: a) sections of the track are like glass; and, b) the Pur Sport feels significantly different from the Chiron and the Chiron Sport. While Bugatti hasn't changed the steering ratio, the front end is far more immediate and responsive thanks to the increased camber. The thinner rear glass allows even more lovely W16 noise to enter the cabin, and with 1,479hp, the Pur Sport will merrily spin all four wheels in high gears without batting an eyelid. As the tire temperature builds, so, too, does my confidence and speed, and the shorter ratios and higher redline turn the Chiron experience up another notch.
For some, lowering the gearing and thus the top speed will be a step in the wrong direction for a car known for being the ultimate. In reality, unless you have a private test track, Vmax in a Chiron is just a theoretical number. The Pur Sport might well top out at 350kph, but the shorter 'box makes it feel like it's discovered another few hundred horses, so urgent is its pursuit of speed. The acceleration is rabid, unrelenting, attainable, deployable, and exploitable on a race circuit, not on an 8km straight, and it's all the better for it in my view. We like potential we can exploit, not just talk about.
ADVERTISEMENT - CONTINUE READING BELOW ↓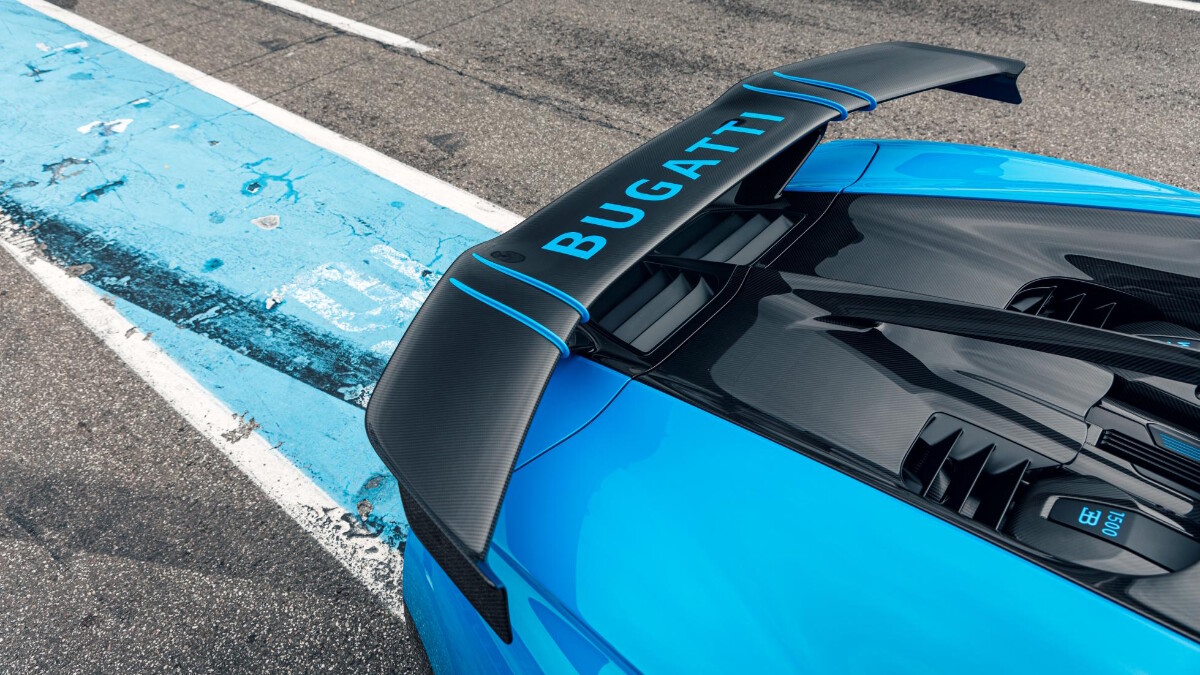 For the majority of the time, the value, performance, and capabilities of the Pur Sport keep your ego in check and everything heading in the right direction. However, if you get overcommitted on the brakes from big speed while on a damp surface, it will momentarily lock the rears causing a mild workout in the heart muscles before straightening itself up and getting on with things. This rather focuses the mind.
ADVERTISEMENT - CONTINUE READING BELOW ↓
And, yes, it will drift. Boot it out of a damp hairpin, or dig into its seemingly limitless power too aggressively, and the Pur Sport will happily spin all four wheels. Let the rear rotate, and you find yourself sliding a £3.4-million hypercar while mentally checking the insurance waiver.
And on the road?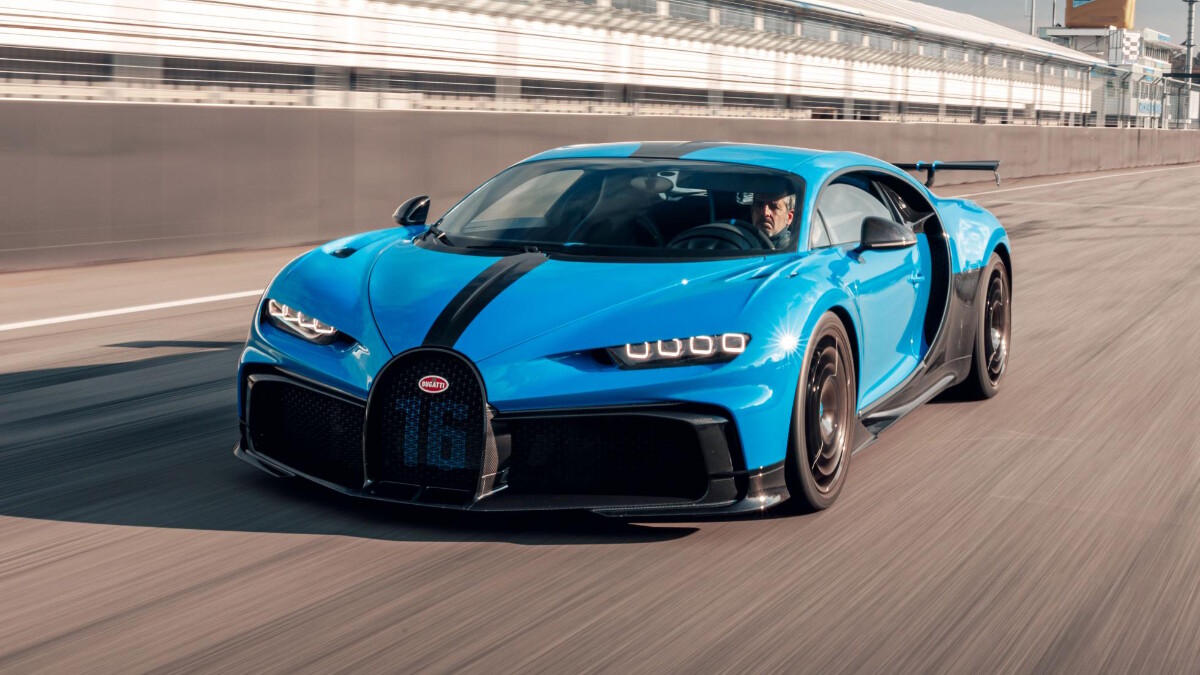 ADVERTISEMENT - CONTINUE READING BELOW ↓
On the road, the Pur Sport feels stiffer than the Sport, but never harsh. The steering is more direct and communicative, and the shorter-range 'box allows you to more easily dig into the bottomless pit of power. Increased mechanical noises from the powertrain will improve the enjoyment for some (me) and diminish it for others (buy a regular Chiron). The cabin feels like a modern performance iteration of the usual Chiron staples, and as it features less cow, it could very well open up the untapped market of the vegan hypercar enthusiast.
So, you'd have one despite the £900,000 price hike?
Clearly, any Chiron would be more than acceptable, but for me, the Pur Sport's aggressive stance, more focused attitude, and the greater accessibility of its incredible power thanks to the revised 'box make it the Chiron of choice. Now...back to reality.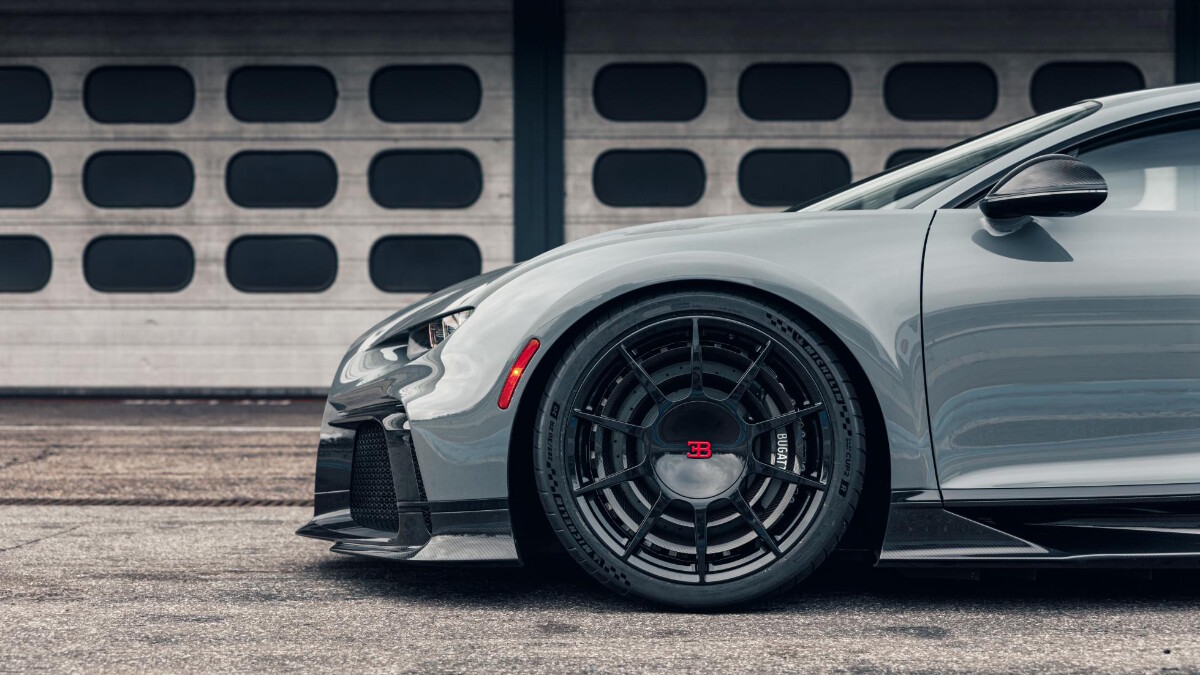 ADVERTISEMENT - CONTINUE READING BELOW ↓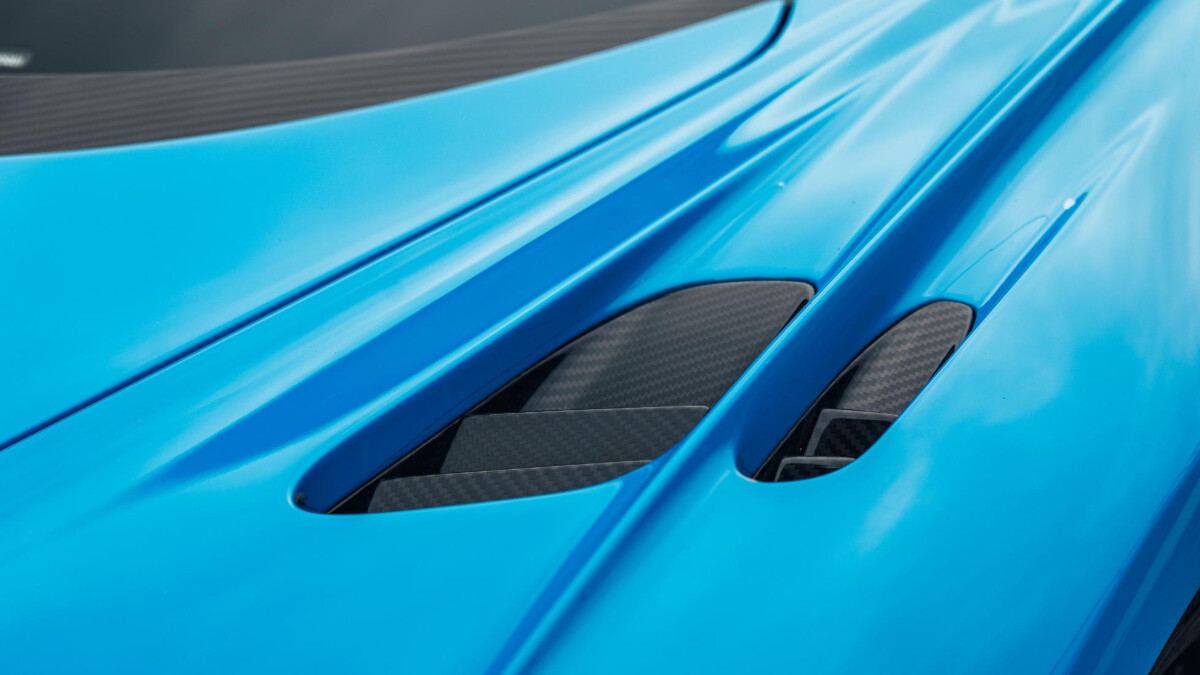 ADVERTISEMENT - CONTINUE READING BELOW ↓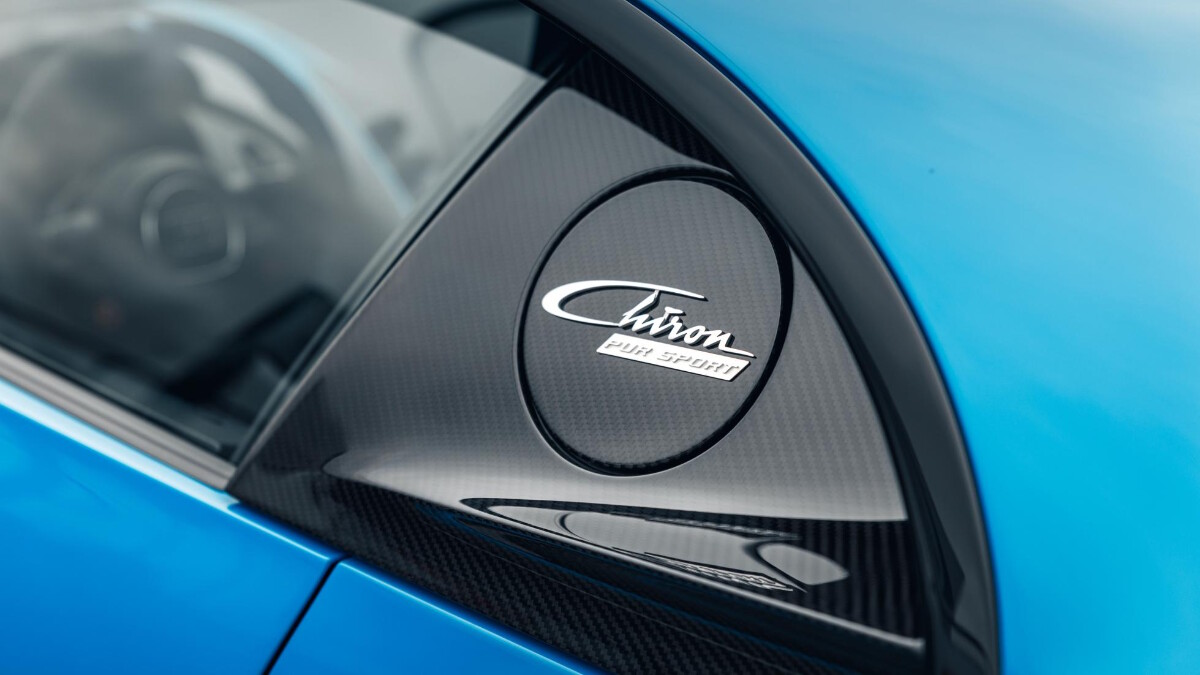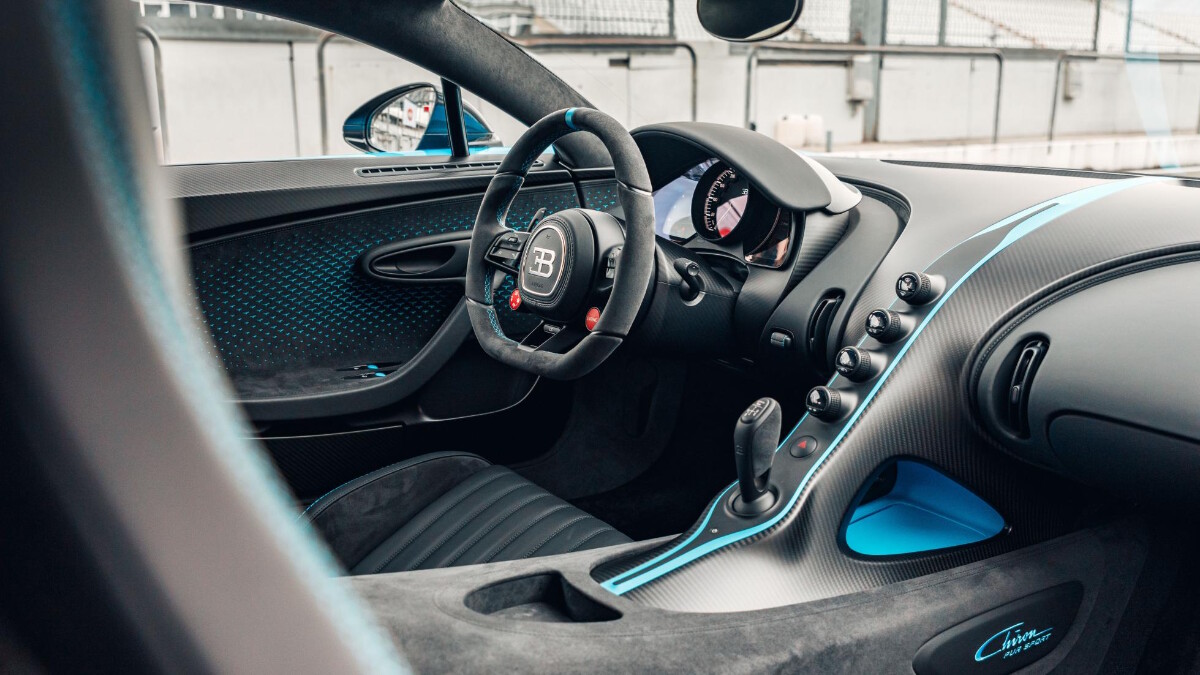 ADVERTISEMENT - CONTINUE READING BELOW ↓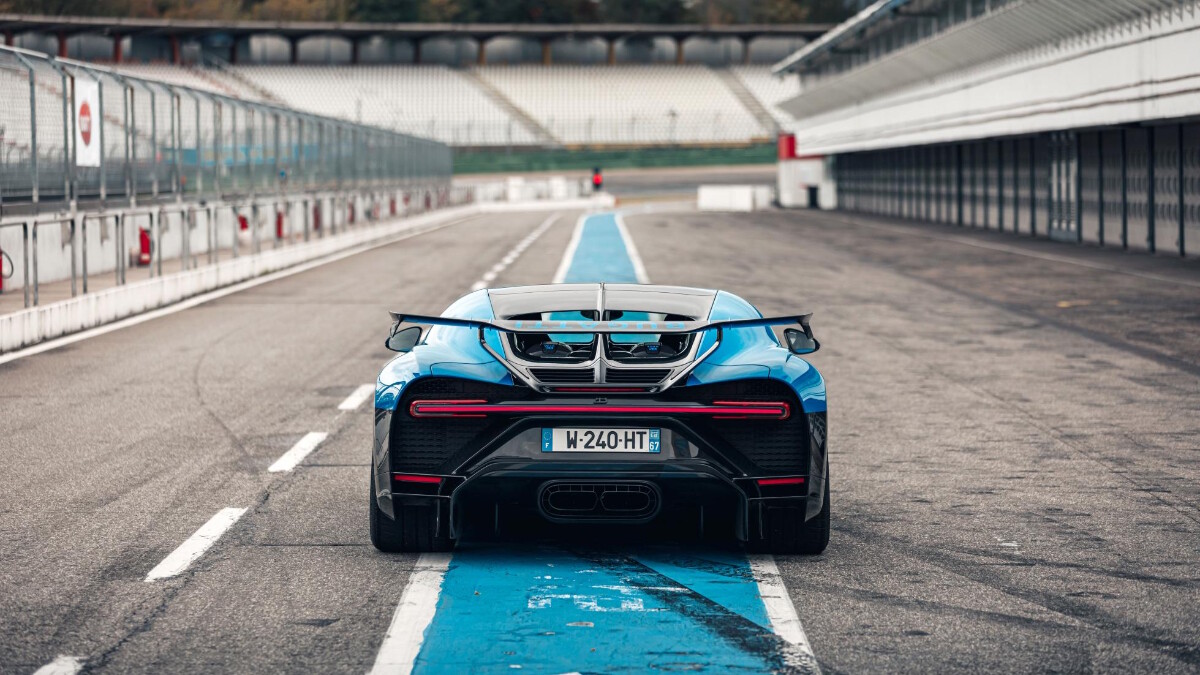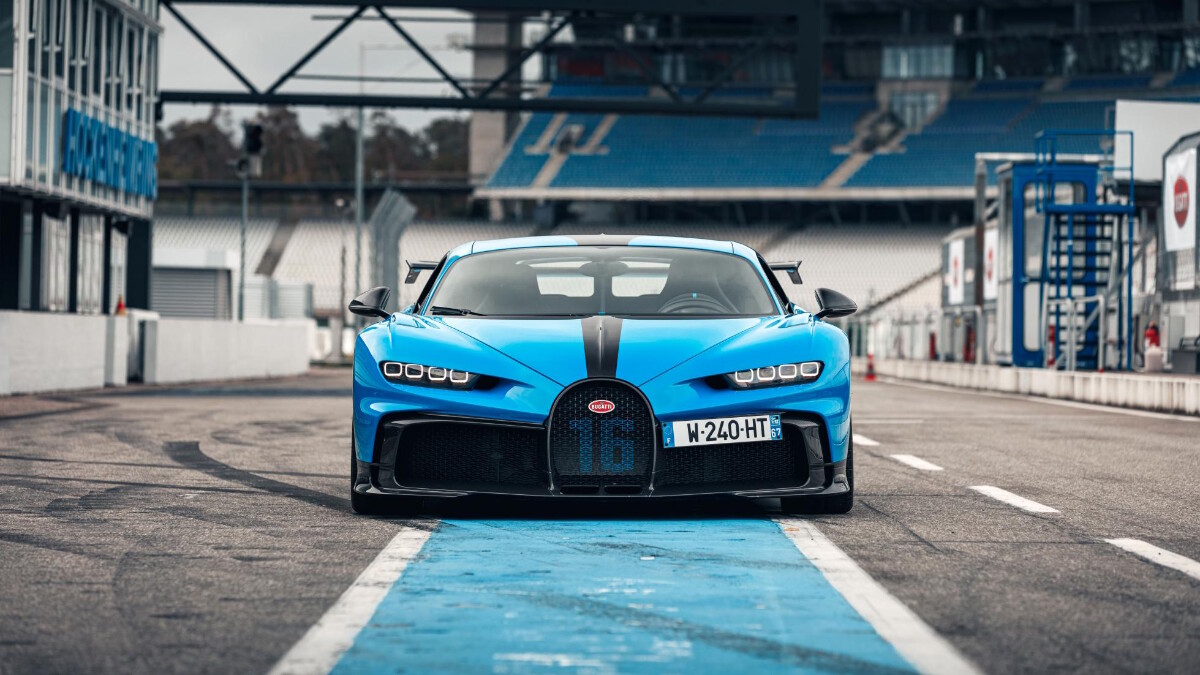 ADVERTISEMENT - CONTINUE READING BELOW ↓
NOTE: This article first appeared on TopGear.com. Minor edits have been made.