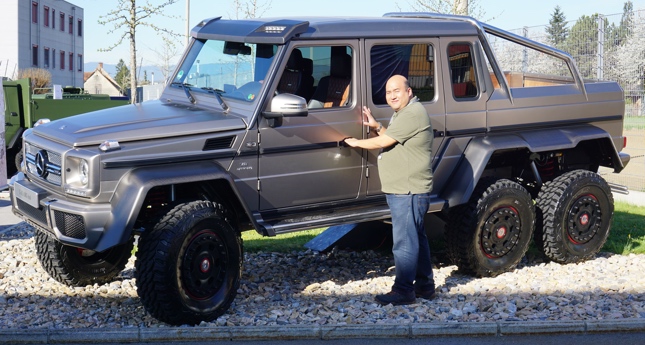 We're in a special place right now. The venue is Graz, Austria, where the Magna Steyr factory is located. This is where the eternal Mercedes-Benz G-Class is produced, and when we came to visit for a special event, we saw a beast parked in the lot: a Mercedes-Benz G63 AMG 6x6.
You will remember this huge truck from the Top Gear episode where Richard Hammond took it around Dubai and tossed it around the sand dunes. Looking at it, feeling it, and having a quick go (yes!) with the G63 AMG 6x6, we discovered a few things--eight of them, to be exact.
1. Nothing prepares you for seeing it the first time. It's like laying eyes on a caricature of a monster SUV. Then you realize it's real, but your brain still resists a little.
2. It's taller than we thought. Getting in will challenge your poise.
3. It moves really quickly, far faster than what you would expect from a vehicle the size of a small bus.
4. All G63 AMG 6x6 units are sold out. Even if you won the lotto tomorrow and gave Mercedes-Benz a blank check, the German carmaker would only give you its regrets.
5. The six chunky tires give the vehicle surprising ride comfort.
Continue reading below ↓
Recommended Videos
6. One thought will always enter your mind: How do you park this thing?
7. The pickup bed is made of real wood.
8. The tailgate is very heavy! It feels like it's made out of solid steel.
Photos by Dinzo Tabamo