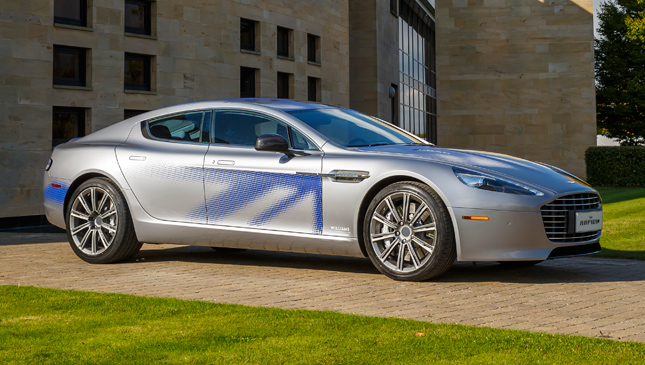 Aston Martins are known for being calm, collected and stylish sports cars. They are for the gentleman who loves driving fast, yet still wants to do so in a smooth way. But now, the British marque seems to want to be seen in another light: eco-friendly.
At least this is the message it conveyed as it proudly displayed a Rapide S electric concept vehicle right outside Lancaster House in London. The venue served as the meeting place of His Royal Highness Prince William, Her Royal Highness Catherine, and China president Xi Jinping during the latter's state visit to the United Kingdom.
The RapidE--as the electric Rapide is referred to in written form--is a joint project between Aston Martin and Williams Advanced Engineering. Research and development were done at the Williams facility in Grove, Oxfordshire. Aston Martin has fielded the car as a symbolic show of support for the British government's "GREAT" campaign, which aims to show the world what the UK offers--a place where one can work, study and invest in.
Apart from enticing people to visit and stay in the UK, the Aston Martin green machine likewise paves the way for an upcoming agreement between the British carmaker and Chinese investment firm ChinaEquity. The venture will explore the possibility of bringing the car to market within the next two years (at the earliest). According to Aston Martin, it can see the potential of such a vehicle. And with electric sports cars like the Tesla Model S and the Porsche Mission E coming, there will definitely be competition for the RapidE.
Continue reading below ↓
Recommended Videos
People who think that electric cars would be boring golf carts might want to rethink this notion. On the contrary, the torque generated by these clean motors can provide the kind of rush that not many gasoline cars can match. Unfortunately, no technical specs have been released as of press time.
Here's to a green and sporty motoring future.