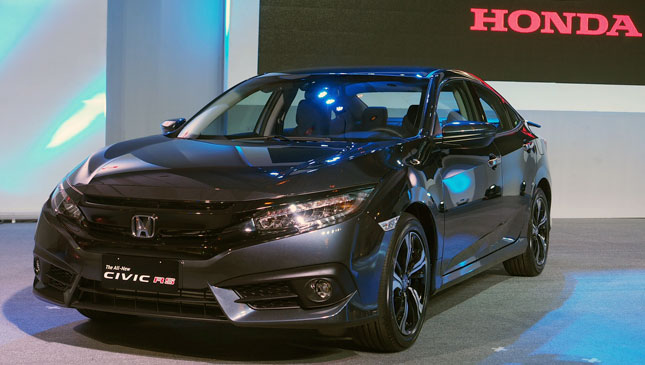 The City may be Honda Cars Philippines' cash cow these days, already breaching sales of 1,000 units per month, but when we think of Honda, the Civic is still top of mind. Most of us have special memories of this iconic model from our college days.
Through the decades--ever since it was introduced as Honda's first model in our market back in 1991--the Civic has grown in size, features and pricing. Last night, we witnessed the introduction of the 10th generation of the Civic, and for a change something about it became smaller--the engine.
In what Honda calls a rebirth, the Civic now comes with a 1.5-liter VTEC turbo mill. Found under the hood of the RS Turbo variant, this motor with a single-scroll turbo generates a mighty 171hp and 220Nm. What's amazing is that peak torque begins at 1,700rpm, and goes all the way to 5,500rpm. Grunt that low used to come only from turbodiesels.
You can say that this is the spiritual successor to the Civic SiR, which has achieved legendary status as the dream college car of generations of students. A pristine EK Civic SiR was on display during the launch, and it almost seemed like a torch was being passed.
Continue reading below ↓
Recommended Videos
The sole alternate variant is the 1.8 E, which has a 1.8-liter naturally aspirated engine good for a healthy 139hp and 174Nm. These figures are exactly the same as the outgoing Civic 1.8 E, so this is in all likelihood a carryover powerplant. Even the price for this variant is retained, actually.
Both variants are equipped with a continuously variable transmission.
Without further ado, here are the prices of the all-new Civic:
* RS Turbo - P1,398,000
* 1.8 E - P1,088,000
Yes, that delectable RS spec isn't exactly cheap. But you do get quite a bit of toys for that price. On the outside, you get full LEDs (low beam, high beam, turn signals), RS-design 17-inch alloy wheels, and a wing spoiler.
In the cabin, very few features separate the RS from the 1.8 E. Both get steering-wheel controls, push-start button, and remote engine-start capability! This means you can start the ignition and the air-conditioning even before you enter--a veritable godsend in this punishing summer heat. And some of those aforementioned tiller controls are electrostatic, meaning you can manipulate functions just by sliding your finger over the area.
The new Civic also has one of the best multimedia displays we've ever seen, even compared to pricier midsize sedans. The seven-inch screen itself is an IPS display, the type of technology used in high-end computer monitors favored by art directors and designers. The infotainment system is one of the most connected in-car devices we've encountered. It has options for Bluetooth, USB and HDMI, and we saw that it can run both Android Auto and Apple CarPlay.
While playing with studying the deep menus and customizable settings, we got a good idea of how advanced this new Honda is. Just seeing the fully digital TFT instrument cluster remove the tachometer--and then put it back again--elicited oohs and aahs from us.
The RS Turbo variant gets a bit more kit, like rain-sensing wipers, dual-zone automatic climate control (lower variant gets single-zone), power seats, and navigation. Features-wise, the 1.8 E experience is essentially the same.
Among the usual safety measures to keep customers safe (ABS, hill-start assist, stability assist), we were pleasantly surprised to see the inclusion of the emergency stop signal. In the event of emergency braking, the hazard lights flash to better warn drivers behind the Civic. In the past, we only saw this feature in pricey European cars.
So here's your new Civic. It's larger, more feature-packed and more powerful than ever. Exactly 25 years after it arrived on our shores, we've never wanted it more.
Photos by Carlo Chungunco